The O'Malley Factor
Can Gov. Martin O'Malley ride his Maryland success to the White House?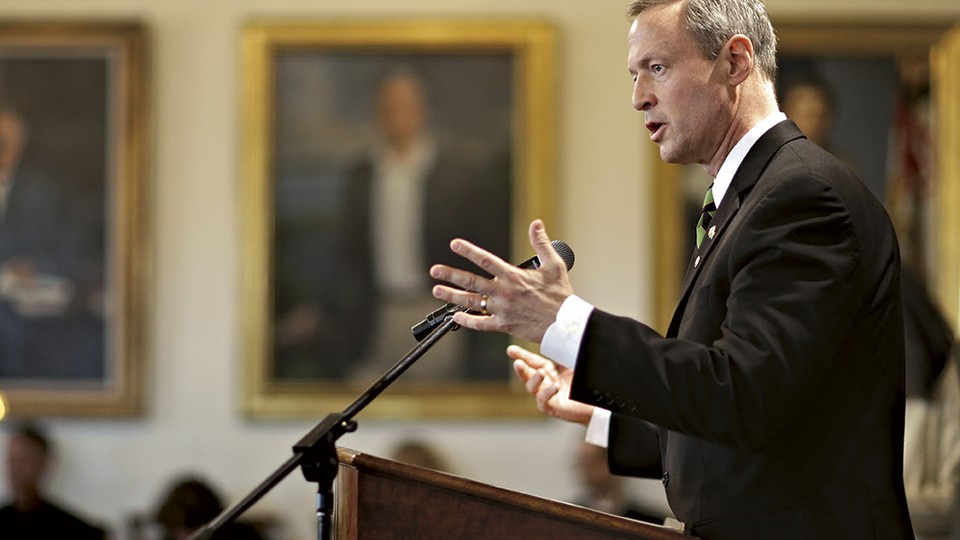 ANNAPOLIS, Md. — History pervades the elegant Maryland State House, which opened its doors in 1783 and is often described as the oldest state Capitol in uninterrupted legislative use. But now, the building's axis seems pointed very much toward the future.
Under the prodding of Democratic Gov. Martin O'Malley, a potential 2016 presidential contender, Maryland has pushed to the forward edge of his party's thinking on economic, fiscal, and cultural issues. At a sprinter's speed, O'Malley and the Democratic-controlled Legislature are advancing almost all of the party's top national priorities — from gun control and gay marriage to an economic strategy built on public investments funded partly by higher taxes on the affluent.
O'Malley has leavened this push with a focus on streamlining government (including restructuring public-employee pension plans and pressuring state universities to control tuition costs) that echoes aspects of Bill Clinton's New Democrat reforms. The overall effect of O'Malley's breakneck activity has been to convert Maryland, a place not usually known for government innovation, into perhaps the leading state-level model of the Democratic Party's evolving priorities and approaches. "There is a plan here, clearly, not only to try to advance Maryland and advance O'Malley's prospects but in the process redefine a new core to the Democratic Party that is built around a sense of socially progressive ideas while at the same time providing economic opportunity," says Donald Kettl, dean of the University of Maryland's School of Public Policy.
O'Malley's brisk agenda finds its bookend in the comparably ambitious records of Republican governors such as Bobby Jindal of Louisiana, who has signed legislation to authorize private-school vouchers and retrench teacher tenure (although courts have blocked both measures), and to expand mandatory ultrasound examinations before abortions. Jindal also has rejected participation in President Obama's health care law and sought to replace the state income and corporate taxes with an expanded sales tax before resistance forced him to shelve the plan this week.
O'Malley, through initiatives such as his public-employee pension reform, has probably shown more willingness than Jindal to challenge his party's key constituencies. Still, each man captures a subtle but significant shift in the way governors are influencing the national debate. While state executives from the 1970s through the 1990s gained notice mostly by blurring party differences, today's governors are emerging more by building state-level testing grounds for their party's national agenda. States with the most ambitious governors are operating not so much as "laboratories of democracy" — where policies are empirically tested without much regard to ideology — than as workshops where each side is seeking to prove the superiority of its model over the other party's.
In that competition, O'Malley has pushed to the forefront of Democratic governors since his election in 2006. "He's offering "¦ the progressive answer to the country's challenges," says Neera Tanden, president of the Center for American Progress, a leading liberal group. O'Malley can point to progress on almost all of the major cultural issues important to his party, with breakthroughs accumulating at an accelerating pace. In 2012, he steered through ballot initiatives legalizing gay marriage and preserving legislation that provided in-state tuition for the children of illegal immigrants. This year, he won approval of a repeal of the death penalty and a comprehensive gun-control package that includes an assault-weapons ban and a finger-printing requirement for handgun purchases. With less involvement, the governor also helped to pass bills to provide driver's licenses to illegal immigrants and to authorize the medicinal use of marijuana (through academic hospitals only). "As leaders "¦ we are at our best when we appeal to people's better instincts," O'Malley said in a recent interview in his office, flanked by historic paintings. "And that's what we were able to do on the [in-state tuition] "¦ marriage equality [and] "¦ the death penalty. And a lot of that was under the banner of dignity."
In a manner reminiscent of Bill Clinton, O'Malley has balanced his activism with a sustained focus on government reform that has largely faded from his party's national agenda. He has implemented a "State-Stat" system to drive government performance, similar to the approach Rudy Giuliani and other big-city mayors have used to better allocate police resources to fight crime. His aides are also quick to note he has squeezed the state workforce to its smallest level, relative to state population, since 1973, and has cut more than $8 billion in spending. In 2011, over resistance from public-employee unions, O'Malley pushed through reforms that maintained defined benefit-pensions but imposed longer vesting periods and demanded larger contributions from workers. Patrick Moran, president of Maryland Council 3 of the American Federation of State, County, and Municipal Employees, which represents state workers, says that although O'Malley has "worked with us to resolve things "¦ in a very fair way in most cases," on the pension issue, he took a position with the unions that was "fairly adversarial."
Yet O'Malley has preserved spending on Democratic priorities of investing in education and infrastructure, and promoting innovation, particularly in health technology and renewable energy such as offshore wind. To help fund those initiatives, both in 2007 and 2012, the governor raised income taxes on top earners. "Knowing we could not cut our way to prosperity," he declared in his State of the State address, "we balanced record budget cuts with modern investments."
With this approach, O'Malley has thrust Maryland into the center of a swirling debate over the best formula for economic growth. Republican governors and conservative analysts note that since the Great Recession, low-tax, low-regulation red states such as Alaska, Louisiana, North Dakota, Oklahoma, and Texas are generating new jobs faster than any blue states. "The states that have reduced spending and lowered the tax burden are outperforming the states that have gone the other way," says Avrik Roy, a senior fellow at the conservative Manhattan Institute. Texas Gov. Rick Perry, characteristically, pushed that argument to the edge earlier this year by running radio ads in California that urged businesses there to relocate to Texas for "low taxes [and] sensible regulation."
Democrats respond that those red states are also benefiting from the oil and gas boom, and that Democratic-leaning states such as Maryland, Massachusetts, and Minnesota tend to top the rankings on measures such as median income, college attainment, and access to health insurance. O'Malley argues that Maryland's economic performance (ranking first among the states in median income and in the top third for annual job growth since 2007) refutes the argument that cutting taxes and regulation is the surest route to growth. "I wish the world were as simple as that theory," O'Malley says. "What's required is a balanced approach"¦. You have to be willing to invest in the skills and education of your people and you have to "¦ protect your quality of life, because very talented people can live anywhere they like." With O'Malley and Jindal just two of several governors in each party circling the 2016 presidential race, this argument is sure to get louder in the months ahead.