The New, Improved Anthony Weiner Is Boring and Predictable
Teary Times tell-all or no, Weiner's burning lust for the mayor's office is utterly unsurprising -- as is his failure to own up to his failures.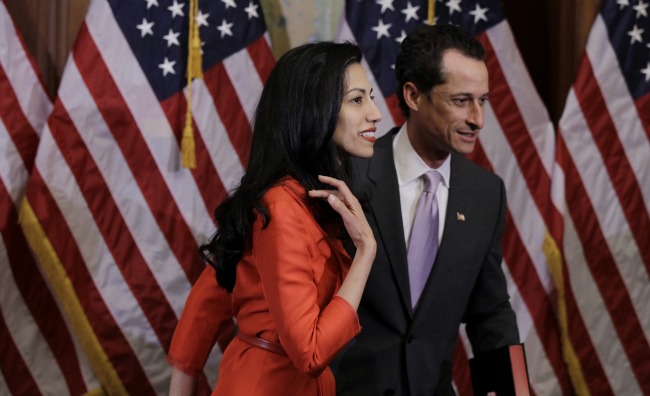 Associated Press
Throughout his interrupted political career, Anthony Weiner's hallmark was unpredictability. You never knew when he was going to fly off the handle and deliver an impassioned rant, whether on Twitter, on the House floor, or, most frequently, on cable TV. His downfall was equally exciting for the same reasons: the bizarre way it unfolded, the days of speculation, the drip-drip of new recipients of sexts and messages, the equivocation, and finally the dramatic admission, complete with a surprise cameo by Andrew Breitbart.
And that's what makes his uncalled-for comeback so underwhelming. Weiner and his wife Huma Abedin, a Hillary Clinton confidante, announced their return to public life in the most fashionable way one can, with a teary tell-all in The New York Times Magazine. Jonathan Van Meter's piece is riveting, albeit in a rubbernecking sort of way. There's a natural human curiosity about a fall from grace like Weiner's and about how a couple moves on from such a shattering event. In one particularly evocative moment, Van Meter writes, "I startled myself that day when, after two hours of listening while he unburdened himself, I heard these words come out of my mouth: 'Maybe we should stop there for now.' Never has an interview felt so much like a therapy session."
But the actual substance of the story is utterly unsurprising. First off, there's the mayoral run. Of course Anthony Weiner wants to run for mayor.
Last July, The New York Post reported that Weiner was weighing a run in 2013, because after that his public matching funds would expire. In January, The New York Daily News reported that Weiner's name was among the candidates voters were asked about in a poll of a five-way mayoral primary. And The New York Post reported that pollsters had asked voters about a run for comptroller, pitting Weiner against the Manhattan Borough president, Scott Stringer.

At breakfast, Weiner quickly put all the speculation to rest: he is eyeing the mayor's race. He told me that his political committee spent more than $100,000 on polling and research by Obama's longtime pollster, David Binder.
Come on. Don't act surprised. He's always wanted to run for mayor. The former New York City Council member ran in 2005 but lost a primary. Then he wanted to run again in 2009, but thought better of trying to challenge Mike Bloomberg. No surprise here, scandal or none. Losing is a pretty sure bet. Weiner would (will?) have to play catch-up to several candidates already in the race (though his time in Washington and friendship with the Clintons would help him make up fundraising ground). Christine Quinn is already starting to look like a prohibitive favorite. And that's before you even get to the scandal thing. Weiner wouldn't share his polling with the Times, which seems like a bad sign, though he admitted he'd be an underdog.
It's possible the scandal wouldn't hurt him that much. His marriage survived and, on the strength of a single magazine piece, seems strong, given what happened. There was no actual adultery -- just texts and tweets -- and anyway, Mark Sanford seems poised to return to the House. In the early days of the scandal, the Daily Beast did a decidedly unscientific survey, asking 100 New Yorkers how it had affected their impression of Weiner. The answer was hardly at all. Most of them said their opinions were unchanged and it wouldn't affect whether they'd vote for him -- but plenty of them were skeptical to begin with.
And ah yes, the scandal. We get lots of Emotional Weiner, Chastened Weiner, Learning and Trying to Get Better at Life Weiner in the piece. To be fair, he does seem to have learned some things about himself and how to be a better person. But he also remains skilled at displacing responsibility. The man who claimed his appliances were turning against him has found new scapegoats -- all while claiming he's coming clean. As Michael Barbaro notes, he refers to his "fateful tweet," neatly glossing over the fact that while one tweet got him caught, he was after all communicating with many women over a long period of time. Here's Weiner's list of reasons the scandal was so big: "My last name; the fact that I was this combative congressman; the fact that there were pictures involved; the fact that it was a slow news period; the fact that I was an idiot about it; the fact that, while I was still lying about it, I dug myself in deeper by getting beefy with every reporter."
OK, dude, you hit the big ones, but certainly not in that order. Did Weiner's name make it easier to crack jokes? Of course. Was that why the story was big? No. (Early on, Weiner tried to play the whole thing off as being a hack amplified by his name.) Or how about his claim that it was "a slow news period"? Well, here's a list of events from June 2011. I'll just name a few from the beginning of the month: the Syrian civil war kicked off; John Edwards was indicted; NATO was bombing Libya; Rafael Nadal won a record sixth French Open. Weiner's reputation for combativeness, the pictures, and the idiocy are on the mark (as are the fact that his wife was an aide to Clinton, creating an eerie parallel to Bill Clinton's infidelities.)
No one should begrudge the Weiner-Abedin family the desire to move on. What's more, it seems New York voters will have their chance to either absolve him or keep him in purgatory soon enough. But Weiner seems to have lost the freewheeling unpredictability that made him fun to watch while failing to learn the humility that he was sorely lacking. It's not a combination that's likely to win him many more fans.