The Drone War Has More Victims Than the Bush-Era CIA Scandals
The agency's detention and extraordinary rendition program was an abomination. Its targeted killings are even worse.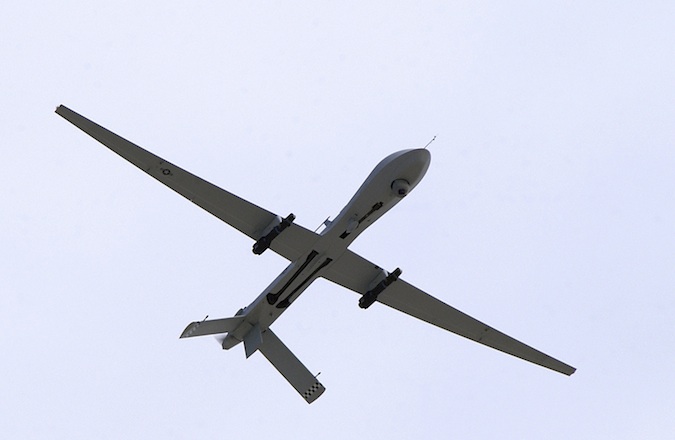 Reuters
In a must-read column, Micah Zenko of Foreign Policy notes the many ways the Obama Administration has misled Congress about its targeted-killing program, and calls for a comprehensive official history so that we're no longer at the mercy of dishonest national-security officials. If you haven't heard, they've been talking as if American drone strikes are mostly killing members of al-Qaeda who pose an imminent threat to the United States. In fact, a minority of the people they've killed belong to al-Qaeda far fewer than that pose an imminent threat to America, and many victims of U.S. drone strikes are killed without the CIA knowing their identity.
What grabbed me about Zenko's piece is when he puts the drone war in perspective: "For all of the historical accounts and professed concerns over the CIA's detention and extraordinary rendition program, which involved '136 known victims,' it is time for an accounting of the CIA's drone strikes, which have killed between 3,000 and 4,000 people in Pakistan and Yemen," he writes.
Let that sink in.
If you objected to CIA detention and rendition in the Bush era, as I did, know that you'd have to double or triple its victims to equal the number of innocents estimated to have been killed in U.S. drone strikes. Compare known victims of CIA rendition to the total number of non-al-Qaeda killed in drone strikes and the difference is significantly bigger. And don't forget the noncombatants affected by the presence of drones. Just as in the Bush Administration, the full magnitude of Obama-era transgressions are sinking in slowly, and won't penetrate the consciousness of most Americans until the end of his second term, if it even happens that rapidly.
But the truth will out.
Eventually, more Americans will realize what ought to have been obvious all along: The Obama Administration is cloaking its actions in extreme secrecy, prosecuting whistleblowers with historic zeal, willfully misleading Congress, and refusing to reveal even the legal basis for its behavior because the reality of its actions are so shocking, ugly, indefensible, and potentially criminal. I don't know if extreme power always corrupts. But extreme power exercised in secret?
To permit such a thing is foolish.