The Conservative Senator Who May Control Obama's Fate
Sen. Pat Toomey of Pennsylvania emerges as a dealmaker on background checks, as he faces tough re-election in 2016.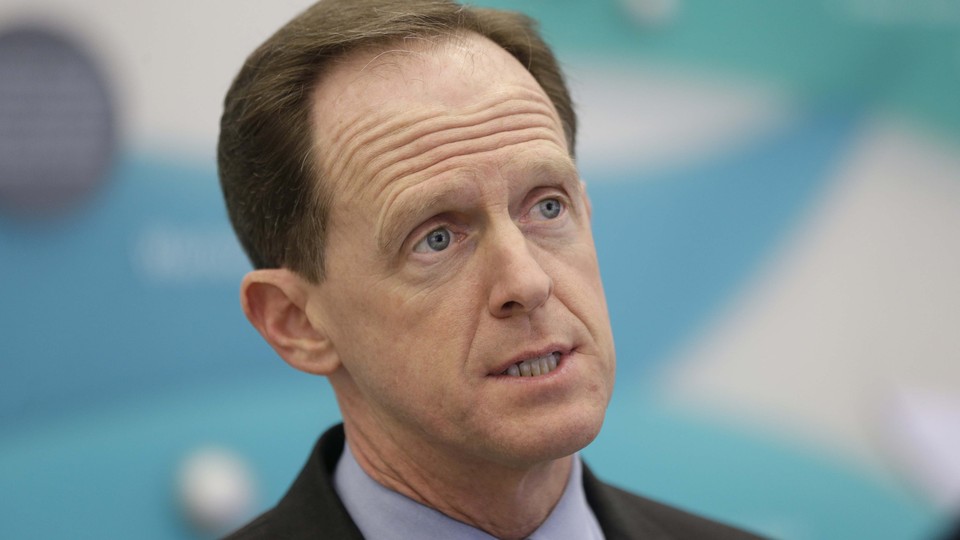 President Obama's legacy may be in the uncertain grip of a conservative senator from Pennsylvania, a former president of the tax-cutting Club for Growth who received high marks from the National Rifle Association.
On guns and deficit reduction, two cornerstones of the Obama agenda, Sen. Pat Toomey may hold the key to compromise.
Budget: House Republicans privately concede they are willing to raise revenue beyond the $600 billion tax hike approved last year, if Democrats agree to trim Social Security and Medicare benefits. These sources, speaking on condition of anonymity, point to Toomey's proposal for $250 billion in revenues from eliminating or reducing tax deductions from the top two income brackets. The 2011 "tax reform" plan also included $100 billion on so-called non-tax revenues, described as user fees and asset sales. Toomey's proposal was criticized by antitax advocates, including Americans for Tax Reform President Grover Norquist, who called it "poison."
Guns: Toomey is working with Democratic Sen. Joe Manchin, a gun-rights backer from West Virginia, on a measure requiring background checks for all gun purchases except sales between close family members and some hunters, according to The Washington Post. Despite broad public support, Obama's push for a ban on assault weapons and limits on ammunition clips stands little chance of passage. Along with modest attempts to stem gun trafficking, Obama's best hope is expanding the existing background-check law, which is riddled with loopholes. Officials close to the negotiations, speaking on condition of anonymity, said any successful background-check bill likely won't require sellers to maintain records of transactions.
The gun legislation is scheduled for Senate action this week. The budget fight is likely to reach a climax this summer. Along with loosening immigration laws and reducing climate-harming pollutant, guns and the deficit reduction are the heart of Obama's second-term agenda.
He made history as the nation's first black president, steering the country away from a depression in 2009 and passing broad health care legislation. But to be immortalized as a great president, Obama needs big-change successes in his second term. And, thus, he may need Toomey.
What might motivate Toomey to help? He might be a gridlock-busting leader who realizes that progress requires compromise. But there is little in Toomey's past that would suggest this path.
An alternative motive: Pennsylvania voters tend to favor Democrats over Republicans, and moderates over ideologues. Toomey barely won his seat in 2010, a landslide GOP year. He wants to be reelected in 2016.