Stephen Lynch: Scott Brown Redux?
Ed Markey will be the favorite when Democrats go to the polls Tuesday to choose a nominee for Senate, but he's not at all invincible.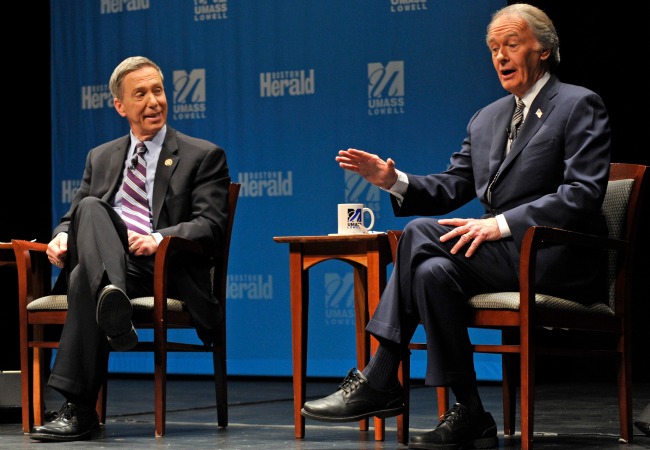 Ted Kennedy's death. Scott Brown's pickup truck. Elizabeth Warren's heritage. John Kerry's promotion to secretary of state. It's been a tumultuous few years in Massachusetts politics, and it's not over yet. On Tuesday, Bay Staters will vote in the primary for the state's second special election for U.S. Senate in four years. On the Democratic side, two veteran congressmen are competing for the nomination: in the progressive corner, energy and telecommunications maven Ed Markey; in the moderate corner, pro-life and pro-union Stephen Lynch. Given the state's deep blue tint, one of them will likely cruise to the Senate in the June 25 general election. But which one?
For months, there's been an aura of inevitability around Markey, who was anointed the establishment favorite in December when Kerry, the Democratic Senatorial Campaign Committee, and Vicki Kennedy all endorsed him on the same day (DSCC Chair Michael Bennet, a Colorado senator, is the brother of Atlantic Editor in Chief James Bennet). From the moment Lynch entered the race in January, he's been the insurgent, the underdog, and, for many, the hopeless conservative.
The expectations seem to spring from a national assumption that, in Massachusetts, the most liberal candidate always wins. To believe that is to misunderstand the state. Massachusetts is not monolithically liberal; it has regional idiosyncrasies, like anywhere else, along with a surprisingly strong independent streak. In other words, it has plenty of voters who might be inclined to support a Stephen Lynch. Indeed, a closer look at the political landscape suggests Lynch has better odds on Tuesday than you might think. (Disclosure: I previously worked for Cence Cincotti Strategies, which is now advising the Lynch campaign.)
Look no further than the state's voter-registration statistics to debunk the myth that Bay Staters are in lockstep with the Democratic establishment. While Republicans remain even scarcer (11 percent), Democrats constitute only 36 percent of registered voters. A majority of voters in Massachusetts (53 percent) are unaffiliated with either party -- and the state's open-primary system means they too can vote on Tuesday. That's a plus for Lynch, as a recent poll found him leading 41 percent to 35 percent among unaffiliated voters planning to pull a Democratic ballot.
The Lynch campaign is optimistic its candidate resonates enough with independents to get them to the polls. "Unenrolled voters in Massachusetts are more likely to vote in Democratic primaries than in Republican primaries," says a spokesman. "You've just got to give them a reason to vote. Our guy has done that repeatedly."
In Massachusetts, those reasons for voting can be very different depending on whom you ask--even among voters of the same party. In fact, Massachusetts may have starker differences among Democratic voters -- on policy preferences, personal motivations, and socioeconomic status -- than anywhere else. A tour of the state reveals how many factions the state's Democratic coalition truly comprises.
Stereotypical progressives are certainly a big part of Massachusetts. They include GLBT activists in Provincetown on Cape Cod, young idealists in Cambridge and Boston, artists in the bohemian Berkshires, and intellectuals in the college towns of Amherst and Northampton in the Pioneer Valley. This progressive voting bloc bleeds into the more pragmatic vote of Boston's western suburbs and the North Shore. Wellesley (professors) and Newburyport (art gallerists), for instance, house intellectuals who double as affluent Yankees, a demographic that better describes these areas on the whole. These are the socially liberal, fiscally conservative voters who were key to moderate Republicans' sometime success in Massachusetts but now often pull the lever for Democrats.
But equally significant elements of the state's Democratic coalition are socially conservative, fiscally liberal voters -- like Stephen Lynch. These populists tend to be the working-class residents of Massachusetts's many secondary urban areas, such as Worcester, Springfield, Brockton, and Lynn. They are also the state's most diverse bloc of voters, encompassing Hispanic communities in Lawrence, Chelsea, and Holyoke and Asian enclaves in Quincy and Lowell. But they also include less recent immigrants like the Irish of South Boston, the Italians of Everett, and the Portuguese of Fall River and New Bedford. The one thing these voters have in common? They are predominantly Roman Catholic. Overall, Massachusetts is the most Catholic state in the country (45 percent of the population).
To see how the socially conservative wing of the party can tilt elections in Massachusetts, we don't need to look far back. In November, Question 2 on the Massachusetts ballot asked voters if physician-assisted suicide should be legalized in the state. In arguably the most liberal state in the country, it seemed like a safe bet for passage -- until the controversial measure, vigorously opposed by the local Catholic archdiocese, lost on Election Night, 51 percent to 49 percent.
Ironically, the cities that voted most lopsidedly against physician-assisted suicide were not Republican bastions -- they were some of the cities that voted most lopsidedly for Democratic candidates. Question 2 received less than 42 percent in 29 Massachusetts cities and towns -- but 28 of those 29 also voted for Barack Obama over Mitt Romney, proving their Democratic bona fides. In eight of the 11 most anti-euthanasia communities, Obama even cleared 70 percent. The point is really driven home when you look at the full results in the blue-collar communities we're concerned with: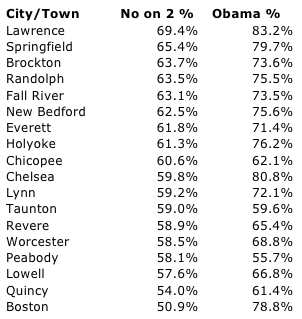 From this, it's evident both that social conservatism dominates many urban centers in Massachusetts and that those cities are nevertheless loyally Democratic. That could be a recipe for success for Lynch in these areas. From the list, he even appears to have a shot at winning his hometown of Boston -- often thought by outsiders to be a city of educated liberals, but containing an enormous working-class population as well.
Across the state, Lynch can win if he can turn out this populist bloc better than Markey can turn out progressives. Markey is thought to have the edge in the field thanks to a substantial fundraising lead, but Lynch has an easier logistical task ahead of him. His votes are clustered in these dense cities, while the Markey campaign must get out the vote in the sprawling Boston suburbs and the vast Berkshires; Markey will need every bit of his monetary advantage for how thin those resources will be spread. Plus Lynch may get additional tailwinds from a special state senate election the same day--in the Boston district he once represented. That means there will be twice as many people squeezing votes out of South Boston and Dorchester as usual--a boon for their native son.
Lynch can also count on the efforts of union members, such as firefighters and nurses, who are well practiced turning out the vote in urban areas. In a low-turnout environment (in the 2009 special Senate election, only 668,926 of a potential 3.7 million or so voted in the Democratic primary; that's 18% turnout), small niches of dedicated, loyal supporters can make a big difference.
None of this is to say Lynch is the frontrunner. Polls have been in unanimous agreement that that mantle belongs to Markey, who has led by everything from seven to 33 percentage points. But the first poll conducted in April thus far -- the one that found Lynch leading with independents -- has him down by only 10 percent overall, with one in five voters still undecided, and the Lynch camp says it feels good with that heading into the final week. (A poll Thursday gave Markey a 14-point lead.) As Massachusetts Democrats learned the hard way in 2010, it wouldn't be the first time a candidate has come from behind at the last minute in Massachusetts. With the race tightening and a clear, if under-the-radar, path to victory, regular-guy Stephen Lynch may be poised for a Scott Brown moment of his own.