Rand Paul's Speech at Howard Got a Little Awkward, but It Wasn't a Disaster
The Kentucky senator is making a genuine effort to reach out to black voters on behalf of the GOP, but he was met with some skepticism.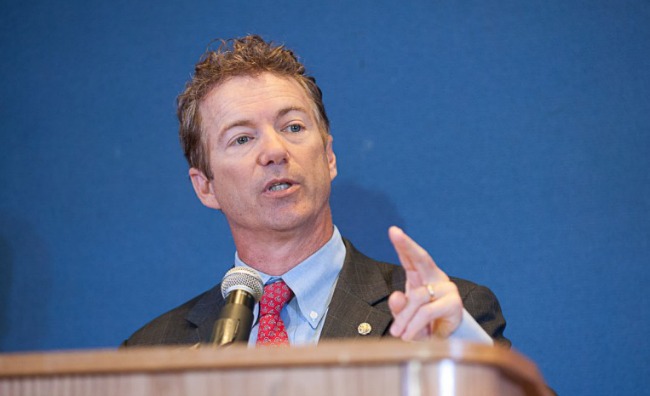 Richard A. Bloom/National Journal
Senator Rand Paul of Kentucky took his message of GOP inclusion to historically black Howard University Wednesday, where he received a polite but tough reception.
It was likely the fairest hearing any prominent Republican was going to get, given the GOP's long-standing struggles with African-American support. And the fact that Paul decided to speak at Howard in the first place did more for him and a party focusing on minority outreach than anything he actually said.
"Some have said that I'm either brave or crazy to be here today," he told the audience of faculty and students. "I come to Howard today, not to preach, or prescribe some special formula for you but to say I want a government that leaves you alone .... If you hear me out, I believe you'll discover that what motivates me more than any other issue is the defense of everyone's rights."
Paul even quoted novelist Toni Morrison, much like he quoted Pablo Neruda during his first major immigration speech last month, to the Hispanic Chamber of Commerce.
He spoke briefly about school choice and directly addressed his past comments on the 1964 Civil Rights Act by proclaiming an unwavering support for the legislation. "The dispute, if there is one, has always been about how much of the remedy should come under federal or state or private purview."
Paul also devoted much of his remarks to countering the image of the Republican Party as hostile to minorities, by focusing on the party's role in supporting civil rights. But it came across as an awkward lecture on black history to students at a historically black university.
"How many of you, if I were to have said, 'Who do you think the founders of the NAACP were, did you think they were Republicans or Democrats?' would everybody in here know they were Republicans?" Audience members laughed as several yelled, "We know that!" At another point, Paul forgot the name of former Republican Sen. Edward Brooke, the first popularly elected African-American senator, a mistake that drew laughter as a number of people yelled out Brooke's full name.
Paul's speech was interrupted when two audience members stood up with a sign reading "Howard University doesn't support white supremacy." Security officers forced them out. Paul joked about how he wondered if he could get through his speech without interruption, and he jumped right back into his prepared remarks.
For the most part, he received polite, and at a couple of times, enthusiastic responses. When talking about reducing mandatory minimum sentences for nonviolent drug crimes, many applauded as Paul said, "I will do everything I can to keep nonviolent criminals out of jail."
A number of students said they came with an open mind and were impressed by the gesture. Sophomore Kayla Amana said Paul's visit was "definitely a sincere effort," but that it's "a little too late" for the GOP to make inroads within the black community. "If they felt they wanted to do stuff, they should have done it already."
"If the [Republican National Committee] is working on minority outreach in the next couple of years and they're hoping to secure the House and hopefully win back the Senate," she said, "they need to identify more issues that relate to minorities," such as poverty, immigration reform, and student-loan forgiveness.
Freshman Ronnie Baker, a libertarian Ayn Rand fan, said he "really liked" Paul after hearing his speech but he didn't think Paul persuaded anyone. Baker said the GOP needs to focus on issues such as drug and school reforms to make true inroads within the black community. "Right now, the education system isn't doing anything for African-Americans," Baker said.
But even though winning over new black voters will be difficult, outreach efforts are critical for the GOP. "It is important both as a matter of principle and strategy for Paul (and frankly every other serious political figure who cares about public service) to seek to engage all Americans, and not just the ones whose votes they think are easily bankable or who are already part of their base," said GOP strategist Liz Mair.
The Republican Party probably will never win over a majority of black voters, and at several points, Paul acknowledged that.
"Me being here today me, trying to open this dialogue," Paul said. "I'm trying to say the Republican Party is interested in the African-American community, and trying to convince some of our ideas, maybe not all, but some, that our ideas are the best for people."