Pray for Our President
Terrible moments like this past week tested Obama and his predecessor.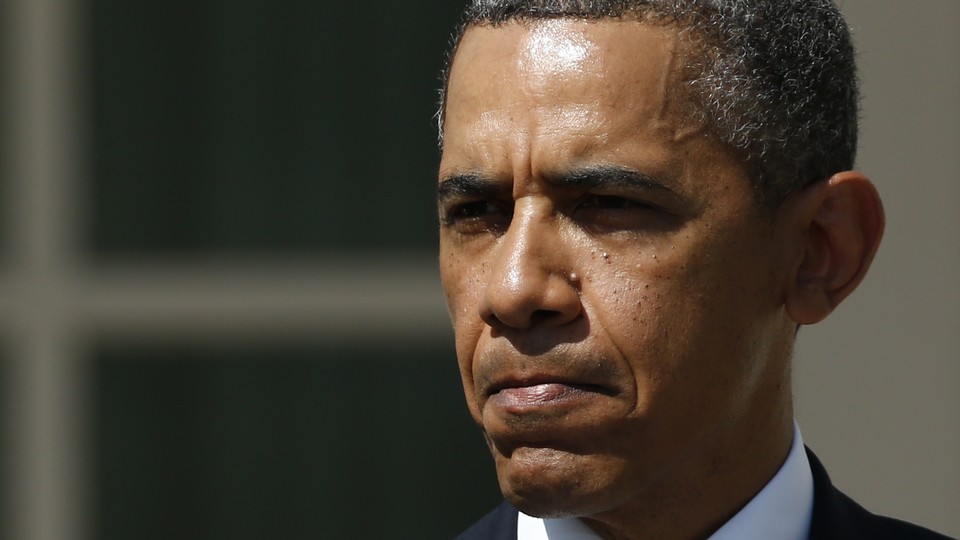 Two days after the 9/11 attacks, a reporter asked President Bush how his religious faith might carry him through the terrorist crisis. "I don't think about myself right now. I think about the families, the children," he replied. "I'm a loving guy and I'm also someone, however, who's got a job to do, and I intend to do it."
The president's eyes reddened and watered, his voice cracked. He continued: "This is a terrible moment. But this country will not relent."
That exchange with Bush in the Oval Office flashed through my mind several times throughout this horrid week. First, when two bombs exploded at the finish line of the Boston Marathon and President Obama, like Bush a dozen years prior, channeled the public's uncertainty and resolve.
"We still do not know who did this or why," he said Monday at the White House. "But make no mistake, we will get to the bottom of this, and we will find out who did this; we'll find out why they did this."
Two days later, the Senate rejected his gun-regulation package in a rebuke that could put his entire agenda at risk. "This was a pretty shameful day for Washington," Obama angrily declared in the Rose Garden after meeting privately with the parents of children slaughtered at Sandy Hook Elementary School in Newtown, Conn.
Their meeting in the Oval Office was intensely emotional. Vice President Joe Biden choked up. The president, a participant said, "was morose."
I thought of Bush again on Thursday when Obama addressed a memorial service for the Boston Marathon bombing victims. "You will run again," he told the victims and all of Boston in one of the best speeches of his presidency. It was reminiscent of the eulogy Bush delivered at the Washington National Cathedral on Sept. 14, 2001. "We are here in the middle hour of our grief," Bush said before traveling to New York City to stand atop the ruins of the World Trade Center, bullhorn in hand, and pledge retribution.
This week was like virtually no other in the crush of events that tested Obama's limits--both as a leader and as a person. Ricin-laced letters were sent to the president and a senator in Washington. An explosion at a fertilizer plant leveled a small town in Texas. Floods swamped the Midwest. And, finally, a shootout, standoff, and unprecedented citywide lockdown in Boston transfixed the nation Friday.
Obama was briefed overnight. He had to be tired, angry, and, at times, even overwhelmed. Bush certainly had his less-than-shining moments on 9/11. In our rush to mythologize and malign our presidents, we forget that they are merely human--smarter, more ambitious, and luckier than most of us, but on many levels, just as frail.
I thought of that all week--and of Bush--and wondered what Americans can do to help carry Obama through this "terrible moment." The answer is, not much. Set aside politics, if that's still possible, and pray. Pray for our president.