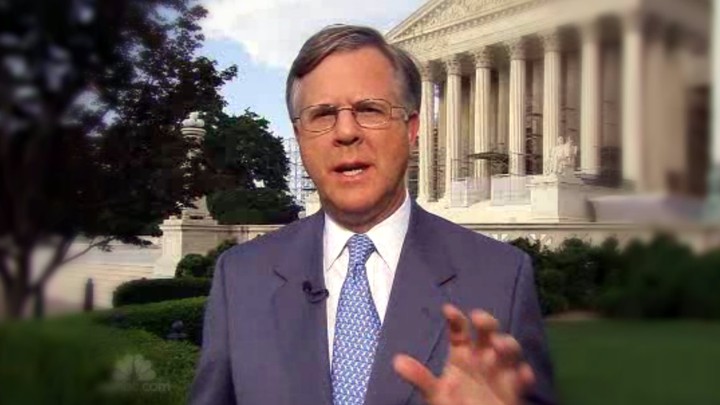 At 9:35 Friday morning, the Today show brought on longtime justice correspondent Pete Williams to describe the situation developing in the Boston suburbs. "Let me tell you what's probably going on in the background here," he told Savannah Guthrie, and those who had tuned in.
Then, he went on to describe what the FBI and police are sure to be finding out now that the first suspect has been killed. With the body, authorities could start to rifle through his possessions, leading to new potential breaks, linking the puzzle tighter together.
About an hour later, Guthrie asked Williams about a house police seem to be moving toward. She wondered whether he thought the house could be wired with explosives.
"I'm not sure about that, so I better not speculate," he said.
Those two responses encapsulate the praise Williams has been receiving for his ongoing coverage. Experience, deep background knowledge, and, most of all, restraint in not jumping too far into conclusions, is what propelled Williams to a worldwide trend on Twitter this morning. There's a consensus growing among media commentators on Twitter and the like: Williams is winning the coverage of the Boston bombing. And CNN has lost.
Williams came to Washington in 1986 as press secretary to Dick Cheney, who was then a House member from Wyoming. He followed Cheney to the Pentagon when Cheney was named Defense Secretary in 1989. Wiilams became an assistant secretary handling public affairs. He made the jump to NBC and back to journalism in 1993 when he began to cover the Supreme Court.
Wyoming PBS profiled him recently. In the interview, Williams said his experience in the Pentagon taught him about how the government handles sensitive information. And that has certainly informed his current reporting:
I decided — and I think that this is just the right way to think about it — that governments have an understandable and legitimate need to keep some things secret. It's not keeping it secret from the citizens, it's that certain operations work better if they are confidential and secret "¦

Having worked on the inside, I think you get a better sense of when the government is truly rightly keeping something secret, and when it's doing it for a very stupid reason "¦ 

A very wise person once said, the essence of journalism is the process of selection.
In a media environment when fewer and fewer reporters operate on narrow, stable beats, when everyone is a "generalist" aggregating the same information everyone else has, Williams's deep reporting background is invaluable. And members of the media — from other outlets nonetheless — easily recognized that.
NBC's #petewilliams steady coverage of #marathon developments is a repeat of his great work last year on #scotus healthcare ruling

— SCOTUSblog (@SCOTUSblog) April 19, 2013
Been asked in many interviews over last 48 hours what cable news can do to be more responsible. Answer: Model yourself after NBC News.

— Dylan Byers (@DylanByers) April 19, 2013
Who got last night right? @bostonglobe, @7news, @petewilliamsnbc: cjr.org/the_audit/on_a"¦

— Columbia Jrn Review (@CJR) April 19, 2013
After this episode is over, there is sure to be much more conversation about the role of cable and breaking news. And Williams will be seen as the point of comparison. While CNN reported an arrest had been made on Wednesday, Williams did not. And Williams was right.
We want to hear what you think about this article. Submit a letter to the editor or write to letters@theatlantic.com.
Brian Resnick
is a former staff correspondent at
National Journal
and a former producer of
The Atlantic
's National channel.