On Day One, Sanford Discovers Challenges of Facing a Woman in S.C.'s Special Election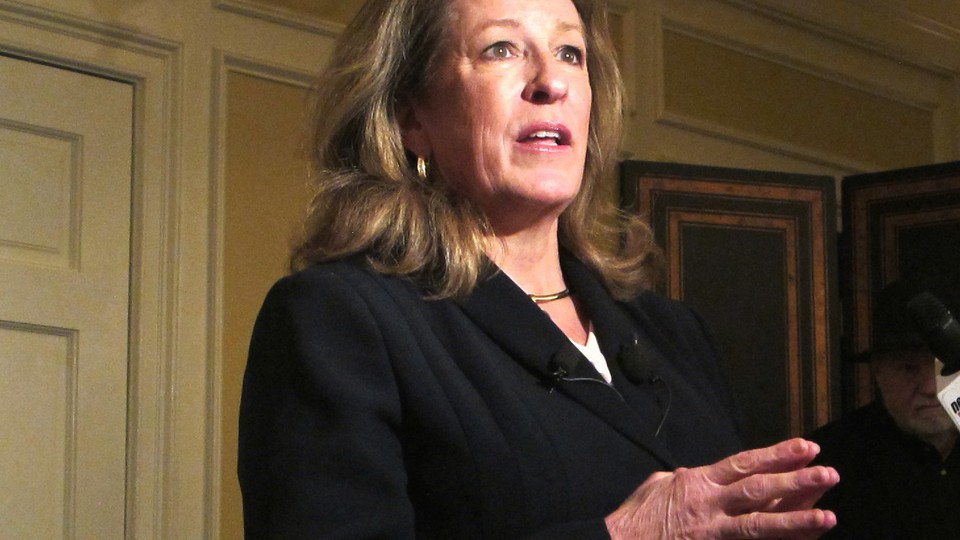 On just his first day as the Republican nominee for South Carolina's 1st Congressional District seat, former Gov. Mark Sanford is discovering the challenges of running against a female candidate, adding to the difficulties faced by a man in the process of resurrecting his political career after admitting to an extramarital affair.
Whether intentionally or not, Sanford played into the hands of Democratic nominee Elizabeth Colbert Busch and party strategists after his GOP primary win on Tuesday night by saying, "Right now, in essence, we're running against Stephen Colbert," referring to Colbert Busch's high-profile brother.
Colbert Busch snatched the opportunity that was handed to her, slamming Sanford in a statement Wednesday for "dismissing her accomplishments" because she's a woman. "I worked my way up to Director of Sales and Marketing for a major shipping company, and I am now part of a major economic development effort to renovate the Navy yard," Colbert Busch said in the statement. "If those successes can't convince Mark that a woman is capable of leading, I don't know what will."
Sanford was responding to a question about an internal poll released by Colbert Busch's campaign showing her marginally ahead of him in a general-election matchup and went on to say that she has not yet been defined as a candidate in the race. "We suspect this is going to be a continuing pattern with Ms. Colbert Busch ... trying to pivot to making this a race of personal attacks," Sanford spokesman Joel Sawyer said.
Sawyer is undoubtedly right. Colbert Busch's response and emphasis on her gender is likely to be echoed by her campaign — and by other Democratic groups — throughout the five-week race to the general election. Fifty-five percent of the district's registered voters are women, and Sanford is already on shaky ground with some voters because of his affair as governor. Given that the district is so heavily Republican (former Massachusetts Gov. Mitt Romney won the district by 18 points over President Obama in 2012), that's where Democrats spot their opportunity.
"The biggest reason an overwhelming Republican seat that never should have been competitive has the potential to be competitive is women voters," one national Democratic strategist said. "And Mark Sanford already has a problem where women voters already don't like him and don't trust him."
The strategy was confirmed in a phone interview with South Carolina Democratic Party spokeswoman Amanda Loveday. "He's proven himself how he thinks women should be treated.... Whether it be in his personal life or his voting history, he has proven that he doesn't understand women," she said, citing Sanford's two votes against the Violence Against Women Act during his first term in Congress.
Colbert Busch's campaign and the national strategist also emphasized Sanford's votes on that legislation, suggesting that it could become a major issue in the campaign. Congress just reauthorized the Violence Against Women Act in February.
"If Stephen Colbert is his only dig at her, than we're winning," Loveday added.
But former state Republican Party Chairman Katon Dawson said he doesn't foresee the strategy working, adding that voters are well aware of Sanford's past. "It's obvious that the female voters of South Carolina were [turned off] when he used the word 'soul mate' ... but it didn't get in his way of winning the first race.... Campaigns and elections are about who gets the most votes, and he just did," Dawson said.
Dawson said that he agreed with Sanford — Colbert Busch hasn't yet been defined as a candidate and much of the campaign so far has been about her brother. But, he added, Sanford's comment had nothing to do with her gender. "I don't think Mark Sanford would ever be that stupid — he's been stupid before [but] I don't see him going down that road," he said.
Asked whether the campaign's data showed Sanford lagging behind with female voters, Sawyer said, "I'm not going to get into specific numbers, but I will say that the Democrats' claim on the front is not supported by the data we've seen."
The special election for the House seat vacated by Sen. Tim Scott, R-S.C., is on May 7.