Obama Confronts His Toughest Duty: Comforter-in-Chief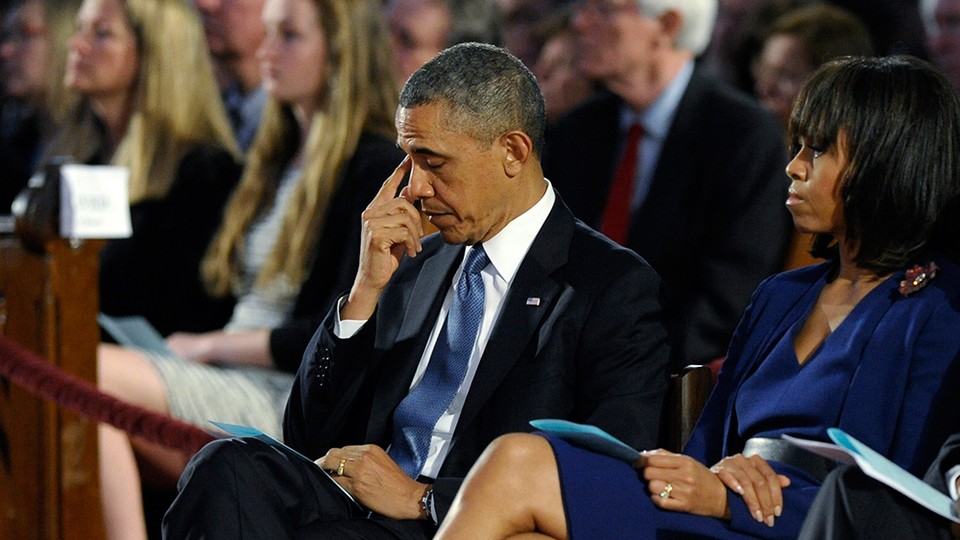 When President Obama met privately Thursday in Boston with the victims of Monday's bombings and their families, he was performing perhaps the hardest duty required of any president, one that has exacted a toll on his predecessors but which has become an essential part of the job. In public, presidents use their speeches and actions to be mourner-in-chief. But far harder are the actions behind the scenes when they must be comforter-in-chief.
"It is unspeakably tough," said Ari Fleischer, President George W. Bush's press secretary, who was in the room when Bush met with the families of those killed on Sept. 11, 2001. "Unless you are in the ministry or a social worker trained in these areas, nothing prepares a president for it. But it's an important part of their job."
No reporters were present and no pictures released when Obama and first lady Michelle Obama held their meetings with families of those killed or with those wounded in the Boston Marathon bombings. The meetings were out of sight in a room of the Cathedral of the Holy Cross and at Massachusetts General Hospital. And the president made no comment afterward. But the toll such meetings take on a president is clear from past presidents.
President Reagan said it was "one of the saddest journeys of my presidency" when he went to Andrews Air Force Base on April 23, 1983, to view the arrival of the bodies of 16 Americans killed in the U.S. Embassy bombing in Beirut. The effect was evident hours later when he attended the annual White House Correspondents' Association dinner. "The original plan was that I would sing for my supper," a somber Reagan told the audience. "Nancy and I had another sad journey that we had to make before coming here tonight. I hope you understand. I just don't feel, coming as we did from Andrews Air Force Base, I could stand up here." Privately, he explained his decision to drop his planned jokes to that year's WHCA president, Thomas DeFrank of Newsweek. "At one point at Andrews he got so choked up he couldn't speak," said DeFrank.
Reagan's successor, George H.W. Bush, had even more difficulty meeting with surviving family members. In 1989, he could not get through his planned remarks at a Norfolk memorial for the 47 sailors killed in an explosion aboard the USS Iowa. A deeply moved Bush tried to explain his emotions to reporters afterward. "The Bush family's not very good at that kind of thing, anyway. But you've got to show them concern.... You know how you do it? Pray for strength," he said.
He added, "I did choke up at the end, but I did feel a kind of inner peace about the thing. I felt I had to represent our country. This one was tough." He said he once asked Reagan about this part of the job and asked him how he did it. "He used the expression, "˜You puddle up once in a while,' " said Bush.
For George W. Bush, it was more than just puddling up after 9/11, in part because both the stakes and the casualty numbers were so high. No day was more wrenching emotionally for him than Sept. 14, 2001, when he spoke at the National Cathedral in the morning, grabbed a bullhorn while standing atop the rubble at Ground Zero in the afternoon, and concluded his trip to New York with a visit with survivors and grieving families at the Jacob Javits Center. It was there that Arlene Howard pressed into the president's hand the police shield of her son, George Howard, a Port Authority officer who died at Ground Zero. For the rest of his presidency, Bush carried that shield with him, and it will be on display next week when the Bush Presidential Library opens in Texas.
"She wanted to bring something that was very meaningful about her son so the president would remember him," said Fleischer. "That's why these things are also good for the presidents, because it helps connect them in a very vivid way with the people whose lives have been changed." Fleischer said these "behind-the-scenes moments" are amazingly powerful. "People would bring their Bible up to the president. There was prayer and citing their favorite passages in the Bible. Hugging everywhere. It was so emotional at many points that the Secret Service, who are usually in that protective phalanx around the president, they stood back so it was just the president and the family members. It helped create that connection with no interference."
After these sessions, Fleischer said Bush was always silent. "He would often walk away bone-tired, drained and weary. But a better man for it." Bush's longtime chief of staff, Andrew Card, also vividly recalls that meeting with families in New York. It was scheduled for only 30 minutes, and Bush was told not to stay more than 45 minutes. Instead, he spent more than two hours there. "There were all kinds of emotions," Card said later in a speech. "The greatest one was sympathy and fear. But there was also great hope, because our president represented us to those people during their time of great uncertainty and fear."
Afterward, Card said Bush was spent. "On that plane ride, it was clear that the president was completely exhausted. He was physically exhausted, he was mentally exhausted, spiritually exhausted, emotionally exhausted."