Obama: Boston Marathon Bombings Are Acts of Terrorism
President adds that little is known about the perpetrators of the attack.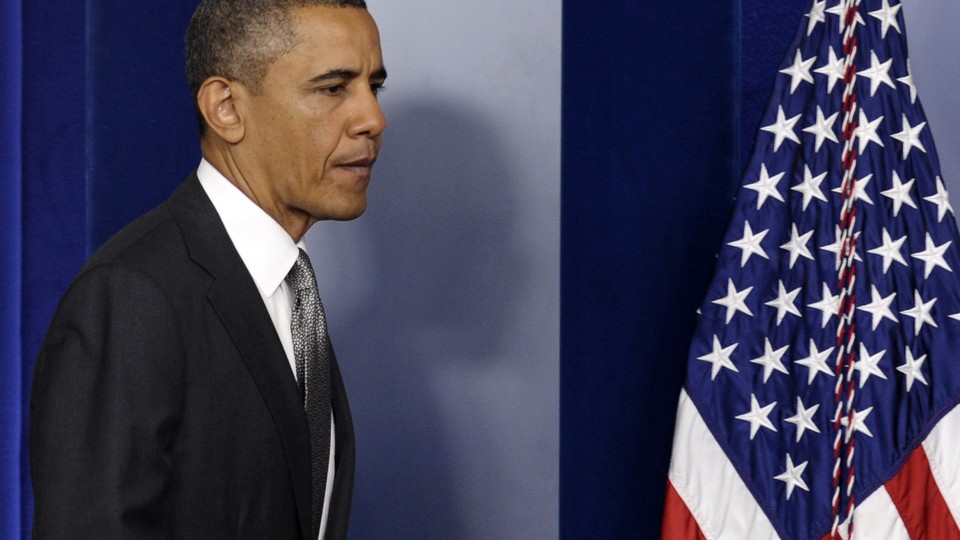 President Obama today declared that the bomb explosions at the Boston Marathon are now being investigated as terrorism, stating that "any time bombs are used to target innocent civilians, it is an act of terror."
But, appearing briefly in the White House briefing room, the president stressed that much is yet unknown, indicating that investigators are not close to identifying the bombers responsible for the deaths and mayhem that left the finish line of the marathon looking like a war scene.
While blasting the attack as "a heinous and cowardly act," Obama quickly added, "What we don't yet know, however, is who carried out this attack or why, whether it was planned and executed by a terrorist organization, foreign or domestic, or was the act of a malevolent individual. That's what we don't yet know." Later, in what seemed to be comments added after he had completed his prepared remarks, he again stressed how much investigators still need to learn.
"We know it was bombs that were set off. We know that obviously they did some severe damage. We do not know who did them. We don't know whether this is an act of an organization or an individual or individuals. We don't have a sense of motive yet." With so many rumors being spread on social media and websites, the president stressed, "Everything else at this point is speculation." But he promised, "as we receive more information as the FBI has more information, as our counterterrorism teams have more information, we'll make sure to keep you and the American people posted."
But, as he did in his initial remarks Monday, Obama urged caution and patience even as he pledged that the guilty will be apprehended. "Clearly," he said, "we're at the beginning of our investigation. It will take time to follow every lead and determine what happened. But we will find out. We will find whoever harmed our citizens and we will bring them to justice."
Obama, though, said it is not too early to assess how Americans in general and Bostonians in particular responded to the assault. "We also know this. The American people refuse to be terrorized. Because what the world saw yesterday in the aftermath of the explosions were stories of heroism and kindness and generosity and love." Recalling tales of citizens helping the wounded, the president said, "So if you want to know who we are, what America is, how we respond to evil, that's it. Selflessly, compassionately, unafraid."
He also asked average Americans to assist investigators and be aware of heightened security measures. "In the coming days,we'll pursue every effort to get to the bottom of what happened and remain vigilant," he said. "I have directed my administration to take appropriate security measures that protect the American people,and this is a good time for all of us to remember that we all have a part to play in alerting authorities. If you see something suspicious, speak up."
The president made his remarks after receiving his latest briefing on the bombing. The briefers included FBI Director Robert Mueller, Attorney General Eric Holder, Homeland Security Secretary Janet Napolitano, and his top antiterrorism adviser, Lisa Monaco.