NRCC Drops Sanford Following Trespassing Charges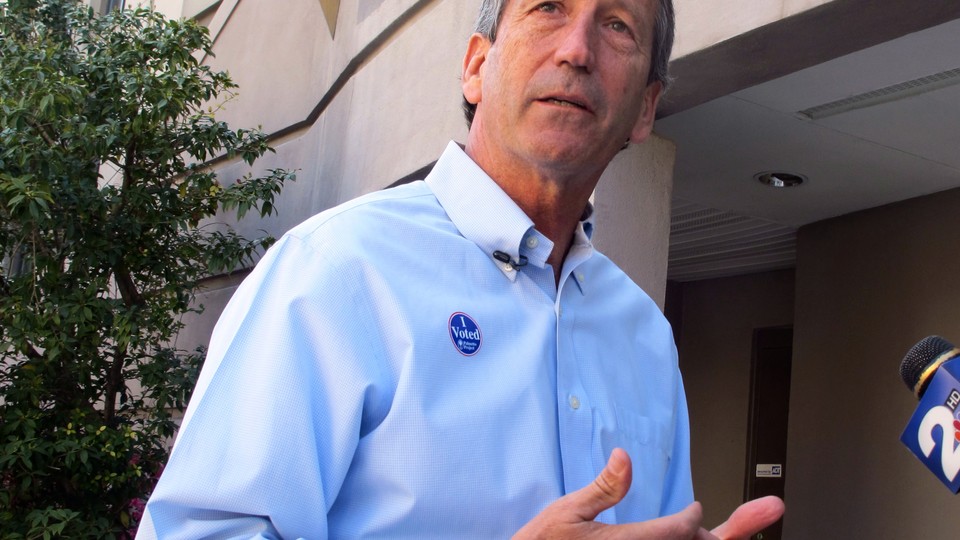 The National Republican Congressional Committee has pulled its support for former South Carolina Gov. Mark Sanford's congressional campaign, acknowledging that revelations that he trespassed on his ex-wife's property in February could cost the party a House seat in a district that former Massachusetts Gov. Mitt Romney won by 18 points last year.
The decision comes after the committee was caught off-guard by an Associated Press report that Sanford had trespassed on his former wife's property less than three weeks after declaring his candidacy in the special election.
Concerned about the implications of the disclosure and the possibility that other revelations could be forthcoming, the committee has decided not to spend any funds to help Sanford reclaim his former seat in Congress on May 7. "Mark Sanford has proven he knows what it takes to win elections. At this time, the NRCC will not be engaged in this special election," NRCC spokesman Daniel Scarpinato said in an e-mailed statement.
The news of the committee's decision to back out of the race was first reported by Politico.
The NRCC has been relatively quiet in the weeks since Sanford won the Republican nomination and has yet to air any television or radio ads in the Charleston-based district. But the committee was widely expected to weigh in on his behalf, unwilling to give up a seat with such a heavily Republican tilt. Public polls have shown a tight race between Sanford and Democrat Elizabeth Colbert Busch.
The incident appears to have reversed some of the early thinking that Sanford's negatives -- namely his extramarital affair -- were so well-known in the district that they would be unlikely to hurt him, or the party, further. The NRCC's decision to back away from his candidacy less than 24 hours after the story came to light, and to do so publicly, is a sign that the committee isn't interested in attaching itself to another candidate who could do the party real harm with female voters. A Democratic poll taken at the end of March showed a majority of female voters in the district had an unfavorable opinion of Sanford.
"The reason this is bad is because it takes all of Sanford's problems in the past and takes them right into the present," said a GOP official. "Every dollar that he's spent reforming his image has been wiped away."
The committee's announcement comes just hours after Sanford sent out a statement responding to the allegations. Though the AP report broke Tuesday night at around 8 p.m., Sanford's campaign remained silent on the matter before releasing a statement just before noon Wednesday. Sanford said he had visited his ex-wife's home while she was out of town so that his 14-year-old son would not have to watch the Super Bowl alone. He did not address any other trespassing incidents, though an attorney for former South Carolina first lady Jenny Sanford said that he had been caught on the property, breaking the rules of their divorce settlement, on multiple occasions.
The trespassing incident was a curious one for Sanford, who has spent much of his campaign trying to move on from discussions of his divorce and affair. In his statement on the court order, Sanford doesn't mention his ex-wife by name until the final sentence, referring to the former first lady instead as "she" and "her."
Sanford is due in court on May 9, just two days after the special election.
---
Alex Roarty contributed contributed to this article