Newly Engaged Obama Makes Slow, Uncertain Progress on Agenda
Deals are within reach on guns, immigration, and even deficit reduction.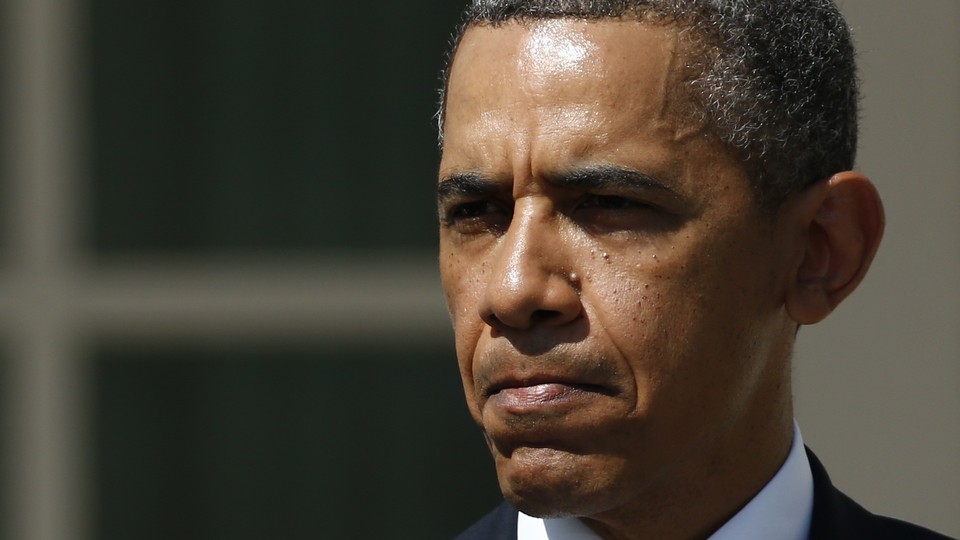 President Obama is making slow and uncertain progress on gun, immigration, and perhaps even deficit-reduction policies, pillars of his legacy. I can think of two reasons for the modest advances.
First, after his agenda stalled and his approval ratings slipped several weeks ago, Obama changed course and injected himself directly into the fray. The president is meeting with GOP lawmakers after refusing to do so, and he's applying public pressure through speeches and travel. He is also getting help from Organizing for Action, his political enterprise.
"Finally," said a Democratic consultant close to the White House, "he's rolling up his sleeves and getting his hands dirty." The official spoke on condition of anonymity so as not to anger the White House.
Second, Obama has shown a willingness to compromise. Despite the no-surrender tone of his inaugural and State of the Union addresses, the president seems to realize that divided government requires him to accept less than a whole loaf if he wants to bring any bread home.
In doing so, Obama has increased pressure on stubborn Republicans to compromise. He also has angered liberal allies, the price of progress.
His work isn't done. His agenda is far from complete. But there is some wind at Obama's back.
Guns: Republican Sen. Pat Toomey of Pennsylvania and Democratic Sen. Joe Manchin of West Virginia announced a compromise on Wednesday on a background check for guns. This increases the chances for Senate action on background checks and perhaps gun trafficking. The GOP-controlled House still is a problem, and Democrats have all but abandoned curbs on assault weapons and ammunition.
Immigration: A bipartisan group of senators is close to a deal. The House is likely to compromise on immigration because of the growing power of Hispanic voters.
Budget: Talks are stalled, but progress is being made: The Democratic-controlled Senate, the GOP-controlled House, and Obama himself have presented their budget blueprints. That hasn't happened in years. Privately, aides at the White House and on Capitol Hill agree that there is room for a compromise in which Republicans raise taxes under the label of "reform" and Obama leads Democrats to curb spending on Social Security and Medicare.