Meet Anthony Foxx, Obama's Next Transportation Secretary
The Charlotte mayor doesn't have a long resume in transportation -- but then, at 42, he doesn't have a long resume in anything.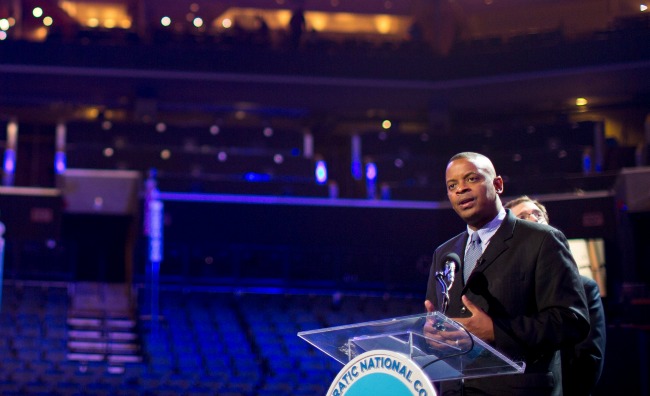 Reuters
Charlotte Mayor Anthony Foxx doesn't have a long transportation resumé (he doesn't have a long resume on a lot of things -- the guy turns 42 tomorrow, and will leave Charlotte as the youngest mayor in the city's history). But what's there is certainly multi-modal: He's pushed for
streetcars
in his hometown and a light rail extension. He supports widening a local Interstate highway from six to eight lanes. He's been spotted,
beaming, on a bike. And here he is unveiling a pilot program for electric vehicle charging stations.
We're not sure any of this amounts to evidence that Foxx will be the next great forward-thinking transportation secretary, as advocates are hoping today with President Obama's nomination of the Democratic mayor to replace Ray LaHood. But in an era when the federal DOT is pivoting away from its legacy as a builder of highways, Foxx seems to get that transportation -- particularly in our cities -- comes in many modes, and that they're each integral to the economic strength of a region.
He also fits a criteria we proposed late last year: He understands the specific transportation needs of cities, at a time when alternative modes of transportation have been oddly politicized in Washington.
If confirmed, Foxx will become just the fourth mayor to hold the job. And he'll replace a department head who's been particularly -- surprisingly -- popular among smart growth and transit advocates (and Onion writers). LaHood, a rare Republican in Obama's first cabinet, helped turn the DOT into a partner alongside the Environmental Protection Agency and the Department of Housing and Urban Development in addressing the interdisciplinary local challenges of housing, employment, the environment and mobility. LaHood announced he would step down last year, but his position was among the last to be filled in Obama's second term. Foxx's pick also ends speculation that another mayor might get the job, Los Angeles' outgoing Antonio Villaraigosa.