Max Baucus' Retirement Is Liberals' First Post-Gun-Control Litmus Test
The powerful Montana senator's decision surprised Democrats. The race to replace him could signal his party's future direction.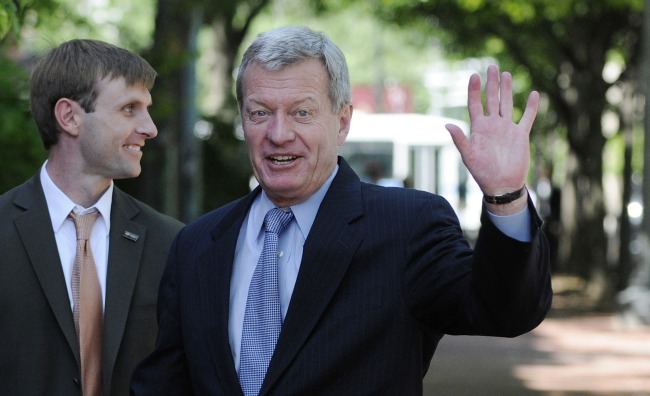 Last week, after voting against a plan for expanded background checks for gun buyers, Democratic Senator Max Baucus was asked why he'd done so. He answered with a single word, the name of the state he represents: "Montana." It was seen as a concession to politics in a Western state that looks askance at gun laws -- a reasonable concession by his apologists, and an appalling moral failure by his critics.
But news Tuesday that Baucus won't run for reelection in 2014 casts the vote in different light. If it wasn't cold, hard politics that inspired his vote, why'd he do it? This being Washington, the idea that it might have been good-faith opposition to the measure is dismissed without a second thought. (The case isn't helped by the fact that he voted for an even stricter assault-weapons ban back in 1994.) Perhaps the fury directed at Baucus by progressives after the background-check bill failed helped pressure the senator into deciding to pack it in? There are other possibilities, too. For example, it's hard to imagine sweeping tax reform passing anytime soon, so Baucus may feel little regret about giving up the gavel to the Senate Finance Committee, which he chairs.
Regardless of the reasoning, the Democratic primary to replace Baucus will be a fascinating litmus test for the liberal coalition after the failure of gun control (advocates insist they haven't given up, but no one seems to know what their path forward might be right now). In the more militant corners of the left, there have been calls for a liberal Tea Party to enforce more ideological purity, forsaking the likes of Baucus and Senators Mark Pryor of Arkansas, Mark Begich of Alaska, and Heidi Heitkamp of North Dakota, all of whom voted against the gun bill. (It's worth noting that even a unified Democratic caucus would have fallen short of the 60 votes required to pass the measure.) A liberal Tea Party, the contentious post-Newtown vote, and changing American demographics -- all against the dramatic backdrop of Big Sky country, where a Democrat has won the presidential vote just twice in the last 60 years (Johnson in '64, Clinton in '92) -- it's a great stage to play out a big battle.
Baucus's retirement both alters and accelerates that process. Progressives won't have a chance to try to primary him, but they will be able to choose sides in a primary. One well-placed Democrat has already told NBC that former Governor Brian Schweitzer, who left office this year, is interested in the seat. (He's also made noises about a 2016 presidential run, but it's hard to imagine that being successful.) Schweitzer sure looks like a prohibitive favorite if he runs -- his name recognition is through the roof, he's a proven quantity, and he was immensely popular in Montana as governor. Of course, to continue the Tea Party analogy, Mike Castle and Dick Lugar seemed unassailable once upon a time, too.
Schweitzer is also very pro-gun. When he last ran for office, in 2008, won the National Rifle Association's endorsement, then went on to win 65 percent of the vote -- 18 points ahead of Barack Obama. In 2009, he signed a law that exempted firearms made in Montana from federal regulation. In February, he told National Journal's Elahe Izadi he has "more [guns] than I need and less than I want."
Which other Democrats could vie for the nomination? Governor Steve Bullock and Lieutenant Governor John Walsh are both Democrats, but they were both elected to their respective seats in November. The state hasn't had a Democratic U.S. representative since 1997. So even if the left wing of the party could dredge up a Democrat willing to challenge Schweitzer -- perhaps backed by money from Michael Bloomberg, who jumped into a recent Illinois Senate primary to defeat a pro-gun Democrat -- and he or she was somehow able to win the primary, he or she would be a very long shot in a general election. Baucus's answer last week, though terse, wasn't wrong: Montanans aren't big fans of limits on their gun rights. Nominating anyone to Schweitzer's left would probably hand the seat to the GOP and deal a blow to Democrats' impressive knack for grabbing and holding Senate seats in otherwise red Mountain West states over the last few cycles.
So keep an eye on post-Baucus developments: Progressives' ability to recruit a more ideologically pure candidate, and to support that candidate in a run almost guaranteed to fail in either the primary or the general election, will tell us a lot about whether Democrats will ever have to face an internal insurrection like the Tea Party.