It's Surprisingly Hard to Report a Shady Abortion Provider Like Kermit Gosnell
The Pennsylvania Department of Health doesn't make it impossible to report a "horror clinic" on its website, but it isn't easy either.
How difficult is it to file a complaint against a rogue abortion doctor in Pennsylvania? It's a question I had after reading the grand jury report in the case of Dr. Kermit Gosnell. I got even more curious after reading this item by my colleague Garance Franke-Ruta, who interviews a nurse practitioner at a different organization who tried to help two former Gosnell clients to file a complaint:

...she personally tried to work with two women to file complaints to the Pennsylvania Department of Health about him. In both cases, the women found the complaint process so onerous and the telling of their stories so personally difficult that they failed to complete the paperwork and abandoned the effort. The Health Department complaint process "was way too burdensome" for the women, she said, "not to mention the stigma, to have to tell your story aloud to state officials." So why didn't she complain on her own? "It really had to be a patient," she said. There was no clear channel for independent third-party complaints like hers.

Of course, that was then. Say that a woman walked into a clinic like Gosnell's today for a consultation. If she saw cat feces, blood-spattered blankets, and medical waste all around, causing her to leave immediately, would there be an easy way to alert the appropriate public health officials? Say she had the inclination to complain, but would give up if it turned out to be excessively difficult. And imagine, though it's probably naive to do so, that she knew the Pennsylvania Department of Health was in charge.
Let's start at that website (interested readers can open a new tab and see how quickly you can find where to complain before reading on):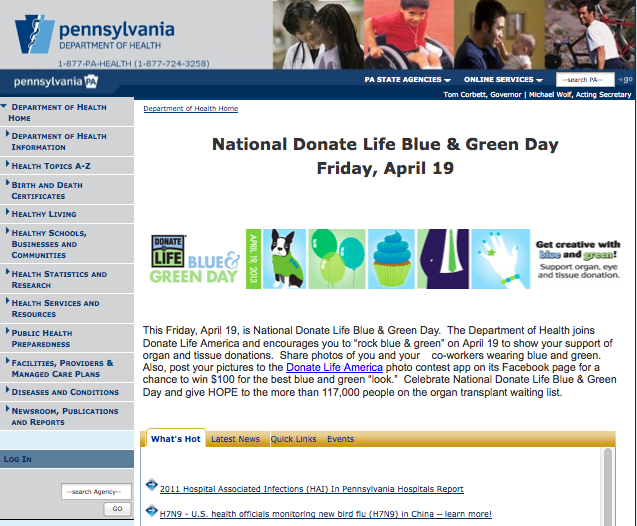 My initial guess was to click on "online services" on the upper right, but neither the drop-down menu nor the "more services" page, which took awhile to read, proved helpful. So I returned to the homepage and did a quick search for "complaint form." Here is the results page my query returned:
Yikes! I decided against trying the "advanced search" option.
Returning to the home page, I scanned the menu on the left margin. "Health Services and Resources" seemed like it could be the one I needed. Nope. Nothing on the resulting page helped.
So back to the home page, and "Facilities, Providers, and Managed Care Plans." It returned this page: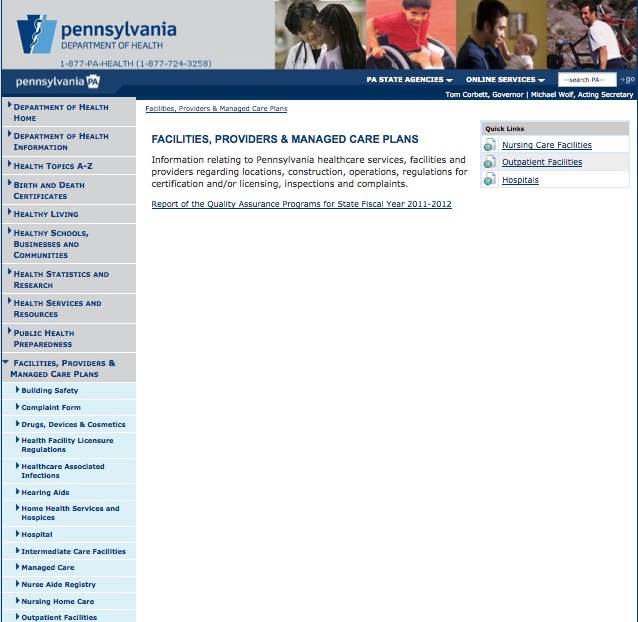 At first I was discouraged. The main column was just a link to a PDF, and the "quick links" on the right margin weren't applicable. But wait! Look there at the left margin, and the newly dropped down menu: "Complaint Form"! If you click on that link, the left margin stays the same, and the main column is filled with text.
Here's the top of page: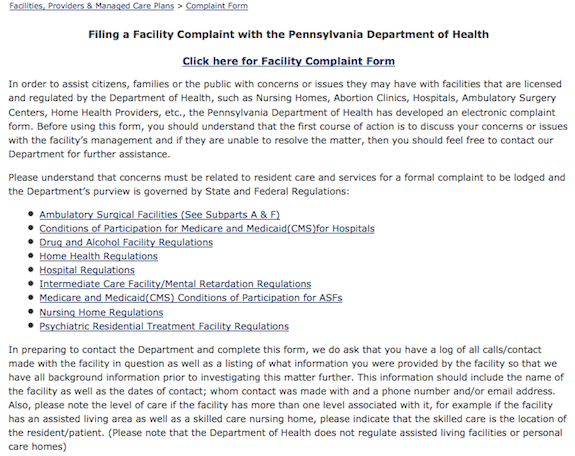 So right away, our hypothetical concerned citizen who walked right out the door after seeing the cat feces, bloody blankets, and medical waste is told she should only "feel free to contact our Department" after confronting the facility's management. Then there's that list of hyper-linked "state and federal regulations" that are presumably there because it's necessary to understand them? I tried to figure out which of the bullet points pertained to abortion clinics. None seemed to fit.
So I clicked "Ambulatory Surgical Facilities," which brought me here: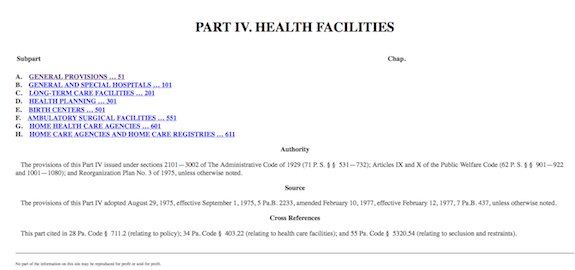 How many people would've given up by now? Well, I pressed on anyway, figuring that all the bullet points would be links to parts of the state health code, and that I should assume them to be useless.
Skipping past all the bullet points, I came to this:
In preparing to contact the Department and complete this form, we do ask that you have a log of all calls/contact made with the facility in question as well as a listing of what information you were provided by the facility so that we have all background information prior to investigating this matter further. This information should include the name of the facility as well as the dates of contact; whom contact was made with and a phone number and/or email address. Also, please note the level of care if the facility has more than one level associated with it, for example if the facility has an assisted living area as well as a skilled care nursing home, please indicate that the skilled care is the location of the resident/patient. (Please note that the Department of Health does not regulate assisted living facilities or personal care homes)
So many demands.

Farther on, it notes that complainers should include their concern and a detailed description of how they would like to see it resolved. Is figuring out a resolution really a burden for the complainant?

Only after a couple more paragraphs, one of which notes that anonymous complaints are okay, do we get to the subhead "The Complaint Process," which overwhelms the reader with details she doesn't need to know: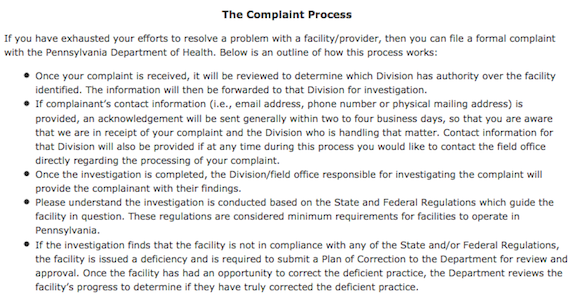 After skimming that, I was about to direct my cursor to "click here for facility complaint form" when I saw, in small type, a phone number! "Contact the Pennsylvania Department of Health: Pennsylvania Department of Health Quality Assurance Complaint Hotline
1-800-254-5164."
So I called.

"Thank you for calling the Department of Health Complaint Hotline. Please leave your name, telephone number, and the name, address, and type of facility which you are calling about. You may also indicate the nature of your concern. We are unable to lodge anonymous complaints. If additional information is needed your call will be returned on a business day." So the address of the facility, which our complainant likely doesn't have on hand, is mandatory, whereas the actual complaint "may" be included? And no anonymous phone complaints even though they're okay on the web?
Okay, bad idea involving the phone. Or reading the information on the web, for that matter. Straight to the complaint form itself!

Part One: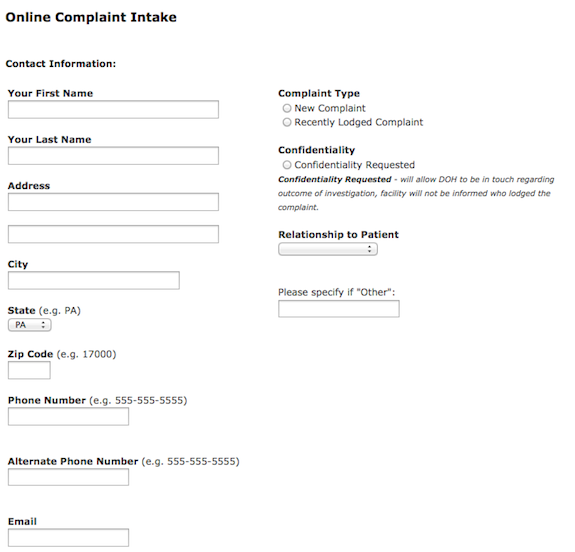 Part Two: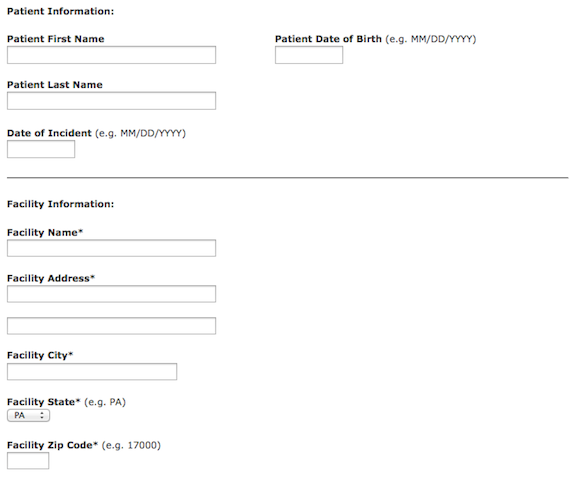 Part Three:
I got fooled by the CAPTCHA once -- is that an "n" or an "h" at the end? -- but managed to get my test complaint through on the second try. Had any of Gosnell's patients tried, I wonder how many would've finished the process and how many would've first given up in frustration or confusion.

Is this seriously the best system they're capable of devising?