House Fundraising Winners and Losers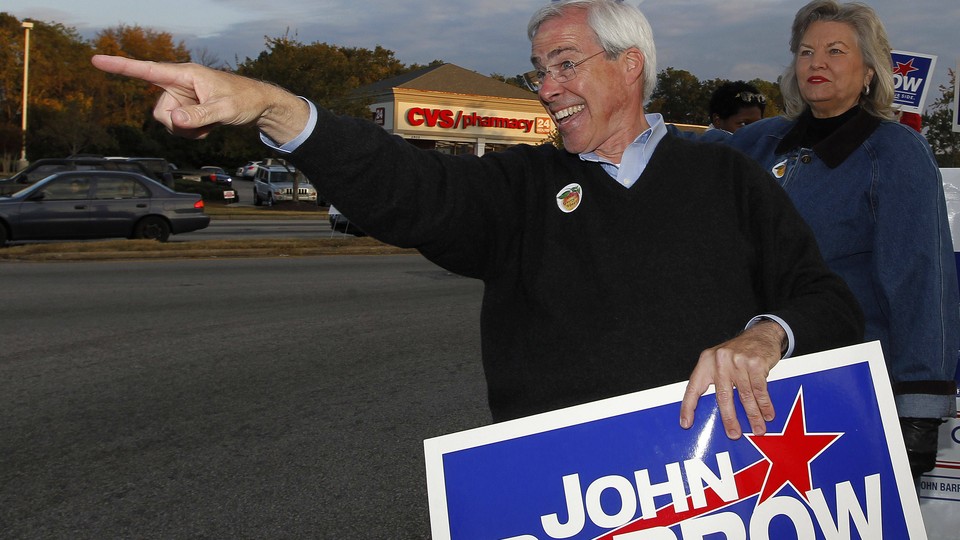 The path back to a House majority is incredibly difficult for Democrats. But there was a lot of good news for them in the first set of campaign finance reports of the 2014 election cycle.
For the big winners of the first quarter, just look to the top of the list. A pair of Florida freshmen, Democratic Reps. Patrick Murphy and Joe Garcia, each raised over $550,000 in the first quarter. Classmate Sean Patrick Maloney, D-N.Y., joined them in the half-million-dollar club, as the three made a formidable start to their first reelection bids. Florida's airwaves might be particularly crowded in 2014 thanks to an expensive governor's race — if Murphy and Garcia can keep up the pace, they stand a better chance of cutting through the clutter. Meanwhile, none of the three has an announced opponent yet, and these sorts of numbers catch the attention of potential adversaries.
In general, the members of the Democratic Congressional Campaign Committee's "Frontline" program for vulnerable incumbents acquitted themselves well. Including the high-flying trio listed above, 11 of 26 Frontline Democrats raised more than $300,000 in the first quarter, and another handful raised good sums just below that marker. Rep. John Barrow of Georgia (a possible Senate candidate), along with freshmen Brad Schneider of Illinois and Raul Ruiz of California, were the next three top fundraisers in the program. Rep. Ron Barber, whose district is one of three Democrats must defend in Arizona in 2014, was the low fundraiser of the group, and he brought in a cool $297,000.
The vulnerable Republican incumbents generally did less well. "Our guys have to pick it up," said one Republican working on House races. "There weren't a lot out of the park."
Still, there were some numbers worth celebrating. Freshman Rep. Rodney Davis, R-Ill., who won one of the closest races in the country last year against a flawed Democratic candidate, raised over $400,000 in the first quarter to help make himself more secure.
Some more winners:
In Pennsylvania's 8th District, Democrats are excited about the candidacy of Army veteran Kevin Strouse, the latest challenger to Rep. Mike Fitzpatrick, R-Pa., with a compelling (and familiar) biography. And Bucks County will be a key battleground in the Keystone State's gubernatorial race, which features a Republican incumbent with historically low approval numbers. But Fitzpatrick has demonstrated an ability to separate from the top of the ticket, and the $300,000 he raised in the first quarter will help give him the resources to accomplish that, on top of giving him a good head start on Strouse.
Rep. Tom Latham, R-Iowa, survived a member-on-member contest against Democrat Leonard Boswell in 2012 partly on the strength of his fundraising. He pulled in another $300,000 to start the 2014 cycle, and with early DCCC recruit Mike Sherzan having bowed out and another potential Democratic candidate taking a pass, it looks like Latham will have some time to pad another financial lead while protecting a tough district.
An honorable mention: Rep. Mike Coffman, R-Colo., raised over $500,000, answering the bell for a tough 2014 challenge in a solid Obama district. There is a problem, though: Democratic challenger Andrew Romanoff matched him nearly dollar-for-dollar and already has more cash on hand. This is an early favorite for the nation's most expensive House race next year.
Still, many more Republicans didn't do as well. GOP Reps. Gary Miller and David Valadao of California represent the two most Obama-friendly districts won by Republicans in 2012. But they didn't even crack $170,000 between the two of them. Miller has over $400,000 in the bank to fall back on, but both members will need more cash to fight off challengers in their seats, which Democrats see as two of their biggest missed opportunities of 2012.
Other losers:
Embattled Rep. Scott DesJarlais, R-Tenn., who already has one primary opponent and another likely on the way, raised just over $104,000 in the first quarter of the year and ended with $217,000 on hand — less than half of what he had in the bank at this point in 2011. And that was after several of his colleagues in the House cohosted a high-profile D.C. fundraiser to help boost his totals. By contrast, State Sen. Jim Tracy, who has already announced for the seat, raised nearly $400,000 during the same period, and state Rep. Joe Carr, who is exploring a bid, brought in about $205,000. Another GOP primary target, Rep. Kerry Bentivolio of Michigan, only raised $71,000 and is carrying six figures worth of debt in his 2012 campaign committee to boot.
Rep. Carol Shea-Porter, D-N.H., has already been targeted by a small National Republican Congressional Committee TV buy. One might expect such an early attack to put the Democrat on notice, but she raised just $86,000 in the first quarter. Shea-Porter doesn't have a declared opponent yet, but former Rep. Frank Guinta and Executive Councilor Chris Sununu both are reportedly looking at the race, and five figures doesn't give Shea-Porter much of a head start.
Rep. Michael Grimm, R-N.Y., pulled in a nice $320,000. But he got out-raised by an early-rising Democrat, New York City Councilor Dominic Recchia, who topped $400,000. Up north in the Hudson Valley, GOP Rep. Chris Gibson's $131,000 was dwarfed by Democratic investor Sean Eldridge's $311,000. And Democrat Gwen Graham won't have to do much to catch up with GOP Rep. Steve Southerland in Florida, who pulled in less than $45,000 and has just $100,000 in the bank. And there's more where this came from — as we noted before, plenty of Republicans don't like the first-quarter results from many of their vulnerable members.
After winning by a mere 655 votes in 2014, Rep. Mike McIntyre, D-N.C., brought in just $135,550 and ended March with nearly $182,000 on hand. This in a district that his party's standard-bearer lost by nearly 20 points in 2012. Yes, the total haul is similar to what he brought in during the first quarter of 2011 (about $150,000), but McIntyre didn't have an opponent — or such a brutally difficult district — at that point. Democrat Jonathan Barfield announced during the middle of the quarter that he'd seek McIntyre's seat — without waiting to hear whether the House member is seeking reelection. Granted, Barfield raised $530. Meanwhile, on April 1, McIntyre's 2012 opponent David Rouzer announced that he would seek a rematch, giving McIntyre less of a head start this time.
Other members on Retirement Watch:
Rep. Howard Coble, R-N.C. Coble raised just $4,167 in the first quarter, compared with about $64,000 in the first quarter of 2011. He ended March with just $37,681 in the bank. He'll be 83 on Election Day and was briefly hospitalized in February.
Rep. Melvin Watt, D-N.C. He brought in just $1,000 during the first three months of the year, ending with about $92,000 on hand. At this point in 2011, Watt had raised more than $45,000 and was nearing $125,000 on hand.
Rep. Charles Rangel, D-N.Y. After narrowly escaping a primary challenge from state Sen. Adriano Espaillat last year, Rangel raised less than $35,000. With Espaillat rumored to be planning another bid, Rangel's low number could be an early hint that he plans to retire.
Rep. Alcee Hastings, D-Fla. Hastings raised $37,307 and has $234,760 on hand. That's more in the bank than in 2011, but he raised almost $87,000 in the first quarter of that year.