Go Ahead, Admit It: George W. Bush Is a Good Man
In the rush to mythologize and demonize our presidents, we forget they're human.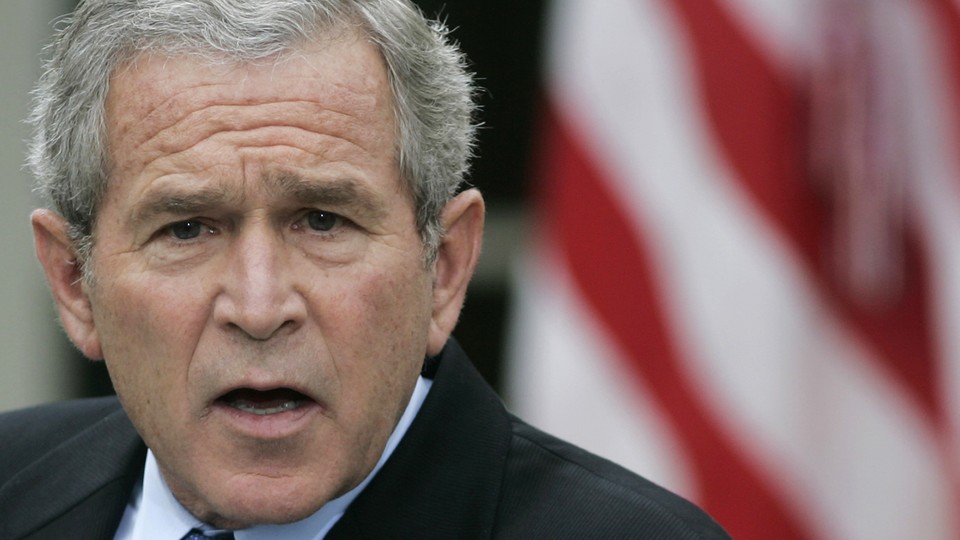 White House press secretary Ari Fleischer walked into the media cabin of Air Force One on May 24, 2002, and dropped identical envelopes in the laps of two reporters, myself and Steve Holland of Reuters. Inside each was a manila card "" marked by a small presidential seal and, in a simple font, "THE PRESIDENT."
Handwritten in the tight script of President George W. Bush, both notes said essentially the same thing: "Thank you for the respect you showed for the office of the President, and, therefore, the respect you showed for our country."
What had we done? Not much, really. An hour earlier, at a rare outdoor news conference in Germany, Steve and I decided to abide by the U.S. media tradition of rising from our seats when the president entered our presence. The snickering German press corps remained seated. "What a contrast!" Bush wrote. "What class."
I dug out Bush's thank-you note this week while contemplating the opening of his presidential library Thursday, a milestone that most journalists will use to assess the 43rd president's legacy. The record includes Bush's responses to 9/11, Hurricane Katrina, and bogus claims of weapons of mass destruction in Iraq "" all worth exploring skeptically.
But I'm going to take a few paragraphs to discuss something that gets less attention from the White House press corps "" the essential humanity and decency of our presidents.
Bush's note, a simple gesture, spoke volumes about his respect for the office of the presidency. He did not thank us for respecting him. He knew it wasn't about George W. Bush. He was touched instead by the small measure of respect we showed "for our country."
The same sense of dignity compelled Bush to forbid his staff to wear blue jeans in the White House. Male aides were required to wear jackets and ties in the Oval Office.
He was a stickler for punctuality. Long-time adviser Karen Hughes asked him years ago why he was always early for appointments. "Late is rude," Bush replied. He thought that if people were going to take the time to see him, he shouldn't keep them waiting.
He remembered names of the spouses and children of his staff, and insisted that hard work at the White House not be an excuse to let family life suffer. One steamy summer day in 1999, then-Gov. George W. Bush called me with an exclusive interview and interrupted my first question. "What's all that noise in the background, Fournier?" he asked.
"I'm at the pool with my kids, governor."
Bush replied, "Then what the hell are you doing answering your phone?"
Damn good question, sir. We quickly ended the interview.
His record as commander-in-chief will be long debated, as it should be. But for this story, at least, let's remember that Bush insisted upon meeting U.S. troops and their families in private and after his public events, so that he could give them undivided attention.
He told his staff, "I never want to look at my watch and say, "˜I've got to go.' "
Presidents Clinton and Obama also visited troops, in private and for hours at a time. I could tell you many stories about their basic decency, too "" of then-Gov. Bill Clinton quietly helping the family of an ailing state employee or of Obama reading 10 letters each night from ordinary Americans.
(RELATED: "Pray for Our President")
For as much time as we spend understanding our presidents' policies and politics, relatively little effort is spent trying to understand them as people. We mythologize them as candidates and demonize them as presidents, denying our leaders the balm that soothes mere mortals: benefit of the doubt.
Disclosure: I am the worst offender. I get paid to hold leaders accountable, not to walk in their shoes. Conversely, I am also a bit biased. Presidents Bush and Clinton agreed last year to meet privately with my autistic son for a project on the presidency. But that is the point: Neither man had anything to gain by agreeing to meet Tyler. They're not running for office. I don't cover them anymore.
Fact is that both Bush and Clinton do small acts of kindness every day, with little or no public notice.
Why? Because, like past presidents, they realize the office is bigger than they are. Because they are deeply grateful for the job we gave them, and they feel obliged to return the favor.
Our presidents and ex-presidents are not perfect. You won't always agree with them. You might not even think they're worthy of the office. But try to remember what Clinton told me a few days before he left Arkansas for Washington (and a few years before the Lewinsky affair made it sadly ironic): "You don't check your humanity at the Oval Office door."
Remembering that is to respect the office. And it's the decent thing to do.