From Laced Letters to Terror Attacks, This Feels a Lot Like 2001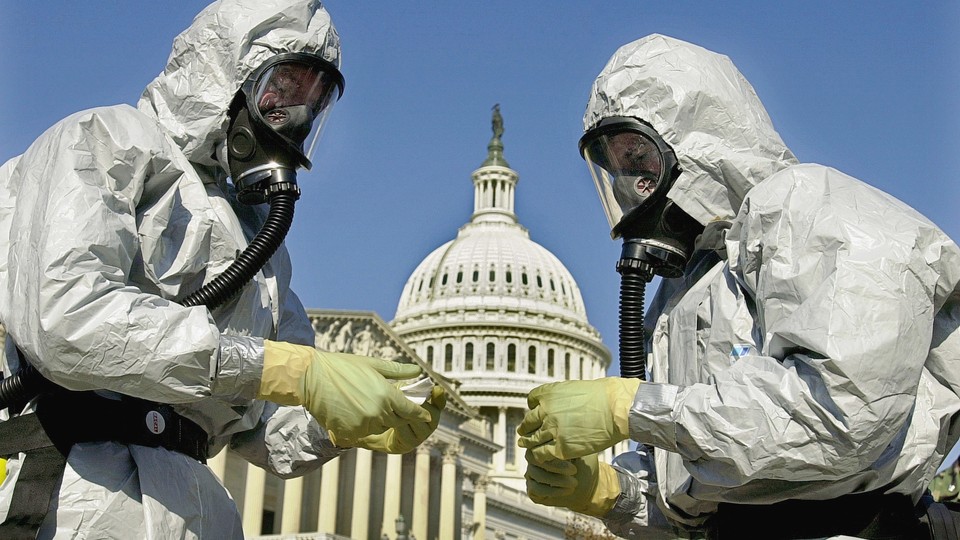 With a whole floor of the Hart Senate Office Building evacuated, mail delivery suspended, and a White House press secretary cautiously sidestepping questions Wednesday, the echoes of 2001 were too loud to ignore. Then, as now, the nation was recovering from a traumatic case of terrorism. Then, as now, homeland security officials were braced for a second attack. And then, as now, officials didn't know what the tainted letters really mean.
One man who could not help but hear the echoes was Ari Fleischer, President George W. Bush's press secretary, who remembers when anthrax-laced letters killed two civilians, infected Senate staffers, and shut down two floors of Hart. A decade later, he understands what current press secretary Jay Carney was going through at Wednesday's press briefing. "It is just a weird feeling to see this going on," Fleischer told National Journal. "Of everything I went through — including the recount, Sept. 11, and two wars — no briefing was harder than the anthrax briefings."
He explained that  "as terrible as those other events were, I always knew what I was going to say. I knew what the president was doing. I knew what was coming next. I could take the podium and speak confidently. But the anthrax attacks were bewildering. Nobody in the government knew any answers. People would open their mail and die. People were scared."
Fleischer added, "That's when it is hardest, when you just don't know what the answers are and all you can say is we are looking into it."
That was what Carney faced Wednesday as he found himself repeating, "I would point you to the statement that the FBI put out" and "I would remind you that these investigations "¦ are just under way." Pressed to offer reassurance to a public that "is already pretty nervous," Carney offered that reassurance in the form of emphasis on the "long-established procedures and protocols" for handling suspicious mail.
Unlike the anthrax mailings, there may be swift justice in the case of the tainted envelopes that arrived in Washington this week, destined for the White House and the office of Sen. Roger Wicker, R-Miss.
A Mississippi man, Kenneth Curtis of Tupelo, was arrested Wednesday as a suspect in the mailings of both letters. Both letters carried an identical closing statement, according to an FBI bulletin obtained by NBC News. Both also were postmarked April 8, 2013, out of Memphis, Tenn., and included the phrase, "to see a wrong and not expose it, is to become a silent partner to its continuance." In addition, both letters are signed: "I am KC and I approve this message."
Adding to the emotions and the tensions Wednesday, a man was arrested on the Capitol grounds when police learned he was carrying a loaded handgun, according to CNN. He was there in protest of the Senate's consideration of tougher gun-control measures.
Though a frequent critic of President Obama's White House, Fleischer has praised the response to Boston. "I think they're handling it well," he said. "The administration has been handling it with caution, with as steady a hand as is possible in the situation. They are not leaning too far forward, trying to publicize too much. That would be a mistake."
Fleischer said that Carney has no choice but to be cautious. "It will frustrate the press no end. They are doing their job trying to press for answers, and the press secretary has got to be cautious," he said. But he said it is too early to assess the ricin letters. "It is too soon now. They are just on their heels dealing with everything they have to deal with and I feel for them."
Most of those procedures and protocols cited by Carney were established after the anthrax attacks of 2001.
"Our home mail got cut off and it was diverted to the White House mail room," said Fleischer, recalling that he did not receive his home mail until about a year later and that it was "very crispy" after being irradiated. Additionally, all mail for the White House and the Congress are now received at installations far from the White House and far from Capitol Hill.
More seriously, Fleischer said the mood inside the White House is likely to be somber. He recalled the mood in the Bush White House when, only days after the Sept. 11 attacks, a man in Florida died from contact with anthrax in a letter he received.
"For a few short hours, everybody at the White House from the president on down was gripped with whether or not this was a biological attack on our country," said Fleischer. "Because after Sept. 11, one of the things the CIA warned us about was that it was not a question of if the second attack would take place. It was a question of when, not if."¦ So for those first few hours, when we just didn't know, it was in many ways the worst day at the White House. And then it seemed it was not a biological attack. But we still didn't know what it was or who was responsible for it, and it lasted for weeks."
Tom Daschle, who was then the Senate Majority Leader, received one of those anthrax letters in 2001 and watched multiple members of his staff infected and placed on emergency doses of cipro, a powerful antibiotic effective against anthrax. In his book, Like No Other Time: The Two Years That Changed America, the South Dakota Democrat wrote that he also interpreted the initial anthrax letter as a sign that al-Qaida's "next phase had begun, that they were out to prove they could attack us whenever and wherever they chose." And that was before the white powder flew out of a letter from the "4th Grade. Greendale School, Franklin Park. New Jersey."
Coincidentally, the man who calmly oversaw Daschle's office's response to that attack was Pete Rouse, who was then his chief of staff and today is a senior adviser to Obama.
Another man living through this a second time is Tim Mitrovich. Then a Daschle staffer, he was standing next to the intern when the anthrax letter was opened. He was one of 23 Daschle aides exposed and placed on Cipro.
In his only interview on the incident, Mitrovich told Copley News Service in 2001 that key to the response was everybody following procedure. "They said someone had just opened a letter with white powder in it," he recalled then. "My initial thought was it was a hoax. But not knowing, we all followed protocol." Within 30 minutes, the white powder had been field-tested and found to be positive for anthrax. Mitrovich and his coworkers were given nasal swabs and received their first doses of Cipro. Two days later, Rouse called Mitrovich at home to give him the bad news that he had tested positive for anthrax exposure.
The treatment was effective. But Mitrovich, who still works for the Senate today, said the impact was powerful. "It's changed my life in a lot of the same ways that Sept. 11 changed my life. You reevaluate your life, and you try and concentrate on the things that are most important to you."