Does the Fate of Immigration Reform Depend on This Idaho Congressman?
Puerto Rican-born, Tea Party-purist, GOP-leadership-defying immigration attorney Raul Labrador has confounded expectations throughout his political career.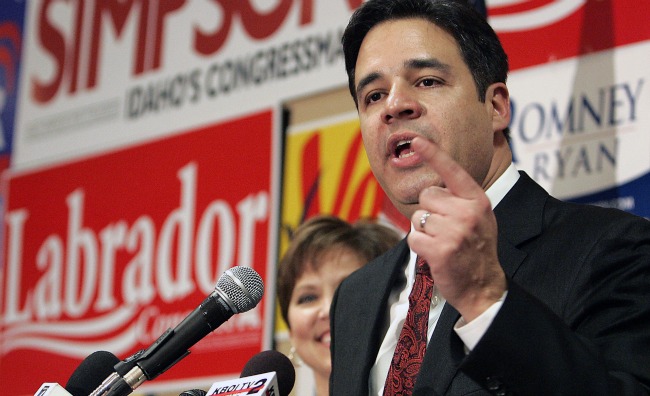 Matt Cilley/Associated Press
Idaho Rep. Raul Labrador is a study in contrasts. The second-term congressman grew up in Puerto Rico and speaks with a mild accent, but he is a Tea Party purist who represents one of the whitest states in the country. He is a leading figure in the right wing of the GOP caucus that has been unafraid to challenge House Speaker John Boehner's leadership. But as a Hispanic, he is also a valued long-term asset for a party desperate to prove its diversity bona fides. Labrador is at once a thorn in the side of the GOP establishment and also perhaps the House Republicans' most appealing voice as Congress slowly stumbles toward reform.
Labrador is scrappy. During his first House campaign in 2010, he was twice the underdog but emerged victorious thanks to a combination of luck, perseverance, and natural political cunning. In the GOP primary, he dispatched Vaughn Ward, the establishment pick and a decorated Marine veteran who became a national punchline after a now-infamous video charged him with blatantly plagiarizing Barack Obama's "One America" speech. He then upset the Democrat incumbent, Walt Minnick, in a bruising general election where Labrador's work as an immigration attorney became a flash point for ugly, racially tinged ads against him.
"Some people said Raul got lucky with his timing, but we saw someone who knew how to take advantage of the right time," says John Foster, Minnick's 2010 campaign manager and a longtime Idaho political operative. "He proved supremely adaptable during that campaign."
Few midterm election outcomes embodied the national tenor in 2010 like the Labrador-Minnick race. The Blue Dog Minnick was so conservative, Foster says, that fellow Idaho Democrats liked to say he was one of the best Republican congressman the state ever had. He earned (and later refused) an early endorsement from the Tea Party Express. As a former CEO and an incumbent with deep ties to the business community, he out-raised Labrador by a three-to-one margin and was an easy favorite to win. But in a state where only 36 percent of voters went for Barack Obama in 2008, Labrador didn't have to engage Minnick on his record. He simply hit him on his party affiliation, linked him at every turn to Nancy Pelosi, and won decisively.
In the two years that followed, Labrador established himself as an uncompromising conservative who did not hesitate to cast minority votes that strayed from party leadership, including a vote against the fiscal cliff compromise this past January. As a second-term representative from a safe district, he can afford to look extreme. "He can be a congressman for as long as he wants," says Foster, who has worked for both Democrats and Republicans.
But even as he defied his party elders -- Labrador was part of a January rebellion in the House that did not vote to reelect Boehner as speaker -- he steadily elevated his own stature in Washington. Despite his relative youth and inexperience on Capitol Hill, he has flourished in the limelight of the establishment political media. He appeared on NBC's Meet the Press five times, was quoted in a lengthy New Yorker profile of House Majority Leader Eric Cantor, and has in recent weeks become a guiding figure on one of the most fractious Republican issues of the last decade.
Along with Florida Senator Marco Rubio, who has staked much of his own promising career on the issue, Labrador has been out front and outspoken on turning immigration into a long-term winning issue for conservatives in need of a victory. Labrador is part of a bipartisan group of eight representatives working to draft a reform bill. He sits on the House Judiciary Committee, which has primary jurisdiction over immigration issues, and also on the subcommittee on Immigration and Border Security.
"Nearly everyone agrees that our immigration system is in desperate need of repair," says Judiciary Committee Chairman Bob Goodlatte, a Virginia Republican, adding that as one of three former immigration attorneys serving in the House, Labrador's involvement is "vital." (The other two are Goodlatte himself and Rep. Zoe Lofgren, a California Democrat who also sits on the Judiciary Committee.)
Labrador has said he wants a "free-market" approach to reform, including on issues like wages, and has criticized the Senate's version of a guest-worker program. Despite these differences, he remains optimistic about a bill passing the house, and says that, at this stage, any reports of intra-Republican divisions over the issue are a media invention, a holdover from the Bush years. "The media says that conservatives are against immigration reform," he told The Atlantic. "I haven't found that to be the case. Most hardcore conservatives in the House come from rural agricultural districts, so we understand the need for reform."
But the fact is that hardline anti-reform elements remain. Iowa Representative Steve King, who recently referred to illegal immigrants as "unregistered Democrats," has given no indication that he will be any more amenable this year than during reform efforts in the past. Labrador concedes that there will be "individual members opposed to any kind of immigration reform," and added that King "does not speak for the conservative movement as a whole."
After watching Mitt Romney earn just 27 percent of the Hispanic vote in November, many Republicans are eager to move on a bill, but Labrador is quick to tamp down expectations that new legislation will produce immediate electoral gains.
"The old guard believes that if we fix the immigration we will all of a sudden get 43 percent of the Hispanic vote. We won't. In fact, I don't think we will get much credit for fixing the immigration problem," Labrador says. But he does see broader political advantages. "If we fix this problem, [Hispanics and minority voters] will listen to us on other issues."
November's results may be a motivating memory, but an uncompromising conservative like Labrador can also change the calculus on an issue. Young Republican lawmakers who have come to trust and admire Labrador's principled stands may be more willing to listen to him when he says that the time for flexibility and collaboration with Democrats has come.
This unique mix of assets may also explain how Labrador has been able to get away with an independent streak that has at times bordered on insubordination. After he refused to vote to reelect Boehner, he earned a lashing from Idaho's senior congressman, Mike Simpson, who suggested that by refusing to vote, the upstart politician had done irreparable damage to his reputation in Washington. "Once you lose that credibility it's gone and it's gone forever," Simpson said at the time, the Idaho Statesman reported. Before the dust settled, Labrador called Simpson, an influential eight-term House veteran, "a bully" and "an old-school legislator that went to Washington, D.C., to compromise."
A total of 13 representatives did not vote for Boehner as speaker, and many of them paid an immediate price by being stripped of their committee assignments. Justin Amash, the staunch libertarian from Michigan, took his protest one step further by writing in a vote for Labrador as speaker. For that stunt, he was one of four congressmen unceremoniously removed from the House Budget and Banking Committee. Notably, Labrador -- despite his involvement in the failed coup -- somehow managed to emerge unscathed.
Labrador now says that the entire episode, like the GOP immigration rift, was a case of media-driven palace intrigue. "All of that information was incorrect," he told The Atlantic. That's a claim that's hard to believe, given that a variety of news outlets, both conservative and mainstream reported similar facts, and a photographer caught a glimpse of Rep. Tim Huelskamp's whip list of defectors (titled "You would be fired if this goes out.")
Maybe Labrador is lucky. Or he could be the right man for the right time. We know the familiar story of the righteous young politician who campaigns on pure belief, but then goes to Washington to learn what he calls the finer art of political compromise -- and his opponents call selling out. Labrador insists he won't reprise that role.
"I don't play games in Washington, D.C.," Labrador told The Atlantic. "That's the problem with Washington: Too many people play too many games. The old guard is not used to having young conservatives who don't play those games."
Still, while he forswears compromise, Labrador has called for a more inclusive GOP, doing so on Meet the Press days after Mitt Romney's loss in November. He said that while Romney was a good man, the failed candidate had "talked about conservatism as if it was a second language to him." Labrador then offered a vision that, at least on November 18, was a distinct departure from mainstream Republicanism.
"I didn't become a Republican to defend the rich," he said. "What we need to understand is that big business loves big government, because they get all the goodies from big government."
In the months that followed, party leaders and presidential hopefuls including Bobby Jindal, Rubio, and Eric Cantor have all followed his lead and expressed similar populist messages aimed at working- and middle-class and younger voters. As Jindal put it in a January speech to the RNC in Charlotte, "We must quit 'big.' ... We must not be the party that simply protects the well off so they can keep their toys."
When rebellion blew through his ranks of young conservatives in January, Labrador may have only earned one vote for House speaker. He may want to put that episode behind him, but for a young politician who made a career of exceeding the expectations others have set for him, it was a good start.