Biden Accuses Gun-Control Opponents of Being Trapped in a "˜Time Warp'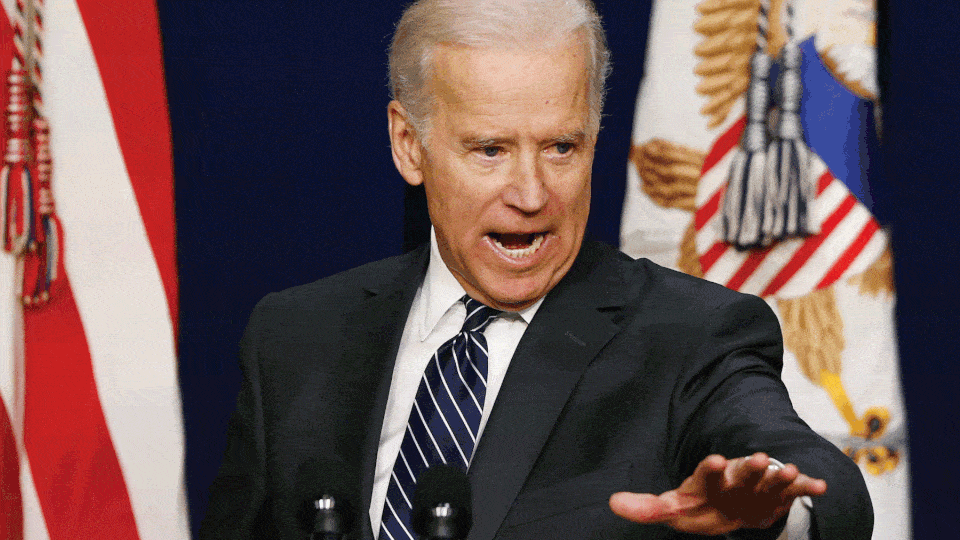 Vice President Joe Biden, trying to keep up pressure as a Senate vote on guns approaches, accused gun-control opponents on Tuesday of being trapped in "a time warp" and "embarrassing" the United States in the eyes of the rest of the world. Biden's remarks came in a White House appearance with Attorney General Eric Holder before an audience of law-enforcement officers.
He also mocked the National Rifle Association for waging what he called "a campaign of disinformation to try to scare people." He quoted an NRA official's warning that the federal government wants to keep the names of all gun owners in "a massive federal registry." To laughter, Biden added, "Kind of scary, man. The black-helicopter crowd really is upset."
He read more NRA quotes saying that "law-abiding citizens" don't want background checks for gun purchases and that such checks would never deter criminals from buying guns. "None of this is true," Biden said. And the notion that special forces will sweep in and gather guns from citizens, he said, "is bizarre."
Noting that 13 Republican senators have threatened to filibuster the gun package, he said, "What an embarrassing thing to say." Arguing that this would embarrass the country, he added, "Imagine what they're saying, gentlemen and ladies, in other capitals around the world today." Senators who fail to "stand up and be counted" on this legislation will be judged, he said.
"I just wish members of Congress had been able to eavesdrop on the discussion in my home," Biden said, noting that he had met that morning with family members of the victims of the shooting at Sandy Hook Elementary School in Newtown, Conn. One mother of a young victim had asked his advice on how to talk to the senators trying to block a vote, he said. "It was a legitimate question, as if they are going to talk to some ancient Aztecs or somebody who speaks a different language."
The vice president said the senators blocking the vote should explain themselves to those families. "You've got leading senators of the most august legislative body in the world saying we're not even going to talk about this tragedy that traumatized a nation and caught the attention of an entire world," he said. "The climax of this tragedy could be that we're not even going to get a vote? Imagine how this makes us look."
Biden spoke shortly before Senate Majority Leader Harry Reid, D-Nev., announced he would push for a vote on Thursday.