Who Has Obama Chosen For His 2nd-Term Administration? A Visual Guide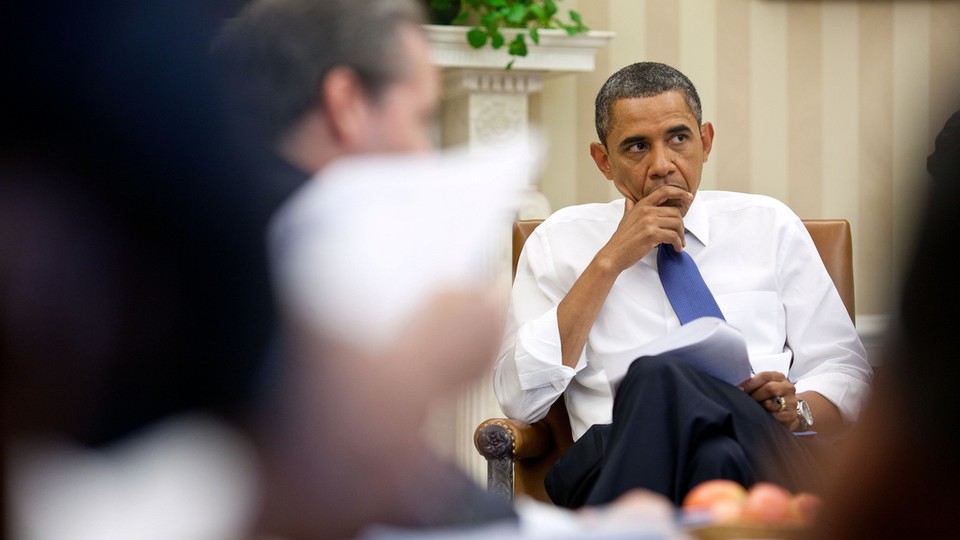 With three more high-level nominations made this week, the list of open cabinet positions in the second Obama Administration is dwindling down. So who will be running the top departments in the executive branch? It's a cadre of mostly familiar faces: the president's old Senate colleagues, veterans of the Clinton administration, and current department officials are filling out the roster. A complete list of the positions that have yet to be filled can be found here.
Below, find your cheat sheet to who has been nominated by the president. This page will be updated as new appointments are made.
DEFENSE SECRETARY
Now confirmed, Chuck Hagel proved to be the president's most controversial Cabinet pick.
Quick Stats
Is a Vietnam War Veteran.
Founded Vanguard Cellular, which became the second-largest cell service in the 90s.
He served in the Senate from 1997 to 2009.
The One Thing You Need to Read About Chuck Hagel.
CIA DIRECTOR
John O. Brennan, a 25-year veteran of the CIA, has been one of the most influential figures in the U.S. drone warfare program.
Quick Stats
Joined the CIA by answering a classified ad.
Was the first U.S. official to offer an extensive explanation of the U.S. drone program.
Took himself out of the running for CIA director in 2008.
The One Thing You Need to Read About John Brennan.

Chief of Staff
Denis McDonough, a former deputy national security adviser, is Obama's 4th chief of staff.
Quick Stats
Has been involved in the decision-making on national security issues such as Afghanistan and the Arab Spring.
He's known for leaving thank-you notes for staffers.
He has Capitol Hill experience, having served as an aide to Sen. Tom Daschle.
The One Thing You Need to Read About Denis McDonough.

SECRETARY OF STATE
John Kerry, one-time presidential hopeful, joins Obama's national-security team (headed by other former Senators) as chief diplomat.
Quick Stats
Has served in the Senate since 1985.
Unsuccessfully ran for president.
Mass. Governor Deval Patrick named William Cowen to fill in for Kerry in the Senate.
The One Thing You Need to Read About John Kerry.
TREASURY SECRETARY

Jacob Lew, former Obama chief of staff, is no surprise pick for Treasury Secretary.
Quick Stats
Before he was chief of staff, Lew ran the Office of Management and Budget (a position he also held during the Clinton Administration).
He's a former banker, serving as the chief operating officer of Citigroup Alternative Investments.
Served as a Deputy Secretary of State.
The One Thing You Need to Read About Jack Lew.
S.E.C. Chair
Mary Jo White, a notoriously tough lawyer, has prosecuted terrorists as well as Mob bosses.
Quick Stats
Is a former board member on the NASDAQ Stock Exchange.
Oversaw the prosecutions of mob boss John Gotti and Ramzi Yousef, the plotter behind the 1993 World Trade Center bombing.
Currently employed at the law firm Debevoise & Plimpton.
The One Thing You Need to Read About Mary Jo White.
Secretary of the Interior
Sally Jewell, president and CEO of the retailer Recreational Equipment Inc. (REI), comes to the White House as mostly a political outsider.
Quick Stats
An engineer by education, Jewell has also worked in the banking industry.
REI is ranked 17th on Fortune's "100 Best Companies to Work for" list.
She's seen as someone who can unite conservatives and liberals on conservation issues.
The One Thing You Need to Read About Sally Jewell.
O.M.B. Director
A Rhodes Scholar and Clinton administration alumnae, Sylvia Mathews Burwell is currently in charge of Walmart's philanthropic operations.
Quick Stats
Served as a deputy chief of staff in the Clinton Administration.
Has an expansive resume in the non-profit sector, working with the Bill and Melinda Gates foundation, the Global Development Foundation, and the Walmart Foundation.
The ongoing budget battles in Congress will not make for an easy job as OMB director.
The One Thing You Need to Read About Slyvia Mathews Burwell.

Energy Secretary
MIT professor Ernest Moniz has previously served in the Clinton and Obama administrations in policy advising roles.
Quick Stats
Served as an under secretary for energy from 1997-2001, and defended the administration's botched plan to safely store spent nuclear waste.
Advocates for nuclear power.
Has written that shale natural gas can be "a bridge to a low carbon future."
The One Thing You Need to Read About Ernest Moniz.
E.P.A. Director

Gina McCarthy, who currently heads the EPA's air and radiation office, would become the face of Obama's climate change policy if confirmed.
Quick Stats
She's known as a pragmatist, having served in GOP administrations in Massachusetts and Connecticut (including the Romney administration).
Has a reputation for reaching out to the energy industry.
Has a heavy Boston accent and reportedly a good sense of humor.