What Carl Levin's Retirement Means for Michigan and for Democrats
The longtime senator's decision opens the field up for potential successors -- and could offer Republicans a chance to pick up a seat.
The longtime senator's decision opens the field up for potential successors -- and could offer Republicans a chance to pick up a seat.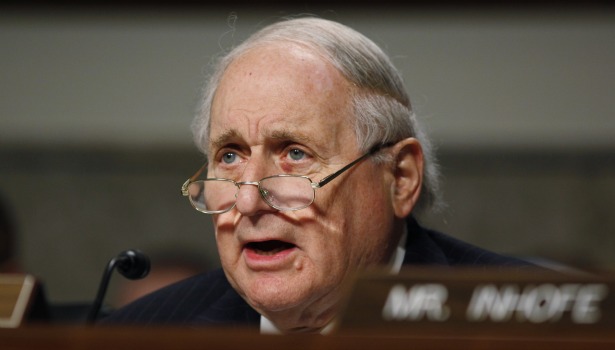 Reuters
Sen. Carl Levin, D-Mich., announced late on Thursday that he will not seek a seventh term in 2014, leaving Democrats with another open seat to defend next year. Levin called the decision "extremely difficult" and said he wanted to focus on his role as chairman of the Senate Armed Services Committee "without the distraction of campaigning for re-election."
Levin is the fourth Democratic senator to announce he won't run for reelection -- Sens. Tom Harkin, Frank Lautenberg and Jay Rockefeller have all announced this will be their last term, and Tim Johnson is considered likely to join them. With the exception of Lautenberg, their departures create a problem for Democrats as they try to retain their majority. Had Levin chosen to run, he would have been a heavy favorite, but now Republicans may smell a pickup opportunity.
Michigan Democrats have been readying for a challenge to Gov. Rick Snyder, but they'll now face the added challenge of retaining the Senate seat for the party. They've had success in that area, holding both of the state's seats in the upper chamber for more than a decade. "We win on the federal level," said newly-installed Michigan Democratic Party Chairman Lon Johnson in a phone interview Wednesday, before Levin's announcement. "Our challenge," said Johnson, "is to convert those victories to the state level."
The challenge now will be mounting two heavily contested statewide campaigns -- and the possibility that one race could thin the candidate pool of the other. Colorado Sen. Michael Bennet, chairman of the Democratic Senatorial Campaign Committee, expressed confidence the seat would stay in Democratic hands. (Bennet is the brother of Atlantic Editor-in-Chief James Bennet.) "I am confident that we will recruit a great Democratic leader who will continue to fight for the values and priorities Senator Levin advocated for all these years," Bennet said in a statement. "We fully expect to keep Michigan blue in November 2014."
Potential Democratic candidates include Rep. Gary Peters and former Rep. Mark Schauer. In a statement issued from his House office, Peters said Levin "belongs alongside Michigan's greatest statesmen," but he did not comment on a potential run for his seat. "When I began my own career in public service, his was the example I held myself up to," said Peters. "Like Carl has for so many others, he became a mentor to me over the years and I'm proud to call him my friend."
Former Gov. Jennifer Granholm has also been mentioned as a potential Democratic candidate.
On the GOP side, Attorney General Bill Schuette, who lost to Levin in 1990, is considered a possibility but posted on his Facebook page Thursday night that he "plans to keep working as your Attorney General for six more years." A Republican official suggested Lt. Gov. Brian Calley, Secretary of State Ruth Johnson and Rep. Mike Rogers might also be interested in running. GOP Rep. Justin Amash was also reported to be interested in a bid if Levin retired. State Sen. Roger Kahn's name has also been mentioned as a possible candidate.
While the candidate field remains unclear, the GOP is in a stronger position with Levin off the ballot -- both in Michigan and in its quest to retake the Senate. "It's always a challenge to beat an incumbent. Debbie Stabenow was a strong incumbent [in 2012]," said Michigan state GOP chairman Bobby Schostak. "She had Barack Obama at the top of the ticket. This time we've got a governor with a successful track record at the top of the ticket and an open seat."
Republicans have defeated only three Democratic incumbents since 2004: Tom Daschle of South Dakota in 2004, and Russ Feingold and Blanche Lincoln in 2010. Even with a favorable Senate map in 2014 -- Democrats hold seven seats in red states up for reelection -- winning a net of six of them (necessary for a majority) was a tall order against a slate of incumbents.
But these retirements offer a way around that. Republicans can hypothetically knock off only two incumbents and still gain control of the upper chamber. "Over the last few months, the 2014 map has gone from sorta difficult to really tough for Senate Democrats," said Brad Dayspring, NRSC spokesman.