We've Known How to Fix Voting Since 1975—We Don't Need Another Panel
President Obama used his State of the Union to call for a commission to improve elections. That's just another way to put off real progress.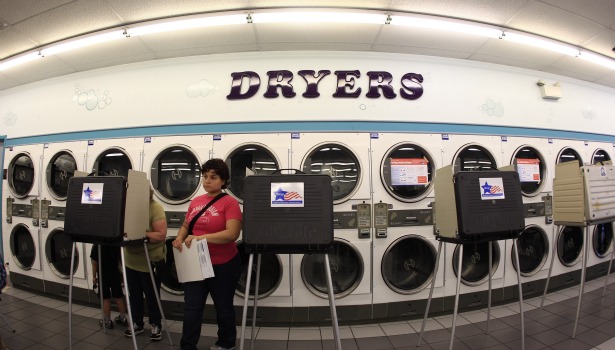 Reuters
Many Americans learned a valuable lesson in 2000: The technologies that emerged over the previous century for casting and counting votes are not always as reliable as they need to be, especially in close elections.
Those tools -- mechanical lever machines, punch cards, optical-mark readers and, most recently, touch-screen and push-button electronic units -- emerged as urban populations grew and as pressure intensified for rapid tallying of results, largely from candidates and broadcasters. For years, they were widely accepted as accurate.
But as early as 1975, Roy Saltman, an engineer at the National Bureau of Standards (now the National Institute of Standards and Technology), undertook a privately funded study of voting and vote-counting technology and recommended that punch-card systems be dropped as soon as possible due to problems like hanging chads.
Alarm. Yawn. Hit the snooze button.
A 1988 update had the same reaction. In 1990, after extensive public hearings, the Federal Election Commission's Office of Election Administration issued voluntary guidelines regarding the testing and certification of voting and vote-counting technologies.
America was beginning to wake up.
Around the same time, the House Subcommittee on Elections of the Committee on Administration held hearings on emerging voting technologies. The report of those hearings was a cornucopia of information. Another sign of awakening.
Yet in 1994, one of the first actions of the new Republican majority was to eliminate the Subcommittee on Elections. Big yawn. Hit the snooze button.
The shrieks of millions of Americans in the aftermath of the Florida debacle in 2000 stirred Congress somewhat, yet it still took nearly a year until it passed the Help America Vote Act, which "established" an Election Assistance Commission (EAC) and "provided" funds to assist the states in modernizing their voting and vote-counting equipment.
But delays in appointing the members and appropriating funds for the EAC meant the commission was unable to begin its work until March 2004, too late to have any meaningful impact on the 2004 elections. The snooze button prevailed again.
In 2005, the Commission on Federal Electoral Reform, a bipartisan, private group commonly known as the "Carter-Baker Commission," brought together 21 former members of Congress, scholars, and nonpartisan leaders to discuss a range of challenges facing U.S. election administration. The commission concluded its work in 2005 by issuing 87 recommendations to improve elections, including transferring responsibility for voter registration lists from local authorities to the states; checking across states for duplicate registration records; requiring voters to present identification in order to vote (but, significantly, recommending that states deploy mobile offices and make other concerted efforts to ensure that anyone wanting to vote is able to obtain the needed ID easily); and passing a federal law to require paper audit trails on all electronic voting machines. It also suggested changing the EAC and state election offices alike into non-partisan, professional bodies.
While there has been isolated progress on implementing some of those recommendations, the snooze button has largely won out, year after year, allowing the quality of U.S. elections to fall farther behind those of numerous other countries.
Robert Pastor, executive director of the Carter-Baker Commission and co-director of the Center for Democracy and Election Management at American University in Washington, recently undertook a comprehensive study of the electoral systems in North America and concluded that the United States came in third -- out of three. Last Place.
Yet because the snooze button continues to triumph over the urgent and concerted action that is needed, we continue to face waves of complaints about technology failures and other shortcomings in our elections. Legislation with catchy names to shorten lines is well-intentioned but not focused on the most basic issue: Election administration isn't taken seriously enough. In my collection of stranger-than-fiction stories of U.S. election administration is the Florida county where the election supervisor doubled as the courthouse janitor.
President Obama's initiative, announced during the 2013 State of the Union address, to form a new commission to study how to improve elections is yet another sad indictment of our system, as we already have a commission -- the Election Assistance Commission mentioned earlier -- that was established to do the same thing by setting voluntary standards, administering grants to develop better voting technologies, recommending best practices to facilitate military and overseas voting, promoting networking among state and local election officials, and "conducting studies and carrying out other activities to promote the effective administration of Federal elections." But the EAC is now functionally dead, with no sitting commissioners or executive director for more than a year as a result of foot-dragging on Capitol Hill.
How many elections have to be questioned until we get serious about having the best elections possible? Fill the seats on the EAC -- the commission on voting issues that we already have -- and let it get on with the important work it was established to do.