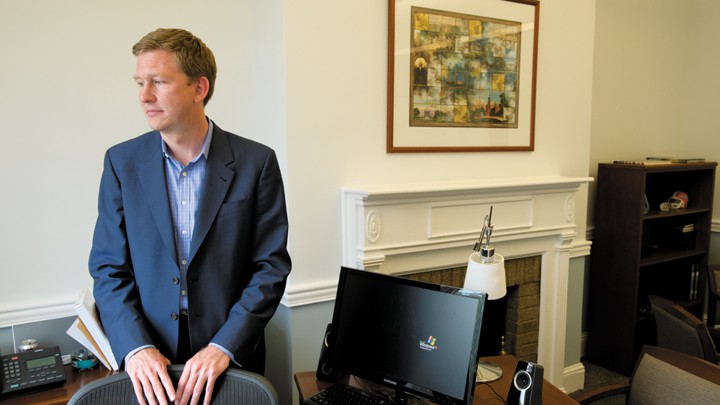 The executive director of the Democratic Senatorial Campaign Committee said Monday that he will not advise vulnerable incumbents how to vote on the Senate Democrats' upcoming budget proposal, saying the politically consequential decisions will be left to individual members.
"They'll weigh the pros and cons and make that determination on their own," Guy Cecil, the committee's top staffer, told reporters on a conference call on Monday. He added that he wouldn't "presume to speak for individual members in their race."
Democrats have repeatedly called the House Republican budget, set to be formally unveiled this week by Budget Committee Chairman Paul Ryan, a political disaster for the GOP. But Cecil's comment amounts to a tacit admission that the Senate Democrats' spending plan, which is expected to call for higher taxes on the rich and increased spending on transportation infrastructure, carries its own risk, particularly for a sextet of red state incumbents up for reelection next year.
The danger for the six senators -- Tim Johnson of South Dakota, Mark Pryor of Arkansas, Mary Landrieu of Louisiana, Kay Hagan of North Carolina, Max Baucus of Montana, and Mark Begich of Alaska -- is supporting a budget that, unlike the GOP proposal, doesn't balance in the long run. Bringing the budget into balance is key, Republicans say, because it's popular enough with voters that they will overlook its more controversial elements -- like overhauling Medicare.
Backing the budget would also risk blurring the image of these senators as independent, a feature they must maintain, by Cecil's own admission, to win reelection in conservative areas. On the other hand, bucking the party on the budget vote would give those Democrats an opportunity to demonstrate a degree of independence, though it would almost certainly doom the bill.
Cecil said he still expects broad support for the measure and thought that it would be a political winner for Democrats next year.
We want to hear what you think about this article. Submit a letter to the editor or write to letters@theatlantic.com.