Thomas Perez May Not Deserve to Be Secretary of Labor, but He Deserves More Than This
Conservatives go after the head of the Voting Rights Section of the Justice Department for "cruddy" lawyering and "racial scaremongering against voter ID laws."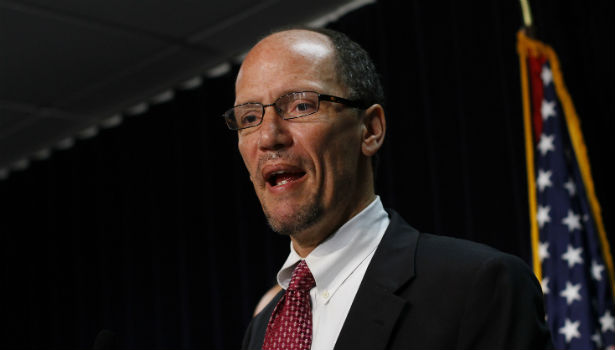 Joshua Lott/Reuters
There are reasonable criticisms one could make about Thomas Perez's work as a federal official as he nears his confirmation fight for Secretary of Labor. This, from Jennifer Rubin, in which she cites a blogger at the American Spectator, is not one of them:
Quin Hillyer documents that as the chief of the Justice Deaprtment's (sic) civil rights division Perez proved to be a cruddy lawyer:

He has led the administration's racial scaremongering against voter ID laws, but got smacked down hard by the U.S. District Court for the D.C. Circuit, so that elections in South Carolina this week will go ahead with the law in effect. (This wasn't a partisan decision: The unanimous three-judge panel included Clinton appointee Colleen Kollar-Kotelly.)
Even leaving the "racial scaremongering" junk aside, this assertion is unsupported by fact. Whatever faults he may have as an administrator (faults that the Office of Inspector General detailed earlier this week), Perez and his colleagues in the Voting Rights Section achieved consistent success last year invoking federal law to block discriminatory voting practices.
I guess it all depends on your definition of "a cruddy lawyer," but the truth is that Perez and company prevailed in Texas, and in Florida, and, yes, even to a significant degree in South Carolina, where the Justice Department forced state officials to delay implementation of their voter identification law until after the November general election.
As I wrote last October, the South Carolina ruling was no rout for the feds. But it is silly to contend that the Justice Department got "smacked down hard" in the case. In addition to preventing state officials from enforcing the law last fall, the judges gave South Carolina clear instructions about how it must implement the measure to avoid future constitutional trouble.
You don't have to take my word for it. Take the word of U.S. District Judge John Bates, the appointee of George W. Bush, who wrote in the South Carolina case:
One cannot doubt the vital function that Section 5 of the Voting Rights Act has played here. Without the review process under the Voting Rights Act, South Carolina's voter photo ID law certainly would have been more restrictive. Several legislators have commented that they were seeking to structure a law that could be precleared.
Every lawyer dreams of being "smacked down" like that by his trial judge. Look, I don't know enough about the work of the Labor Department to know whether Perez deserves the job. But I know enough about the Voting Rights Act, and the Justice Department's string of victories last year on behalf of minority voters, to know that he deserves better than to be denied the post for the reasons Rubin and company have offered above.