The Weirdest Congressional Race: Mark Sanford vs. Stephen Colbert's Sister?
The former South Carolina governor, famous for his extramarital affair while in office, is poised for a return to Congress.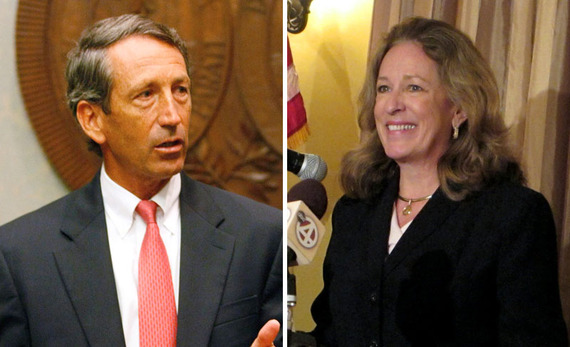 Reuters/Associated Press
This one couldn't be going better if it was scripted for a Comedy Central show.
There's a pretty good chance that a philandering former governor will face off against the sister of a television comedian for a seat in the U.S. House of Representatives. During a primary for South Carolina's first congressional district special election Tuesday, Democrat Elizabeth Colbert Busch won the Democratic nod. Meanwhile, Mark Sanford won the most votes in the GOP field, sending him to a runoff for the Republican nomination.
This is the seat, you may recall, that opened up when Governor Nikki Haley appointed Tim Scott to a Senate seat vacated by Jim DeMint. The field was full of names in the "Is that the same ....?" category -- not just Sanford and Colbert Busch, sister of Stephen (though she pronounces the 't,' as in COAL-burt), but also Sanford's ex-wife Jenny and Teddy Turner, the conservative son of the CNN mogul. A profile in the Charleston Post and Courier several years ago aptly pointed out how her brother didn't define her:
Elizabeth Colbert-Busch is Stephen Colbert's sister, and that's probably the least interesting thing about her.

Her father and two of her brothers were killed in a plane crash when she was 19. She was married to a man who ended up on "America's Most Wanted." And in 2001, while at a business conference in New York City, she was sitting in a building directly across the street from the World Trade Center when two jetliners slammed into its twin towers, forever changing the landscape of America.
And then there's Sanford, of Appalachian Trail and Argentine lover fame, who apparently by unwritten rule must be described by reporters as "disgraced former governor Mark Sanford." Perhaps we're reaching a point where it would be more appropriate to call him "formerly disgraced governor Mark Sanford," though. He took a solid 37 percent of the vote, exceeding the closest comer by 24 points. It's not clear who he'll face in the April 2 runoff. Curtis Bostic and Larry Grooms are close enough that there's likely to be a recount, which Bostic, a former county counselor, currently holding the edge over Grooms, a state senator. That race won't be a gimme for Sanford, and his greatest asset -- his name recognition -- is also his greatest weakness, and nearly two-thirds of GOP primary voters cast ballots against him
Assuming Sanford wins the runoff, he's probably headed for victory in the May 7 election, which would cap an extremely unlikely comeback with a return to the seat he held from 1995 to 2001. For some reason, National Review's John Fund is warning darkly that Colbert Busch could win, but that's a long shot. If you really want it, Phillip Bump has an extensive run-down on the demographics, but what all you need to know is that Republicans outnumber Democrats 60-40 in the district; it went for Mitt Romney by 18 points; Sanford won more total votes than Colbert Busch Tuesday, even though she got 96 percent of the Democratic vote; and no Democrat has represented the seat since the fairly conservative Mendel Davis lost in 1980.
Sanford's return is proving eerily like his fall: weird to watch, because it feels guiltily like rubbernecking, but also a refreshingly honest performance the likes of which seldom occurs in politics. Back in 2009, once Sanford admitted he hadn't been hiking and 'fessed up to his extramarital affair, the world was treated to one of the oddest, most frank press conferences ever, in which he explained his love for Maria Belen Chapur in surprising, squirm-inducing detail. And he showed his resilience then: Despite predictions from almost every quarter that he'd have to step down, Sanford finished out his term as governor before entering the figurative (rather than literal, Appalachian) wilderness, briefly.
During his comeback, sensing the futility of trying to cover it up, he's maintained a similar stance, as Jason Zengerle showed in a great profile in New York. Sanford insists he's learned from his mistakes, but is extremely self-effacing: "I'm anybody but the guy to take marriage lessons from, but you want to treat that marriage as something special and unique and guard it and protect it in a way that I did not." And yet he still does things like ask his ex-wife to run his campaign, just as she did his prior ones. ("I could pay you this time," he offered.)
You couldn't write a TV show this weird.