The Normalization of Gay Marriage
A record number of people now back it, according to a new poll from the Washington Post and ABC News.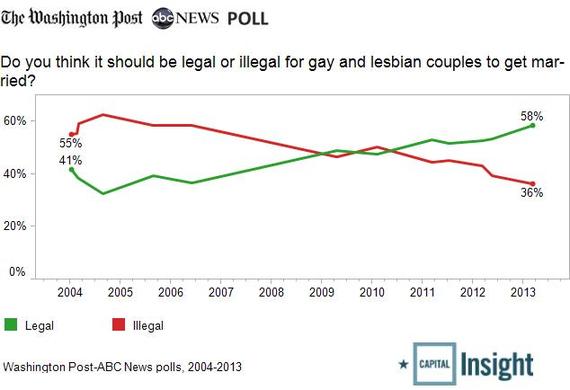 Remember how Howard Dean was an unelectable radical because he signed a bill permitting same-sex civil unions in Vermont, argued that the Iraq War was a dangerous break with the American foreign policy tradition, and thought Democrats should try to compete in all 50 states?
Two short presidential election cycles later, the positions once held by the doctor and presidential candidate have become shockingly mainstream -- and a person who held his 2004-views on gay marriage would be considered a conservative Democrat or moderate Republican.
A Washington Post-ABC News poll Monday showed the highest-ever measured level of support for gay marriage, with 58 percent of Americans surveyed saying they thought it ought to be legal. "Public attitudes toward gay marriage are a mirror image of what they were a decade ago," pollster Jon Cohen noted in a write-up. "In 2003, 37 percent favored gay nuptials, and 55 percent opposed them."
Support for gay marriage is now the overwhelming mainstream position among Americans 29 years of age and younger: 81 percent of them backed it in the poll -- also a record high.
As expected, Republicans and voters over age 65 remained the main opponents of same-sex marriage, opposing it 59-34 and 68-25 in the poll. Independents, including Republican-leaning independents, and Democrats, said they thought it should be legal, backing it with 62, 52, and 72 percent support, respectively.