The Jerusalem Gambit
Obama went in with two messages: "We're with you" and "Get real." He may have just pulled it off.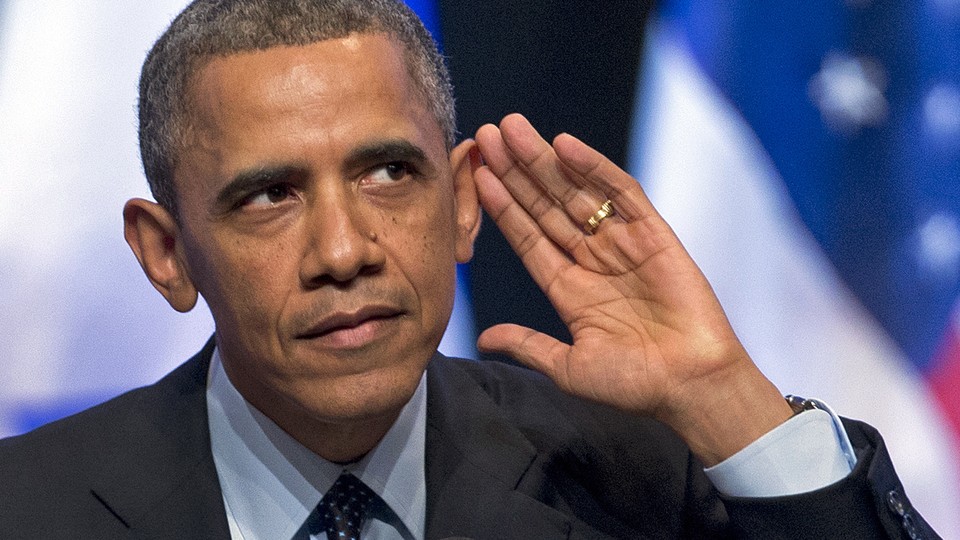 After four years of rocky relations with Israel, President Obama had one overriding mission on his just-concluded trip to the Jewish state. He had to persuade skeptical Israelis — only 10 percent approve of him — that he really gets what the small, embattled democracy is all about. After all, how can he play the role of honest broker if the most powerful nation in the region doesn't trust him? The visit nailed all the optics (trip to the Holocaust museum, wreath-laying at the grave of Zionism's modern founder, chummy press conference with the premier). But his main chance to connect was a speech yesterday to young people in a Jerusalem convention center.
And so Obama's talk was predictably heavy on expressions of how he understands Israel's history and empathizes with its current position. "Israel is not going anywhere," he avowed, drawing his longest and loudest ovation. But he wasn't done yet. Having played up his connection, he then offered a lot of friendly, but firm, advice. Israel, he said bluntly, must make some "hard choices" about its future. And some of those choices, it was clear, would upset many of the country's politicians.
Obama sounded at times like he was running an intervention. "The easiest thing for me to do," he observed, would be to "express unconditional support for whatever Israel decides to do. But I want you to know that I speak to you as a friend who is deeply concerned and committed to your future." As a friend, he advised Israel to understand some unpleasant truths about its popularity abroad, demographic security, and the Arab Spring. The Jewish state, Obama said, "needs to reverse an undertow of isolation" in the world community. It needs to face the fact that "the only way for Israel to endure and thrive as a Jewish and democratic state is through the realization of an independent and viable Palestine." And its people need to appreciate that "the days when Israel could seek peace simply with a handful of autocratic leaders are over. Peace must be made among peoples, not just governments."
This final point helps explain why Obama insisted on speaking to young people, rather than delivering his address to the oldsters at the Knesset, a more hallowed venue for visiting presidents. The American president went over the heads of Israeli leaders and asked the people to lead the way, to pressure their own government. Obama may have spent the previous 24 hours making nice with Prime Minister Benjamin Netanyahu, but he put the onus on his youthful listeners to push their leaders in the right direction. "Let me say this as a politician. I can promise you this: Political leaders will never take risks if the people do not demand that they do." After another burst of applause, he lapsed into a phrase he repeated often in his two campaigns: "You must create the change that you want to see. Ordinary people can accomplish extraordinary things."
Obama's implied message was surprisingly tough on the failures of Israel's government. "Put yourself in [Palestinians'] shoes. Look at the world through their eyes," he said, hinting that he sees a lack of empathy. "It is not fair that a Palestinian child cannot grow up in a state of their own, living their entire lives with the presence of a foreign army that controls the movements not just of those young people but their parents, their grandparents, every single day." This presumably, was a failure of imagination by the current government, and Obama wanted his audience to hold its leaders to account. "A peace of no choice," he scolded, quoting Israeli novelist David Grossman, "must be approached with the same determination and creativity as one approaches a war of no choice." Sure, partisans on both sides would work against rapprochement between Israelis and Palestinians, he said, but "your voices must be louder than the extremists who would drown them out."
And yet Obama's reception in Israel was far better than he might have hoped, given his favorability rating there. He clapped shoulders and cracked jokes with Netanyahu. He walked arm in arm with President Shimon Peres. With the exception of a heckler who demanded that Obama pardon convicted Israeli spy Jonathan Pollard, the convention center audience lavished him with standing ovations and loud cheers. He rewarded them with expressions of U.S. support and one of the strongest oratorical performances of his presidency.
The speech may do no more to reshape history than the president's 2009 Cairo speech to the Arab world, but the White House believes it was essential both to breathe life into the dormant peace process and to give American efforts credibility. Former Ambassador to Israel Martin Indyk notes that as long as Obama is disliked by average Israelis, he has little leverage with Netanyahu. "An Israeli prime minister who confronts a popular American president will be punished politically by the Israeli public," Indyk says. "But one who stands up to a president who is unpopular will actually go up in the polls, and that is precisely what has happened in the past four years."
With new Secretary of State John Kerry pushing Obama to be more active on Arab-Israeli issues, winning over the Israeli people had to be the president's first step, and leveling with them had to be his second. That was Obama's challenge in Israel this week. Now all he can do is wait for the next poll to gauge his standing there. Only then will he know if this very public intervention succeeded.