Marvel at John Yoo Justifying the Iraq War as Only He Could
The former Bush lawyer suggests that if you think the war was a mistake, you must also support returning Saddam Hussein's family to power as a remedy.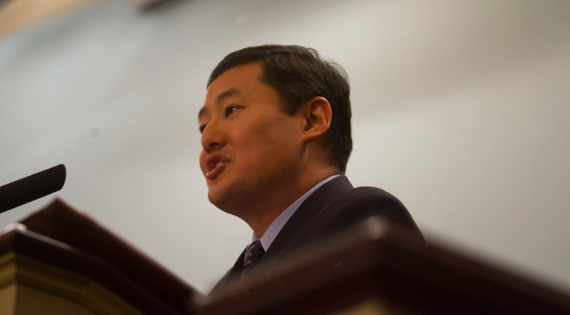 Here is the latest
argument
produced by the singular legal mind of John Yoo, B.A. Harvard University, J.D. Yale, law professor at UC Berkeley, former Department of Justice lawyer, and AEI scholar:
In law, we often come upon a situation after an event -- a crime, an accident, etc. -- and we must decide what to do based on the knowledge we have now. Courts award damages based on the harm to the victim and the harm to society. Suppose you thought that the Iraq war was a mistake. If so, isn't the proper remedy to restore Saddam Hussein's family and the Baath Party to power in Iraq? If you are unwilling to consider that remedy, aren't you conceding that on balance, the benefits of the war outweigh the costs?

I don't know whether to laugh or cry.