Is Martin O'Malley Gambling His Future on Death-Penalty Abolition?
If successful, he could create a model for the nation and give himself a boost for the 2016 Democratic presidential nomination. But the strategy isn't without risks.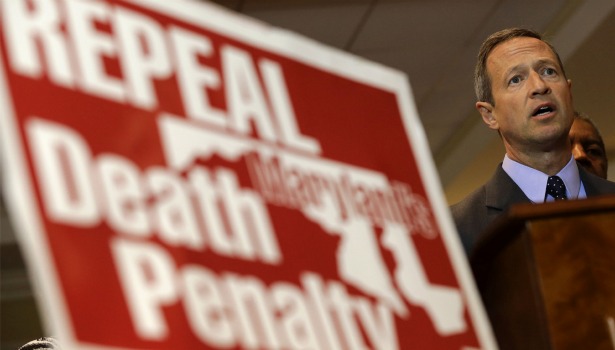 Patrick Semansky/Associated Press
In 1992, in what was widely believed to be an attempt to boost his chances of winning the Democratic nomination, then-Arkansas Governor Bill Clinton approved the execution of Ricky Ray Rector, a mentally retarded man convicted of killing two people, one of them a police officer. Before being put to death, Rector famously didn't eat the pecan pie provided for his last meal -- he wanted to save it for later.
Barely two decades later, Martin O'Malley, the Democratic governor of Maryland and 2016 presidential hopeful, is on the verge of pushing death-penalty repeal through the General Assembly, making it the first state south of the Mason-Dixon line to do so since the Supreme Court reinstituted the practice in 1976. Last week, the state senate approved the measure. It's now in the House of Delegates, where advocates are hopeful they can send it on to the governor.
In taking up the issue, is O'Malley proving himself a latter-day profile in courage? Has public opinion simply shifted dramatically in short time? Or has the debate simply lost its emotional edge?
Certainly, changing views are part of the picture. Support for the death penalty among Americans peaked around 80 percent in the late 1980s and early '90s and has since declined. But while those numbers have fallen, more than three in five Americans still favor the death penalty today -- even in the Old Line State, which is markedly more liberal than the median on most issues, according to a recent Washington Post poll.
O'Malley has long been a vocal opponent of the death penalty, but his attempts to change the law have come up short in the past. In his first term, he didn't have the votes for repeal in the state senate. In his second term, he got the votes but opted to spent political capital on a push for same-sex marriage -- an effort that even advocates worried was quixotic but was ultimately successful. He has, however, presided over an execution moratorium, established a commission that recommended abolition, and in 2009 backed legislation substantially limiting the circumstances in which the death penalty can be applied.
Four years after that reform, O'Malley faces far fewer obstacles. As one state legislator told me, the intensity of opposition to death-penalty reform is less than in the past. O'Malley has convened a diverse coalition, ranging from the archbishop of Baltimore to NAACP President Ben Jealous, who showed up in the offices of wavering legislators to encourage them to support repeal.
It also hasn't hurt that the Maryland General Assembly is predominantly Democratic and, thanks to favorable redistricting, one of the few state legislatures where Democrats gained seats in 2010. When the most prominent wavering vote on a piece of progressive legislation is a liberal Democrat from a predominantly Jewish district in suburban Baltimore, it's clear the battle is being fought on favorable ground.
The argument in Maryland has focused not on the morality of the death penalty but its effectiveness: Does it deter violent crime? Can it be fairly and efficiently applied?
But the key difference is how the debate has proceeded. Unlike in the past, when capital punishment was debated as a moral issue -- as when Michael Dukakis was famously asked in a 1988 debate if he would favor the death penalty for someone who had raped and murdered his wife -- O'Malley and his allies have approached repeal as a matter of smart public policy.
The argument in Maryland has focused not on the morality of the death penalty but its relative effectiveness: Does it deter violent crime? Can it be fairly and efficiently applied? The pro-repeal faction has won not by convincing legislators that capital punishment is wrong, but simply by emphasizing the length and cost of the current appeals process -- as well as the possibility that innocent people could be put to death. An additional boon to the movement was the help of Maryland's best-known former death-row inmate, Kirk Bloodsworth, who in 1993 became the first person in the United States to have a death sentence overturned by DNA testing.
Advocates see the success or failure of the push as "a bellwether of things to come," says Diann Rust-Tierney, executive director of the National Coalition To Abolish The Death Penalty. Although she concedes the death penalty is still an emotional issue for many people, she thinks lawmakers are increasingly using a more objective lens. Success in Maryland could provide a template for repeal efforts elsewhere.
Of course, the personal stakes are much higher for O'Malley than just checking a long-held goal off his to-do list. A victory would add to his political momentum as he gathers his forces for the presumed 2016 battle, and would give him another notch in his undeclared race for political accomplishments against New York Governor Andrew Cuomo, who is expected to be a rival for the Democratic nomination. Conversely, a defeat in the House of Delegates -- after years of trying, and after getting the bill so close to the finish line -- could make him look weak and hurt him.
Tad Devine, a veteran Democratic political consultant, says the death-penalty issue could be especially helpful in a primary dominated by progressive interest groups. "Being against the death penalty is a winning position in a Democratic primary electorate," Devine says, because it "plays really well to a progressive audience in Iowa." It's also an important signal to black voters, since African Americans are sentenced to death at disproportionate rates in the United States. There also is less fodder for negative ads on the issue than might be expected. As Republican consultant Rick Wilson points out that, unlike many other states, Maryland hasn't produced "any horrendous death penalty cases [that have become] nationally relevant," so O'Malley doesn't have any glaring weak spots for national attacks.
Even so, O'Malley still faces one serious political risk, even if he signs the bill into law: the majority of Maryland voters who still favor the death penalty. State law allows for referenda, and it's widely expected that death-penalty repeal will be put to a vote in 2014. Though legislative action might help shift the politics, there's precedent for reversals, even in deep-blue states: Last year, California voters overturned a state ban on executions. A dramatic rebuke by voters in November 2014 would mean the demise of one of his signature pieces of legislation, just 14 months before the Iowa caucuses.
Assuming the matter comes to a referendum, the debate won't just be about whether some crimes deserve the ultimate penalty or if the state should ever take human life. Instead, it will most likely track the national debate over the past decades, focusing as much on the dull numbers of the accuracy of DNA testing and the relative cost of a death sentence versus life without parole.
And for O'Malley, the political risk won't be that he'll look weak on crime; it's that he'll look weak politically for losing a vote. Americans' views on the death penalty have changed -- but the yardsticks that pundits use to measure political viability have remained constant.