How Obamacare Could Come Back to Bite Democrats—Again—in 2014
The insurance overhaul, which turns three Friday, carried Republicans to huge gains in 2010 but wasn't a major factor in 2012. Is it poised to claim new victims?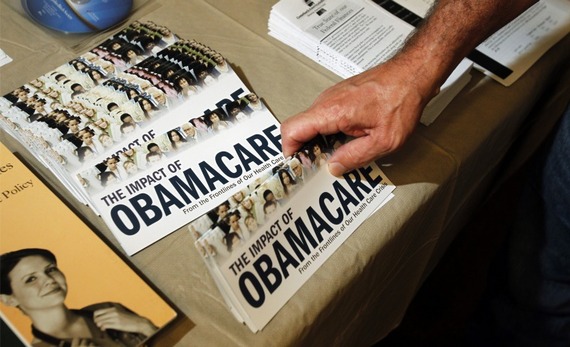 Reuters
President Obama's health care law -- a killer issue in 2010 but an afterthought among voters in 2012 -- will face another round of attacks in 2014 as its thorniest parts go into effect, potentially supplying Republicans fresh ammunition in their war against "Obamacare" and creating renewed problems for a plethora of vulnerable Democrats.
Neither party knows for sure how smoothly the law will be implemented or if Americans will ultimately support it. But it's clear that seismic change is coming in health care, and that any disruption to the system could alienate voters who today are mostly ambivalent toward the law.
Businesses are starting to scramble to meet the law's requirement that they offer health insurance by the start of next year, which is also when new taxes and regulations will kick in that critics say will result in "rate shock" for young consumers. State and federal officials may not have insurance-enrollment programs fully operational in time, sowing red tape and confusion as people who have never bought insurance try to navigate flawed and complicated systems. Insurers are already warning that premiums are set to spike.
Collectively, those scenarios represent a worst-case scenario for the law. But Republicans are counting on them, suggesting that a health care doomsday will turn voters against the Affordable Care Act just as the fierce debate over the legislation did during the 2010 conservative wave (and, by some GOP operatives' own admission, failed to do in 2012).
Not only will voters be alienated by changes they dislike, the thinking goes, they'll also be confronted by the litany of promises Democratic lawmakers made before and after it became law. Rob Jesmer, who served as executive director of the National Republican Senatorial Committee in 2008 and 2010, suggested Republicans might have an easier time making their case in the next election cycle than in 2010.
"Even then, it was all theory," said Jesmer, who is now a Republican consultant. "What I like about what's happening in 2014 is we can use statements that were said in 2010 by vulnerable Democrats. They said, 'You could keep your doctor, and your insurance premiums won't rise.' Well, the rubber is going to meet the road in 18 months. Many of them will prove largely not true."
Even before most of the changes take effect, and despite predictions from the White House that the law would become more popular after passage, the public remains cold toward Obamacare. No more than 45 percent of the public has viewed it favorably in the last two and a half years, according to a monthly tracking poll by the Kaiser Family Health Foundation, and only 37 percent approved of it this month. Even debunked myths about the law, such as the inclusion of so-called "death panels," persist: Just 39 percent of the public correctly believes Obamacare includes no such provision.
The ground is fertile, then, for the issue to reemerge in 2014, because the midterm battleground map will largely be fought where Obamacare is least popular. Deeply red states like West Virginia, South Dakota, and Montana will feature races next year. And several Democrats up for reelection, like Sens. Mary Landrieu in Louisiana, Mark Begich in Alaska, and Mark Pryor in Arkansas, are facing voters for the first time since voting for the legislation in 2010.
Republicans see fewer opportunities in the House, mostly because the Democrats who voted for it were mostly purged in 2010. Among the few survivors: Reps. Tim Bishop of New York and John Tierney of Massachusetts, as well as Reps. Carol Shea-Porter of New Hampshire and Ann Kirkpatrick of Arizona, who lost their reelection bids in 2010 but made comebacks in 2012.
But officials at the National Republican Congressional Committee vow they will continue to litigate the issue. According to data provided by the committee, polling conducted by GOP firm OnMessage found that in 18 targeted districts -- a collection of potential swing districts -- 54 percent of independents favor repealing Obamacare. Even women who skew Democratic lean right on this issue, with 50 percent of them in the targeted districts favoring repeal.
"House Democrats are in denial if they thought they were done defending this unpopular law," said NRCC spokeswoman Andrea Bozek. "Obamacare is getting worse with age and Americans are ready to hold Democrats accountable for the higher premiums, tax increases, and reduced care."
Democrats welcome renewed attacks on the law, confident they will win against a party trying to regurgitate a stale issue. An attack that went bust in 2012, when the GOP spent tens of millions of dollars linking Democrats to Obamacare but still lost just a net of two Senate seats, won't suddenly return to bite them two years later. And that was before a plethora of high-profile Republican governors, like New Jersey Gov. Chris Christie, approved the dramatic expansion of Medicaid in their home states.
"It's proved to be a failed strategy," said Matt Canter, a spokesman for the Democratic Senatorial Campaign Committee. "What clearly matters most to voters is new information that defined the contrast between the two candidates."
And Republicans risk alienating voters with a blunt message of repeal when they gloss over the fact doing so would mean tens of millions of people losing health insurance. Avoiding that pitfall might not be easy, either, with a conservative base that still thirsts for outright repeal.
As one GOP strategist, who requested anonymity to speak candidly, suggested, the party needs to offer ideas explaining how to provide them insurance.
"Our voters have real economic concerns, and part of those economic concerns is having reasonable and affordable health care," the GOP source said. "Many of them think Obamacare isn't the answer, but that doesn't mean we don't need to address those concerns."
It's also possible that implementation, while a massive undertaking, could improve public perception. Uninsured people will start receiving subsidies to buy coverage or will be eligible for expanded Medicaid services. Insurers also won't be able to reject patients with preexisting conditions.
Robert Blendon, professor of health policy and political analysis at the Harvard School of Public Health, said that a smooth implementation will require "significant political and civic leadership" at the local level. That's more likely to occur in states dominated by Democrats who want to make sure the health care law hits the ground running.
"There's all the technical issues of setting up these health care exchanges, and then there's mobilizing millions of people who are not well organized to sign up, and all of this is going to occur within the congressional election cycle," he said. "The issue will be whether the newspapers are filled with stories about confused people and businesses with premiums going up, or with pictures of people who didn't have insurance lining up and taking their baby to the doctor for the first time."
For Republicans, 2014 is likely to be their last stand against the health care law, Blendon said. "I can't imagine this becomes a presidential issue in 2016," he said. "This election is sort of the last political play."