Ex-Gov. Sanford and Stephen Colbert's Sister Lead Money Race in South Carolina Special Election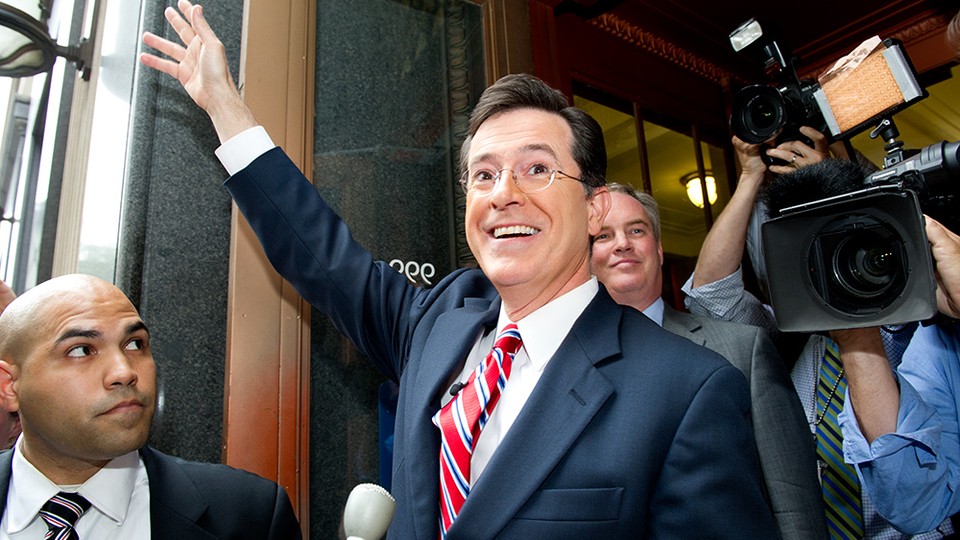 Former South Carolina Gov. Mark Sanford leads a crowded, 18-candidate field in fundraising as he attempts to make a political comeback in the state where he was nearly impeached in 2009.
But the sister of Comedy Central's Stephen Colbert is giving the Republican former governor a run for his money in the race for South Carolina's 1st Congressional District seat left vacant in early January when then-Rep. Tim Scott was appointed to replace retiring Republican Jim DeMint in the Senate.
Sanford, considered the front-runner in the special election for the House seat, raised $334,397 between Jan. 1 and Feb. 27 for his campaign in the Republican primary, set for March 19, according to the latest Federal Election Commission reports. All of Sanford's money came from individuals, including Rep. Tom Rice, R-S.C., who gave $500, and billionaire David Koch, who gave $2,500.
Notably, the second-highest fundraiser was Democrat Elizabeth Colbert Busch, who brought in $309,559 during the period, in part thanks to fundraisers with her famous brother. Comedian Stephen Colbert has yet to donate to her campaign himself, but his "personal lawyer," former Republican FEC Chairman Trevor Potter, did make a donation along with several labor unions, congressional leadership committees, and former gubernatorial candidate Vincent Sheheen.
Colbert Busch — who unlike her brother pronounces the T in her last name — is expected to sail through the Democratic primary, but will face an uphill climb in the May 7 general election, given that President Obama lost the district by 18 points last year. Still, she received contributions from nearly three times as many residents of the 1st District as Sanford did, according to an analysis of their reports — a sign of potential momentum for her campaign. The reports do not include donations of less than $200, however, so Sanford could have greater support among small donors in the district.
Colbert Busch has received quite a bit of support in fundraising from her younger brother, who has mentioned her candidacy on his show, The Colbert Report. He has also attended two fundraisers for her campaign, one in New York City where he films the satirical news show, and another at a bowling alley in Charleston.
The events mark a return to the campaign trail for Colbert, who ran a short-lived campaign for the presidency in his home state in 2012. He also formed a super PAC to boost his chances, but unfortunately for his sister, he dismantled Americans for a Better Tomorrow, Tomorrow after the 2012 elections and donated the funds to charity.
"He's definitely helped bring in money ... and money's hard to come by for a Democrat in South Carolina," said Lachlan McIntosh, a Democratic consultant in the state who managed businessman Martin Skelly's campaign for the seat before he dropped out and endorsed Colbert Busch. McIntosh said that part of the reason was because of Colbert's influence and ability to raise money for his sister. "Stephen Colbert is obviously a Democrat. He appears to come to the left, but he's very popular with everyone in Charleston because he's a homeboy."
McIntosh said that he and other Democrats are confident that they have a shot at the seat both because Colbert Busch's business experience could draw swing voters — and the money she's brought in will help her to get that message out — but also because "most of the Republican contenders are very flawed."
"She's a very strong person on her own ... but Stephen's been an asset and will continue to be," McIntosh added.
Colbert Busch's campaign confirmed that fact, adding that her six other brothers and sisters will also be involved. But for now, her spokeswoman Catherine Christman cautioned, "we are totally focused on our primary race."
Despite the media focus on Colbert Busch, the contest has largely been a race between 15 Republican candidates for a spot in an April 2 runoff with Sanford since Scott vacated the seat on Jan. 3. With so many candidates in the race, few expect Sanford to garner the 50 percent-plus-one vote necessary to avoid it.
State Sen. Larry Grooms and state Rep. Chip Limehouse have long been considered contenders, and their high fundraising totals — they brought in $223,815 and $140,115 from individuals, respectively — reinforce that thinking. However, they could be slowed by two outsider candidates who are relying on their own funds for their campaigns.
State Sen. John Kuhn actually had the most money in the pre-primary period, thanks to a $500,000 personal loan, but raised just $50,103. Meanwhile Teddy Turner, son of media mogul Ted Turner, took $245,000 out of his own pocket for the race and told The New York Times last week that he may put in as much as half a million dollars.
The next FEC filing deadline in case of a runoff is March 21.