Early Reviews of Obama's Outreach Are Positive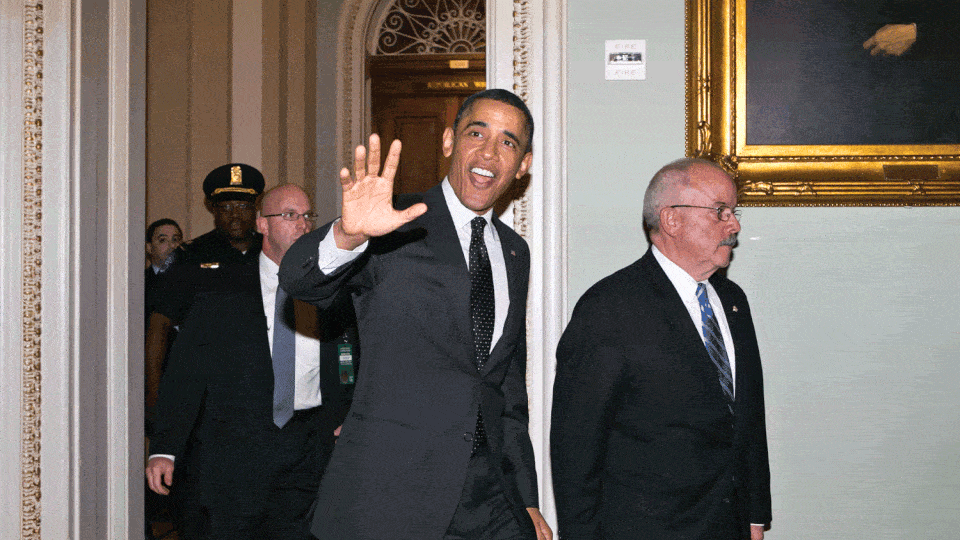 Whether President Obama's get-together on Tuesday with Senate Democrats and other planned Capitol Hill visits with Republicans and Democrats reflect a genuine determination to listen, engage, and promote compromise — or whether they are mere theater — the early reviews seem positive.
However, just how far such a face-to-face approach can go toward actually loosening partisan gridlock, or even paving the way to a fiscal "grand bargain," is something few are ready to predict.
"Nothing happens if you don't show up. But just showing up isn't enough," offered one House Republican leadership aide. "In the end, you've got to put actions behind what you're doing."
More publicly, though, Republicans were still casting the presidential overtures as a step forward. "We welcome it," said Senate Minority Leader Mitch McConnell, R-Ky.
Following last week's closed-door dinner with a group of Senate Republicans, Obama is set to meet with House Republicans on Wednesday as well as with Senate Republicans and House Democrats in separate meetings on Thursday.
"I think having more of that, rather than less of that, is a good idea," McConnell said. But he also underscored that the president will be requesting another debt-ceiling increase this summer, and that should generate new discussion of "solving finally our huge deficit and debt problem."
McConnell said changes to "the entitlement side" have to be made, and that "we're hopeful that finally he will be willing to step up with us and solve that."
Meanwhile, a senior administration official said Tuesday that while it is difficult to assess how well these meetings are going after only a week, the early returns appear to be good. "You've seen a number of Republicans say that the president has been constructive, and that there is space for further talk and possible compromise," the aide said.
As for Obama's meetings with Democrats, the administration sees those as less critical, given that he is on good terms with Senate Majority Leader Harry Reid, D-Nev., and House Minority Leader Nancy Pelosi, D-Calif. The aide downplayed the notion that there may be Democratic concern over what compromises Obama might be willing to make.
Emerging from Tuesday's meeting between Obama and Senate Democrats, Sen. Joe Manchin, D-W.Va., said, "The president is taking a very pragmatic approach." He said the discussion was not just about the budget or longer-term fiscal issues. "Immigration was a big thing, gun control," he said.
"We're going to look at everything we can get done.... We're not going to be, as Democrats, changing the core values," Manchin said. "That's not going to happen."
As if to bring back down to earth some of the new spirit from the Obama outreach to the Hill, Reid emerged from the same meeting to say that — unexpectedly — a Republican hold had just been placed on a Senate version of a bill to fund the government for another six months, even amid "all of this cheering and yelling about this bipartisan bill."
Reid also lashed out at the proposed fiscal 2014 budget from House Budget Chairman Paul Ryan, R-Wis. He said that bill shows "a revealing contrast" with what he calls efforts in the Senate to advance bipartisan compromise and is "even more extreme than the propaganda that we have seen in the past."
During his meeting with Senate Democrats, Obama was pressed about the possibility that he might agree to entitlement cuts to reach a deficit bargain. The president offered that he remains open to a less-generous formula for inflation adjustments to Social Security and other programs, known as "chained CPI," as part of a deal.
But Reid seemed pessimistic about the chances of GOP willingness to compromise.
"You know what, here is the issue," Reid said. He noted that Obama has in the past had personal negotiations involving Vice President Joe Biden with House Speaker John Boehner of Ohio and other top Republicans, adding that they have "indicated they would be willing to do certain things." But in the end, Reid said, "the Republicans never get further than that."
At the same time, Reid said Republicans "take these things that are talked about in abstract and say that's what we've agreed to. We haven't agreed to any of that."