Cory Booker's Twitter Talk at SXSW Shows He's Really an Old-School Pol
The Newark mayor argued social media can be transformational for politicians -- even as he showed his traditional campaigning chops.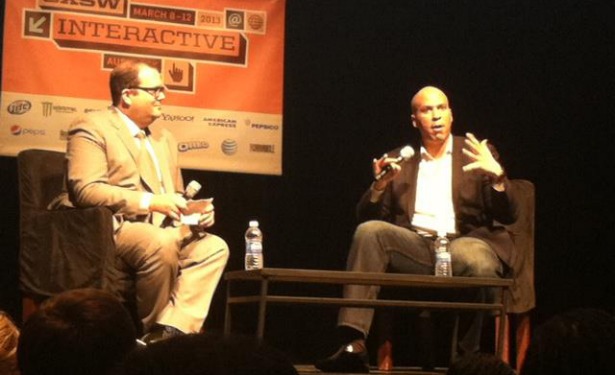 Timothy Bella
AUSTIN, Texas -- We learned a few things about Cory Booker during his appearance at the massive South by Southwest Interactive conference here on Sunday:
If Booker ever has a son or a daughter, he'll name his kid "Jordan," which is the Newark, New Jersey, mayor's "favorite name of all time."
He was flooded with letters from civil libertarians saying that he infringed on Conan O'Brien's civil rights when he mockingly banned the "Conan" host from Newark International Airport in 2010.
He publicly envies President Obama's hair and skinny figure. "He really needs to eat some ice cream," Booker said. "I keep sending Ben & Jerry's to the White House, but the Secret Service stops it."
It was a tour de force of old-school charismatic politics -- the ability to get in front of a crowd of people and wow them with personal magnetism. Booker had hundreds of people inside the Long Center in the palm of his hand, leaning in, listening intently to every word, laughing at every joke. Many of them were also tweeting, which was encouraged, or shooting photos and video with smartphones. As well-received as Booker's Twitter presence is for its personal touch, the live version might be better. Booker stayed around to shake hands and take pictures long after the talk, offering to first shake hands with anyone named Jordan.
There's an irony to the mastery of this backslapping style for a man whose national notoriety stems from his social-media outreach and responsiveness to constituents on Twitter (as well as for his heroic exploits in real life). Adding to the irony, Booker used his appearance to argue for the primacy of social-media in politics today.
"The tools of our parents worked so well with media," Booker said. "They mastered it and organized. We're not mastering those tools. We have better tools than they had. We can create values in places that our parents couldn't even imagine."
But he wouldn't go so far during his talk, moderated by Steve Snyder of Time, to officially declare his entrance into New Jersey's U.S. Senate race. His presumed intention to run is perhaps the worst-kept secret in politics -- even the official page for the panel asked how Booker's tweeting would evolve "as a candidate for the Senate." 
"Go to CoryBooker.com, register your email, and you'll find out the information in real time," Booker said with a smile and laugh.
Still, his SXSW debut had all the makings (and soundbites) of a man who intends to continue his meteoric rise. The session felt like a formal reintroduction for the mayor, just two months after he filed papers to form a campaign committee for the likely Senate run. (Booker jokingly recanted a playful insult at a man wearing a Boston Red Sox hat when he discovered the man is a Garden State resident and therefore a potential voter. "I take back that insult," Booker said.)
The 70-minute talk was a crash course on Booker, balancing his more light-hearted interests -- characteristically, he was answering tweets backstage about Star Trek before the event -- with more serious discussion of contemporary politics. The lack of a personal touch breeds cyncism, he worries.
"What's happening is getting very, very dangerous, in my opinion, for how politics function," he said. "We're losing truth. We're losing authenticity. We are losing the soul of our politics." Booker added: "If we continue with the zero sum-gain politics, then as a country we're not going to be able to deal with the complicated problems that are still undermining the robust truth of what this democracy could be."
But social-media tools offer a fix, and Booker clearly wishes to personify a new style of politician who can realize that solution. Weaving personal stories into a narrative about how media tools have made a difference in society, he argued passionately that engagement technology and the collective will of the American people can shape government and inspire new ideas.
"My constituency is technically only 280,000 people, but it's also the United States," he said. "It's time to wake people up again, and we can do that."
On the other hand, he believes social media has allowed a shift in perspective for himself and many others in his generation, in which individuals to define themselves publicly by a standard other than their job.
"I am not a mayor," he said. "My position does not define me. I'm Cory Booker."
Appropriately enough, his push into the Twittersphere came from a bona fide celebrity. A phone call from Ashton Kutcher around 2009 helped convince Booker that Twitter could be a transformative tool for serving constituents. "At first, I thought I was being punk'd," Booker quipped -- but one month into a planned three-month experiment, he was hooked.
Even if his handle is an extension of his personality rather than his office, Booker says it's a useful tool for recruiting funds and development to Newark. His willingness to connect with constituents who've come to him over Twitter has also been widely praised. Last month, he helped a New Jersey man propose to his girlfriend. At the beginning of the year, the mayor helped rescue dogs from the freezing cold.
Reaction hasn't been uniformly positive. Fox News host Geraldo Rivera, who briefly flirted with vying for the GOP nomination for the same Senate seat, wondered "whether any deed however humble goes unremarked." And The New York Times ran a scathing story in December suggesting that as Booker carefully curated his public image, his impact on Newark had been anemic. (He pushed back on the article, naturally, via Twitter.)
Booker isn't blind to the dangers of the medium. When "an unnamed governor" came clean about his whereabouts after he was reported missing in 2009 (see Sanford, Mark), Booker tweeted that he was also on the Appalachian Trail, with "a hot Colombian blend," a reference to his love of coffee. The tweet earned him an avalanche of hate mail, and he later deleted it. After the incident, however, he instituted a policy of never deleting a tweet. Just last week, Booker regretted tweeting a Winston Churchill quote about speeches on the day of his State of the City address: "A good speech should be like a woman's skirt: long enough to cover the subject and short enough to create interest." He cringed as soon as he sent the tweet, but left it up, in keeping with his policy.
Even as Booker prepares for the potential Senate run, he's also pushing farther into social media. Next month, Waywire, a video network service targeted toward young people which he co-founded, heads into beta. So far, more than 35 hours of video on a range of topics have been uploaded daily.
Twitter offers a level of accountability more immediate than occasional electoral referenda, Booker said. But it can be constricting, he admitted, when Snyder noted his amazement that the mayor has time to tweet himself at all times of the day and throughout the night. Booker smiled again. "I live a lonely and boring life," said the man with almost 1.37 million Twitter followers.