College Costs Further Stratify Class Privilege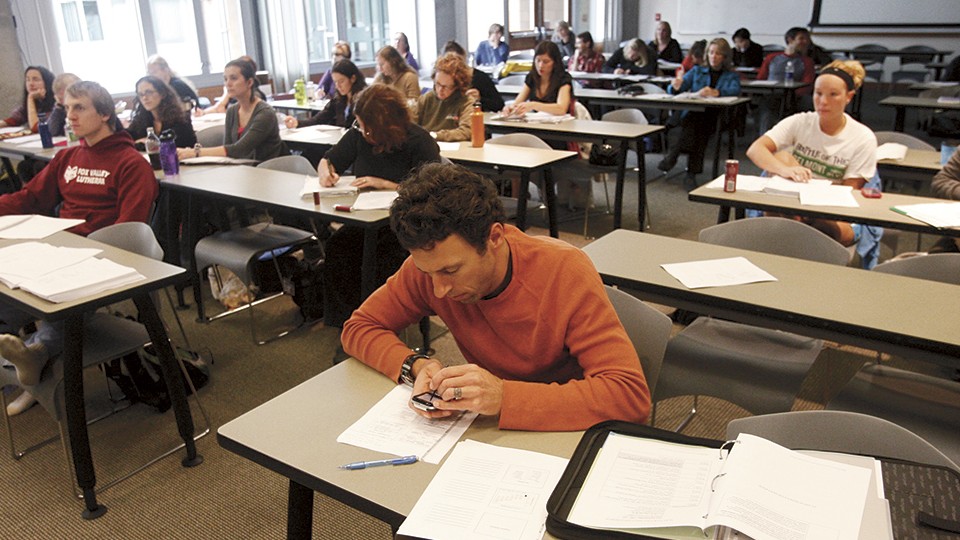 Since the seminal federal study "A Nation at Risk" launched the modern educational-reform movement in 1983, America's K-12 schools have faced persistent pressure for greater accountability and improved results. The reforms have been imperfect and the outcomes uneven, but the irreversible direction has been toward stiffening both expectations and consequences for what students achieve from elementary grades through high school.
Over these stormy decades of "education wars," the nation's colleges and universities almost completely escaped similar scrutiny. "When it comes to higher education, we are really 25 years behind K-12 education, at least in accountability," says Michael Dannenberg, higher-education director at the Education Trust, which advocates for low-income children.
But now, the accountability revolution that reshaped K-12 is reaching critical mass for the cap-and-gown set. From President Obama and governors such as California's Jerry Brown to leading foundations and educators, more voices are insisting that postsecondary schools confront the intertwined problems of rising tuition, exploding student debt, and disappointing completion rates. "People are realizing, we [need] some way to get "¦ more bang for our buck," said Tom Kane, a Harvard professor of education and economics who advised a coalition of prominent educators and foundations that recently issued a reform blueprint called "The American Dream 2.0."
Dannenberg argues that federal higher-education policy has progressed through three phases. With the creation of Pell Grants for lower-income students in 1965, Washington initially focused on expanding access. Later, a proliferation of tax credits and loan programs emphasized college affordability for families through the upper middle class. Obama has expanded Washington's commitment on both fronts, with big Pell Grant and tax-credit increases and student-loan reform. But, more than his predecessors, he is also widening Washington's focus to encompass completion and cost. "Taxpayers can't keep on subsidizing higher and higher and higher costs for higher education," the president insisted in his State of the Union address.
In higher education, as in health care, America boasts many of the world's best institutions but produces disappointing results overall. Access is improving: Since 1972, the share of low-income high school graduates who start college immediately has about doubled, to more than half, according to the National Center for Education Statistics. Yet nearly half of students who enroll in a postsecondary institution don't complete a degree within six years. For African-Americans and Hispanics, the number is about three-fifths. Despite Washington's huge investment in access, since 1970 the gap in college completion rates between students from the bottom and top fifths of the income ladder has doubled. Those from the top fifth are now seven times more likely to graduate than those from the bottom.
Debt compounds the problem. Stagnant family incomes and rising tuition expenses — driven by both growing costs and shrinking state support for public colleges — have forced students to borrow twice as much annually as a decade ago. Student debt has soared past $1 trillion (outpacing credit-card debt) and, as the Education Trust notes, low-income students are more likely to borrow, and less likely to finish, than higher-income classmates.
Education remains critical to reversing the erosion in upward mobility that has made it harder for kids born near the bottom to reach the top in the United States than in many European nations. Yet with these dispiriting trends in cost, completion, and debt, higher education arguably now serves more to stratify than to dissolve class privilege.
The debate is just developing over how to reverse these interlocked dynamics. Indiana, Ohio, Pennsylvania, and Tennessee are experimenting with linking state aid for higher education to student performance. Obama has proposed grant competitions for states and individual institutions to improve completion and affordability, and the administration has created a "scorecard" to track colleges' performance on those measures. The president is also urging Congress to incorporate schools' performance on affordability and value into the accreditation process that determines which institutions can receive federal student aid.
Both the Education Trust and the coalition that produced the "2.0" report would push harder on that lever by more directly tying federal aid to completion rates. Among other things, the coalition proposes to give students bigger Pell Grants if they take more credits (which aids completion) and to allow some states to divert student-aid dollars into comprehensive experiments to improve graduation rates. Kane says such tests eventually could guide federal changes, as state-level welfare reforms did in the 1990s.
The Education Trust recently issued the most visionary proposal: Consolidate virtually all federal student aid beyond Pell Grants into budget-neutral block grants for states that commit to providing debt-free higher education for low-income students and interest-free loans for middle-income students. Participating schools would be required to contain costs and boost graduation; students would need to maintain steady progress toward completion. It's a powerful conception of shared responsibility.
The sweeping changes these reports envision won't come anytime soon. But, like "A Nation at Risk," their message should inspire a lasting direction. Postsecondary education is still our best ladder to the middle class, but it will remain a rickety one until more kids who begin the climb complete it.
This article appeared in the Saturday, March 9, 2013, edition of National Journal under the headline "A Broken Ladder."