Can a Senate Seat Remain All in the Family?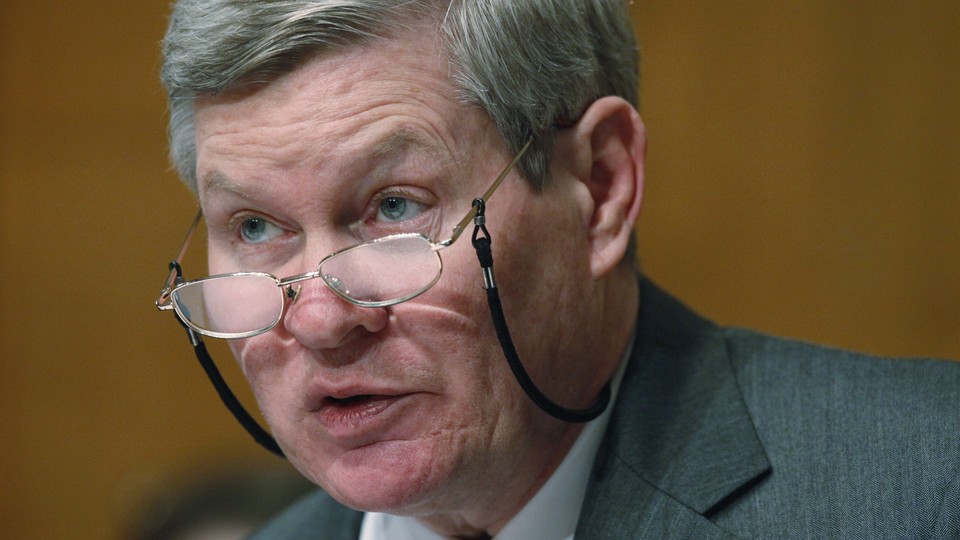 The political scuttlebutt in South Dakota is that Democratic Sen. Tim Johnson is considering retirement, and that his son, Brendan, may mount an attempt to keep the seat in the family. But the younger Johnson will have to work to beat back the impression of a political handoff from his father in a conservative state that Republicans are aggressively contesting.
Brendan Johnson, 37, who is South Dakota's U.S. attorney and a former county prosecutor, hasn't made any announcements about his political future. But his name is being circulated as a possible Senate candidate, along with former Democratic Rep. Stephanie Herseth Sandlin, to run against former Republican Gov. Mike Rounds, assuming that Tim Johnson retires.
If Brendan Johnson runs, his rapid ascent will be traced to his last name, but those close to him say he's not a carbon copy of his father--and that's not necessarily a bad thing. He brings his own qualifications and skill set, Democrats say, particularly when it comes to retail politics, and he knows he'll have to earn the seat.
"If he decides to run, he is fully aware he has to go out and earn it, and he probably has a higher bar to clear than others exactly because of that, because I think Republicans are certainly pushing the idea that he's somehow entitled to it," said South Dakota Democratic Party Chairman Ben Nesselhuf.
While it may take some time for the younger Johnson to match his father's policy expertise, Nesselhuf said he won't be overmatched in what would be a closely scrutinized Senate race. He recalled watching Johnson, then the student council president at the University of South Dakota, speak on a panel when the two were students there. The other speakers included then-Sen. Tom Daschle and then-Rep. John Thune. "He schooled them all," Nesselhuf said.
While at the University of South Dakota, Johnson was awarded the prestigious Harry S. Truman scholarship. After graduating with his B.S., he earned his law degree at the University of Virginia School of Law, where he served as president of the Student Bar Association.
Johnson moved back to South Dakota after graduating, serving as a law clerk in federal court and then as Minnehaha County prosecutor. In 2009, President Obama appointed him to serve as the U.S. attorney for the District of South Dakota. In that capacity, he's also chaired the Native American Issues Subcommittee.
Still, some Republicans say Johnson's success is more an indicator of his family connections than his talent and ambition. National Republican Senatorial Committee spokesman Brad Dayspring said nepotism will be the biggest issue that Brendan Johnson would have to confront in a campaign, calling him "South Dakota's fortunate son" who "has never had a job that his daddy didn't get him."
Rounds spokesman Rob Skjonsberg says, "Democrats will do everything they can to hold on to the seat. The great thing about South Dakota is we have no kingmakers here. There isn't a Kennedy dynasty here in this state. Luckily, the voters get to make that decision."
Nesselhuf argued against the notion that Brendan Johnson would be perceived as a political heir, saying his work as U.S. attorney stands on its own merits. "Law and order issues," he said, such as Johnson's crackdown on synthetic drugs, could be effectively highlighted in a Senate campaign. Johnson's family ties, Nesselhuf noted, do give him one edge--a firsthand experience with tough Senate races. "The biggest advantage Brendan will have is not being intimidated by the process," he said.
Steve Dick, a South Dakota Democrat and a former aide to Daschle, said the younger Johnson "isn't going to run from who his father is. I suspect those charges will be there. But if they're doing it, I suppose, he's going to be a tough candidate."
The reality is that in a small state like South Dakota, family connections in politics aren't unusual. Herseth Sandlin's father was a state legislator who ran for governor, and her grandfather was governor. But voters may view a Senate seat in a different light, and it'll be a tough slog for any Democrat who runs in this solidly red state.
Working in Johnson's favor is his likability and his ability to work a room, a political talent that both Democratic and Republican operatives in South Dakota acknowledge is his strength. "He's got a reputation as a hard worker, very approachable, and very personal," Dick said. "And that's the benefit of being in a very small state. Retail politics goes a long way here. Certainly, that will serve Brendan well."
Dick recalled seeing the younger Johnson as an undergraduate at the University of South Dakota. "I went back for homecoming, and I was watching him work the crowd along the parade route," Dick said. "Every politician has to work the crowd."
But before Johnson can put those skills on display, there will likely be some behind-the-scenes wrangling as both he and Herseth Sandlin mull over their political futures. A Democratic operative with South Dakota ties says she's considering running for the Governor's Mansion or the Senate.
Herseth Sandlin's decision is the "elephant in the room," Nesselhuf said. "If Stephanie takes a pass," he said last month, "I think Brendan's got [the Democratic nomination] locked up."
Some South Dakota Democrats privately acknowledge that a primary could effectively kill the party's chances at winning the general election. The candidates would spend time campaigning against each other, while Rounds--who doesn't need the name recognition that could come with a primary--can fundraise.
But Rounds could also face a primary challenge. Rep. Kristi Noem, who unseated Herseth Sandlin in the 2010 GOP wave, hasn't ruled out a Senate run, says a former South Dakota Republican operative. The state's at-large House seat requires a statewide campaign anyway, and her successful late entry into the 2010 race shows she won't feel pressure to make a rushed decision, the operative said.
One Democrat suggested that Noem would have trouble passing up an open-seat race, since it might be some time before another opportunity for a promotion opens up. Fellow Republican Sen. John Thune will likely run for reelection in 2016, and GOP Gov. Dennis Daugaard is favored to win his own reelection bid, locking that spot in place until 2018.
For now, though, the focus is on the two Democrats who share a last name. The elder Johnson suffered a brain hemorrhage in 2006, and has said he won't make a decision about whether he'll run in 2014 until this spring.
The GOP will likely use the father-son connection to frame a Brendan Johnson bid, Nesselhuf said, and he urged them to do so. "The Republicans are going to push that this is just Tim Johnson trying to get his son elected," he said. "I encourage them to continue to think that, because anyone who underestimates Brendan Johnson is going to lose."