Discussing Part II of Ayn Rand's dystopian novel  
Dmerti/Flickr
From: Jerome Copulsky
To: Conor Friedersdorf, Garance Franke-Ruta, Michael Brendan Dougherty
Subject: Part II
After slogging through nearly 700 pages now, I've come to the conclusion that Atlas Shrugged would have benefited much from the services of a good, ruthless editor. If something is worth saying once, for Rand it is worth repeating again and again. And again. And, what the heck, again again. Even the casual reader cannot fail to get the point. And there is, Michael, not nearly enough good sex in this thing! In short, I'm finding it overwrought and an overbearing read. Rand particularly enjoys having her characters speechify, which may be a way for her to express the details of her ideology, but in a work of fiction -- one which purports to be a romance and a mystery -- it is increasingly tedious. As I suggested, it appears that Rand doesn't trust her readers to draw their own conclusions from her characters and narrative.  They must be told, over and over, about the virtue of the self-interested industrialist and the evil of the looters and their system. 

The Atlas Shrugged Book Club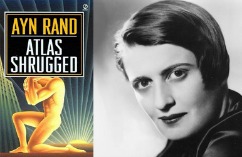 Francisco D'Aconia might be fun to run into at a cocktail party, Conor, until he got you in a corner and delivered an interminable lecture on the nature and glories of money. At that point, I wouldn't blame you if you excused yourself to get another gin and tonic. I like him better in his guise of "worthless playboy" than as a sincere (and chaste, as it happens) apostle of Randianism.
But these ideas are what the novel is all about, so in Part II we get treated to a number of disquisitions, particularly on the notion of the sanction of the victim, which Francisco explains to Hank at length, and which Hank then goes on to repeat to the court. According to Rand, it is the capitalists who are the world-historical victims, and they have willingly participated in their own destruction by giving their sanction to the morality of their oppressor. And now things are coming to a head. As Francisco tells Dagny later on as he tries to convince her to join the strike, "Our age is the climax of centuries of evil. We must put an end to it, once and for all, or perish -- we the men of the mind. It was our own guilt. We produced the wealth of the world -- but we let our enemies write its moral code."