2 Well-Known Democrats in South Dakota Could Vie for Tim Johnson's Senate Seat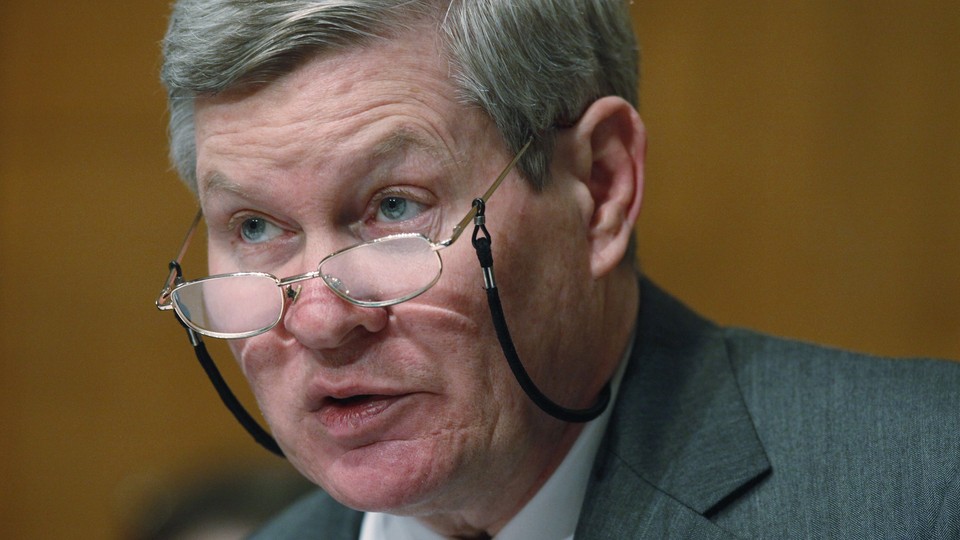 Sen. Tim Johnson, D-S.D., confirmed Tuesday that he will not run for reelection in 2014, announcing in a press conference that he will retire at the end of his term next year. "I will be 68 years old at the end of this term, and it's time for me to say goodbye," he said.
Attention now turns to the two names Democrats have touted as potential replacements: Johnson's son, U.S. Attorney Brendan Johnson, and former Rep. Stephanie Herseth Sandlin. Some have praised the younger Johnson as a highly qualified successor whose record stands on its own merits. Recent polling, however, shows Herseth Sandlin with a strong edge among primary voters.
Brendan Johnson's skills as a retail politicker and orator exceed even his father's, said South Dakota Democratic Party Chairman Ben Nesselhuf in a February interview. "Brendan has all of his [father's] gifts plus more, as far as his ability to connect with folks and get his message out," Nesselhuf said. "Brendan is a much better public speaker than Tim was on his best day."
Asked at his announcement about the possibility of his son succeeding him, Johnson avoided taking sides. "I think that there's several good candidates out there, and you'll have to ask Brendan about that," he said. "I've discussed that with he and a lot of other people. I've not discussed in detail what comes next, whether it's Stephanie or Brendan or whatever."
Some think the younger Johnson may be vulnerable to the charges of nepotism sure to come from the GOP. And Herseth Sandlin — though she has not divulged her interest in the race — has proven campaign skills and high favorability ratings in the state. "I have no doubt that Stephanie Herseth Sandlin would be the strongest candidate Democrats could run for Senate in South Dakota," Democratic media consultant Steve Murphy said this week. Murphy worked on Herseth Sandlin's 2010 House race, which she narrowly lost to Republican Rep. Kristi Noem in a wave year for the GOP. "She runs terrific campaigns," Murphy said.
If Herseth Sandlin decides to run, said EMILY's List national press secretary Marcy Stech, "she would be a formidable candidate with a proven track record of putting South Dakota families first."
While both candidates have advocates touting their potential, Nesselhuf said Monday he's confident they can work out the nomination behind the scenes. "I think we have two incredibly qualified candidates, either one of whom can win the race," he said. "I don't think there will be a primary. I think they both understand that a primary would significantly challenge the nominee's chances of winning."
As for the polling, Nesselhuf said it's too early to take Herseth Sandlin's lead as an indicator that she'd be the favorite. "I don't put a lot of stock in a poll on primary voters this early out," he said. "I imagine that those numbers are very fluid. That's not to take away from Stephanie in any way."
The Senate jockeying could come down to Herseth Sandlin's perception of the political landscape; she's also been mentioned as a potential candidate for governor or her old House seat. But if Gov. Dennis Daugaard retains high approval ratings and Noem opts not to run for Senate, she may decide her best bet is to convince Democrats she's the better candidate to retain Johnson's seat rather than take her chances against a strong GOP incumbent. That is, if she's interested in running for anything at all.
"If I have anything to say about it, she will be [running for office]. She's an incredibly good candidate," Nesselhuf said. He mentioned her grandfather, Ralph Herseth, a former governor of South Dakota, and father, Lars Herseth, who narrowly lost his own gubernatorial race. "There's ... a bit of family legacy in the governor's chair," he said. "I think that's enticing for her."
Herseth Sandlin's record and campaign skills, Murphy said, are well-suited to any of those three races. "I think she'd be a very strong candidate for whatever office [she runs for]," he said. "Stephanie was a Blue Dog leader in the House, is a strong fiscal conservative."
While the Democrats and Noem weigh their bids, former Gov. Mike Rounds has been campaigning and fundraising since just after the 2012 election. Rounds also possesses high favorability and — as of December — a $250,000 head start. Some have questioned Rounds's conservative credentials, but so far he has the field to himself. Whether that changes — and how Democrats will fit the pieces together as they seek to produce three statewide candidates — remains to be seen.