Why This State of the Union Address Matters for Obama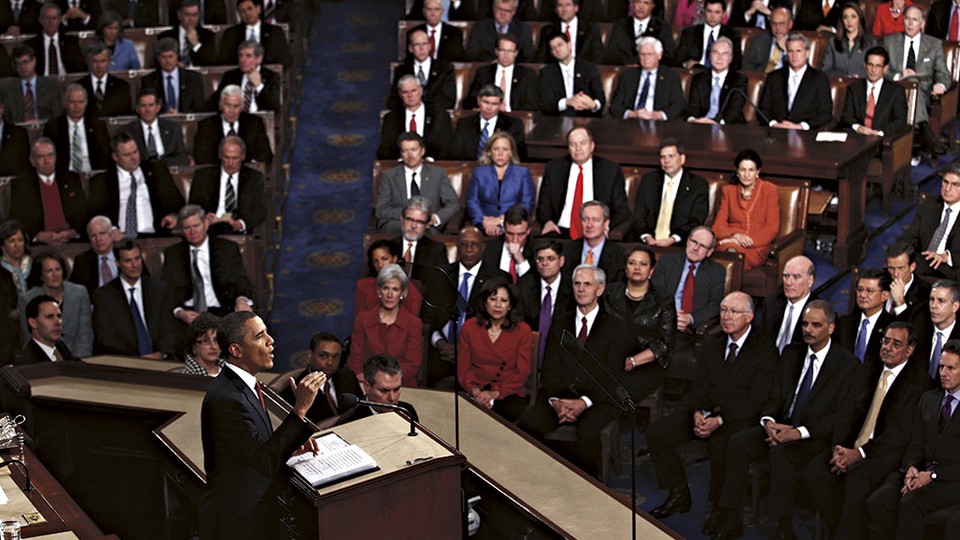 His television audiences shrinking and the reviews of his Inaugural Address still stinging, President Obama faces what could be his best chance to rally the country behind an aggressive second-term agenda when he delivers his fourth State of the Union address next week. It may also be his last chance to reach a large swath of the American public before his influence in Congress ebbs.
For this could be that rarest of years when a State of the Union speech really matters. That doesn't happen too often. In fact, it hasn't given a big boost to any president in more than a decade, not since Bill Clinton's approval jumped by 10 points after his 1998 address.
Of course, that doesn't stop Washington from inflating expectations for each year's speech. Clearly, there is something about a State of the Union that attracts hyperbole. Maybe it's because it is the only presidential report specifically mentioned in the Constitution. Maybe it's because it is the most theatrical address a president gives after his inauguration. Or maybe it's because we want to believe that such a big speech in such an august setting will move the government to action.
But that is almost never the case, something Mike McCurry always tried to get through to reporters when he was President Clinton's press secretary. "There is often a temptation to label major speeches by the president of the United States make-or-break speeches," he complained before the 1995 State of the Union, insisting that Clinton, instead, viewed these speeches as just "another opportunity for him to outline in a very direct way to the American people and to our Congress" his priorities.
Seventeen years later, this White House has similarly tried to avoid the hype, casting Obama's speech as a companion piece to what was an unusually sharp-edged Inaugural Address. "These speeches need to be viewed as a package," said David Plouffe, the president's senior adviser before he left the White House staff. Plouffe said that although the inaugural outlined the president's vision, the State of the Union will offer "a detailed agenda and blueprint." And with so many issues demanding attention and so many foreign and domestic challenges to confront, even a divided Congress partially controlled by the opposition party needs that kind of executive leadership.
But earlier two-term presidents learned that this singular moment for leadership can pass quickly. Unquestionably, Obama is at his peak influence after an impressive reelection victory and the Democrats' retention of the Senate. "He is going to find out as he gets closer to the end of his term, the interest diminishes, and your stature has been weakened," warned California GOP campaign strategist Ken Khachigian, a veteran of the Nixon and Reagan White Houses. "I think he thinks he knows how to combat that," Khachigian told National Journal. "But, in reality, there is not much you can do. Second terms are really tough."
Khachigian recalls a speech he wrote for President Reagan midway through his second term. "I thought it was a very good speech. But he was going against the grain at the time, and public opinion was judging him on other issues." That will happen to Obama as well, making it imperative that he use next week's address to exercise his influence while he has it.
Khachigian says that State of the Union addresses "are really hard to do right," a fact borne out by Gallup's numbers. The polling organization has looked at presidential-approval numbers in the days before the annual speech and the days after going back to 1978. In only four instances has a president's approval rating increased by at least 4 points — three times by Clinton, once by George W. Bush. No president endured more criticism for the length of his speeches than Clinton. (He is the only president whose every address lasted more than an hour; his 1999 speech set the record at one hour, 18 minutes, and 40 seconds.) But no president has gotten more out of those speeches. Clinton enjoyed boosts of 10 points in 1998, 6 points in 1996, and 4 in 1994. Only twice in his seven addresses did he suffer small drops in approval.
In contrast, Bush (who had a 6-point gain in 2005) dropped or stayed the same after five of his seven speeches. Reagan suffered the same fate, while both Jimmy Carter and George H.W. Bush dropped after two of their three addresses. Obama has fared somewhat better, but he saw no polling bump from his first three State of the Unions. In both 2010 and 2011, his numbers did not move. In 2012, Obama entered the speech with an unusually low approval rating of 44 percent, and the address nudged it up by 2 points.
The diminishing size of the audience also raises the stakes for Obama. The president has watched his audiences dwindle throughout his time in office, never coming close to the 70 million who watched his victory speech on election night in 2008. His biggest audience as president was 56.5 million in 2011 when he announced the death of Osama bin Laden. His other numbers show the decline: 37.8 million for inauguration 2009; 20.6 million for inauguration 2013. His State of the Union numbers have dropped from 48 million in 2010, to 43.4 million in 2011, to 37.8 million last year.
History suggests that those numbers will keep falling over the next four years, as the nation gradually tunes out the second-term president and starts looking at potential successors. Next week, Obama has a chance to take a page from Clinton's playbook, to slow that movement, and to force Congress to accept his continued ability to set the agenda.