Why Immigration-Reform Advocates Feel Good About Their Chances
Senators John McCain, Michael Bennet, and Amy Klobuchar spotlight the ample areas of bipartisan agreement for a major bill.
The way John McCain and Michael Bennet talk about it, you'd be surprised immigration reform hasn't passed already.
"We have the opportunity to pass a broad-based bill that deals not just with one problem or two problem but takes on the entire of array in ways this touches our economy," said Bennet, a Democratic U.S. senator from Colorado, at an Atlantic conference in Washington Thursday. (Bennet is the brother of Atlantic Editor in Chief James Bennet.) "I do think you've got two parties that've got reasons to get this done."
And McCain, as usual, was colorful and blunt. A veteran of several failed attempts at reform, he offered one big explanation for why this time would be different.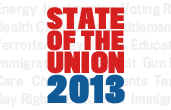 President Obama lays out his second-term vision for America.
See full coverage
"The climate has changed, American opinion has changed, elections have changed ... and I'm working with people who are effective," he said. "Chuck Schumer is effective. I hate him! But he's effective."
Of course, there's more to it, especially for Republicans like McCain, who along with Bennet is a member of the "Gang of Eight" senators working on a bipartisan proposal. The Arizonan pinpointed three reasons this is the time to get reform done. One is simple political math: As many Republicans seem to be realizing, the GOP will find it harder and harder to win elections if it continues to alienate Latino voters. A second is technological, he said, repeatedly citing drones and other technological advances developed to fight the wars in Iraq and Afghanistan as useful tools for policing the border with Mexico more effectively.
But much of it comes down to fairness, he concluded.
"Can we leave 11 million people in the shadows forever?" McCain asked, referring to the estimated number of illegal immigrants in the country. "The people that wash our dishes, cut our lawns, take care of our children -- is it right to leave them in the shadows forever? I don't think so."
Intriguingly, the two Democratic senators who bookended McCain's appearance -- Bennet and Minnesota's Amy Klobuchar -- offered economic rationales for reform, while the Republican made the compassionate case. But what's interesting is how views often associated with one party or the other seem to have been pushed aside, if not totally dispensed with. Bennet said it was reasonable to expect immigrants to learn English, and he said it was fine to make legislation contingent upon border security as long as employee verification, the standard Democratic priority, was part of a comprehensive bill. Bennet would offer only oblique criticism of GOP hardliners like David Vitter and Ted Cruz, saying, "There are some people that are better at putting themselves in other people's shoes that others."
Meanwhile, the occasionally cranky McCain was all smiles and jokes, with praise for both Klobuchar and Bennet; he saved his fire for budgetary matters. Asked about the sequester -- which he voted for -- he said, "It's insane, and it's unacceptable." And he criticized his 2008 rival Barack Obama's campaign-style strategy of barnstorming the country to drum up grassroots backing for his side. The real solution, McCain said, was to invite legislators to the White House to hash out a compromise. "There's no point in going out and giving another speech."
There should be no illusion that the road forward on immigration reform will be smooth. Panelists identified two big ones. First is the already-cliched "path to citizenship" for illegal immigrants, which McCain pointed out was likely to disappoint some advocates -- it won't be a walk in the park. The second sticking point is likely to be a guest-worker program. While lawmakers in both parties seem to agree that the country should lift caps on visas for highly skilled workers, the fate of agricultural and other low-skill workers seems certain to provoke acrimonious debate.
For the time being, however, it's the not-inconsiderable common ground between the parties that's on display.