Why Bob Woodward's Fight With The White House Matters to You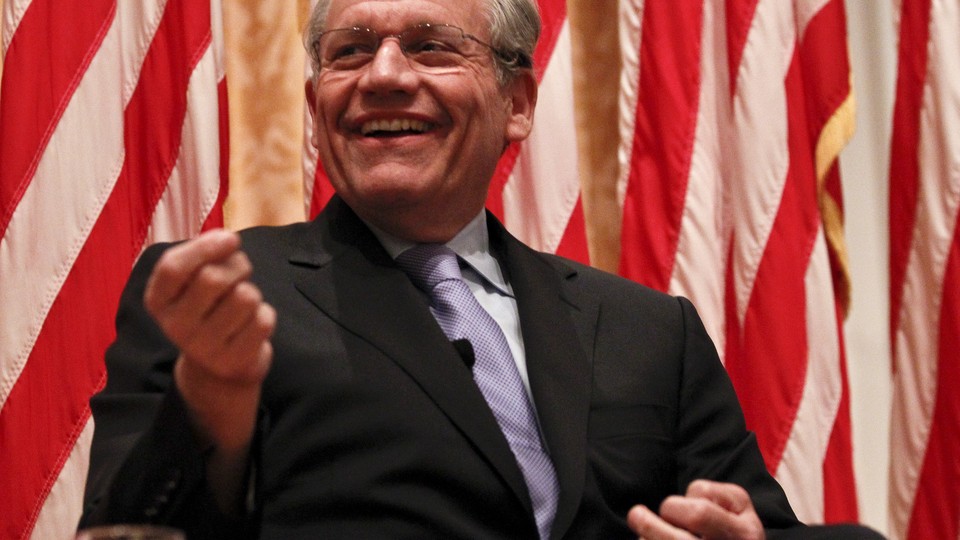 The fight between the White House and journalistic legend Bob Woodward is a silly distraction to a major problem: The failure of President Obama and House Republicans to lead the country under a budget deadline.
Woodward-gate is a distraction the White House welcomed, even encouraged, as part of a public-relations strategy to emasculate the GOP and anybody else who challenges Obama. It is a distraction that briefly enveloped my reporting last weekend, when I essentially broke ties with a senior White House official.
Yes, I iced a source"" and my only regret is I didn't do it sooner. I decided to share this encounter because it might shed light on the increasingly toxic relationship between media and government, which is why the Woodward flap matters outside the Beltway.
On Saturday, White House press secretary Jay Carney accused Woodward of being "willfully wrong" on a story holding the White House accountable for its part in a legislative gimmick called sequestration. (Months ago, the GOP-controlled House passed, and Obama signed, legislation imposing $1.2 trillion in cuts unless an alternative is found by Friday.)
Carney isn't the first press secretary to criticize a reporter. Presidential aides do it all the time to set the record straight or -- often, more cynically -- to dodge accountability. I was struck by the fact that Carney's target has a particular history with White House attacks. I tweeted: "Obama White House: Woodward is "˜willfully wrong.' Huh-what did Nixon White House have to say about Woodward?"
Reporting by Woodward and Carl Bernstein uncovered Watergate misdeeds and led to the resignation of President Nixon. My tweet was not intended to compare Nixon to Obama (there is no reason to doubt Obama's integrity -- period) but rather to compare the attack to the press strategies of all the presidents' men.
I had angered the White House, particularly a senior White House official who I am unable to identify because I promised the person anonymity. Going back to my first political beat, covering Bill Clinton's administration in Arkansas and later in Washington, I've had a practice that is fairly common in journalism: A handful of sources I deal with regularly are granted blanket anonymity. Any time we communicate, they know I am prepared to report the information at will (matters of fact, not spin or opinion) and that I will not attribute it to them.
This is an important way to build a transparent and productive relationship between reporters and the people they cover. Nothing chills a conversation faster than saying, "I'm quoting you on this."
The official angered by my Woodward tweet sent me an indignant e-mail. "What's next, a Nazi analogy?" the official wrote, chastising me for spreading "bull**** like that" I was not offended by the note, mild in comparison to past exchanges with this official. But it was the last straw in a relationship that had deteriorated.
As editor-in-chief of National Journal, I received several e-mails and telephone calls from this White House official filled with vulgarity, abusive language, and virtually the same phrase that Politico characterized as a veiled threat. "You will regret staking out that claim," The Washington Post reporter was told.
Once I moved back to daily reporting this year, the badgering intensified. I wrote Saturday night, asking the official to stop e-mailing me. The official wrote, challenging Woodward and my tweet. "Get off your high horse and assess the facts, Ron," the official wrote.
I wrote back:
"I asked you to stop e-mailing me. All future e-mails from you will be on the record -- publishable at my discretion and directly attributed to you. My cell-phone number is "¦ . If you should decide you have anything constructive to share, you can try to reach me by phone. All of our conversations will also be on the record, publishable at my discretion and directly attributed to you."
I haven't heard back from the official. It was a step not taken lightly because the note essentially ended our working relationship. Without the cloak of anonymity, government officials can't be as open with reporters "" they can't reveal as much information and they can't explain the nuance and context driving major events.
I changed the rules of our relationship, first, because it was a waste of my time (and the official's government-funded salary) to engage in abusive conversations. Second, I didn't want to condone behavior that might intimidate less-experienced reporters, a reaction I personally witnessed in journalists covering the Obama administration.
That gets to why this matters beyond the incestuous Washington culture. One of this country's most important traditions is "a free press that isn't afraid to ask questions, to examine and to criticize," Obama said at the 2012 White House Correspondents Association's annual dinner.
Because of tech-fueled changes in the market, there are fewer reporters doing more work with less experience than when I came to Washington with Clinton in 1993. Also, the standard relationship between reporters and their sources is more combative, a reflection of polarization in Washington and within the media industry.
Personally, I had a great relationship with Clinton's communications team, less so with President Bush's press shop, and now -- for the first time in my career -- I told a public servant to essentially buzz off.
This can't be what Obama wants. He must not know how thin-skinned and close-minded his staff can be to criticism. "I have the greatest respect and admiration for what you do," Obama told reporters a year ago. "I know sometimes you like to give me a hard time, and I certainly like to return the favor, but I never forget that our country depends on you."
CORRECTION: An early version of the story did not make clear that Politico reported Woodward's reaction to the email suggested "he saw it as a veiled threat."