Who Will Get the Coveted Seats in Michelle Obama's Box at the State of the Union?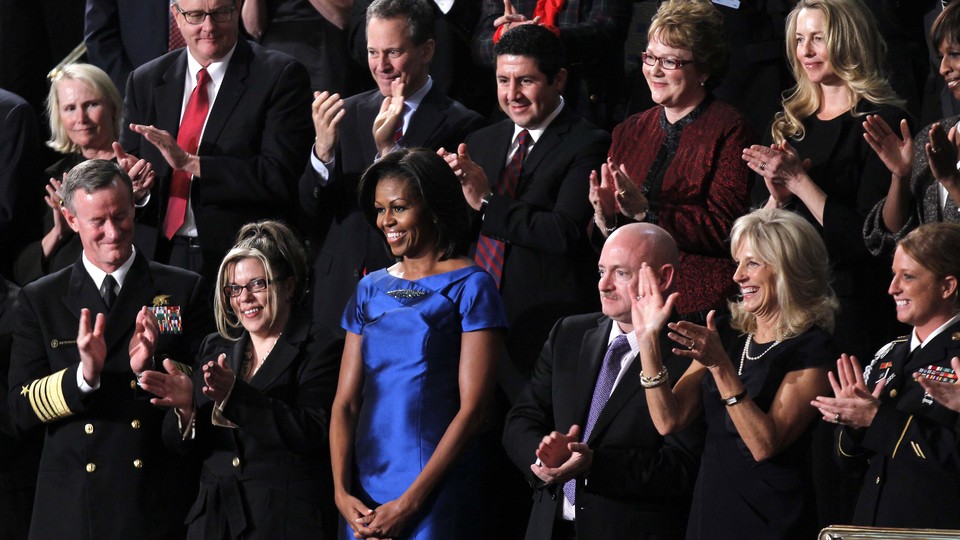 It's the hottest seat at the State of the Union: the first lady's box.
Sitting next to Michelle Obama can have its perks. Beyond having the opportunity to — you know — sit next to the first lady, the dozen or so people chosen will end up on the national stage for the evening. At a speech that outlines President Obama's priorities for the next year, the guest list helps the White House to send a message about the issues the president considers most important.
Last year, for example, one of the key themes of Obama's speech was a push to ensure the wealthiest Americans paid their fair share of taxes — the so-called "Buffett Rule."  The White House invited billionaire investor Warren Buffett's secretary, Debbie Bosanek, to sit with the first lady. In the speech, the president spoke of her to make his point that it was unfair for a billionaire's secretary to pay a higher tax rate than her boss.
Also in the first lady's box last year was former astronaut Mark Kelly, the husband of former Rep. Gabrielle Giffords, D-Ariz., who was shot in 2011 along with 18 others in Tucson. When Obama entered the House chamber, he stopped to give Giffords a hug, which was met by a standing ovation. Up-and-coming Democrat Julian Castro, the mayor of San Antonio, also got an invite last year.
So, in a year when the president is likely to highlight legislative priorities such as gun control, immigration reform, and "balanced" deficit reduction, who will end up on the White House guest list? Newtown families? The latest recipient of the Medal of Honor? An undocumented worker?
That's where you, the readers, come in. Tell us who you think will be in the first lady's box at the State of the Union and why the White House would invite them. Leave a comment below or send me an e-mail with your answers. We'll publish your responses on Monday.
And for some help, here are the guest lists from 2012, 2011, and 2010.