He's posed as a pirate and toiled on the funerals beat. Now he's taking over the task of writing the president's major addresses.
Cody Keenan may not have a famous doppleganger in Hollywood like his colleague Jon Favreau, but when Favreau leaves the White House on March 1 to pursue a career as a screenwriter, Keenan's visibility is sure to spike in his new role as chief speechwriter at the White House. His first big reveal will be tonight, as he has been working with President Obama to pen the 2013 State of the Union address.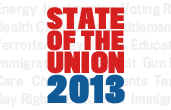 President Obama lays out his second-term vision for America.
See full coverage
That speech will have been "a collaborative process between the president and his speechwriter," White House spokesman Jay Carney noted last week during a press briefing, "in this case, Cody Keenan." He was "taking the lead on the speechwriting team for this and will be getting a higher profile in the weeks to come -- internally, anyway," Carney said. "But these are speeches that the president takes very seriously. He's a writer himself, so he engages at a very deep level on the framing of a speech, on the writing of it and the editing of it and the shaping of it. So that process continues."
Here are some facts about Keenan:
* He worked with Obama to craft his 2011 Tucson remarks after Gabby Giffords was shot.
That speech was hailed by many as a pitch-perfect call for unity in the wake of a national tragedy, and with guns back in the news and Keenan's history of grappling with the issue -- and also of toiling away on what a friend of his once called the "eulogy and commencement beat" in the White House speechwriting shop -- get ready for an elegiac turn tonight.