Who Is Cody Keenan, Obama's SOTU Speechwriter?
He's posed as a pirate and toiled on the funerals beat. Now he's taking over the task of writing the president's major addresses.
He's posed as a pirate and toiled on the funerals beat. Now he's taking over the task of writing the president's major addresses.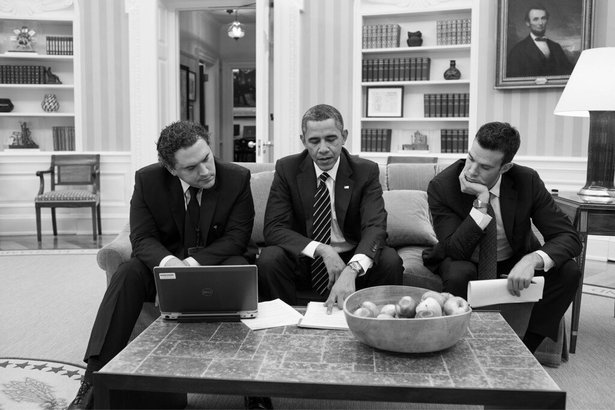 Cody Keenan may not have a famous doppleganger in Hollywood like his colleague Jon Favreau, but when Favreau leaves the White House on March 1 to pursue a career as a screenwriter, Keenan's visibility is sure to spike in his new role as chief speechwriter at the White House. His first big reveal will be tonight, as he has been working with President Obama to pen the 2013 State of the Union address.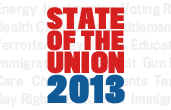 President Obama lays out his second-term vision for America.
See full coverage
That speech will have been "a collaborative process between the president and his speechwriter," White House spokesman Jay Carney noted last week during a press briefing, "in this case, Cody Keenan." He was "taking the lead on the speechwriting team for this and will be getting a higher profile in the weeks to come -- internally, anyway," Carney said. "But these are speeches that the president takes very seriously. He's a writer himself, so he engages at a very deep level on the framing of a speech, on the writing of it and the editing of it and the shaping of it. So that process continues."
Here are some facts about Keenan:
* He worked with Obama to craft his 2011 Tucson remarks after Gabby Giffords was shot.
That speech was hailed by many as a pitch-perfect call for unity in the wake of a national tragedy, and with guns back in the news and Keenan's history of grappling with the issue -- and also of toiling away on what a friend of his once called the "eulogy and commencement beat" in the White House speechwriting shop -- get ready for an elegiac turn tonight.
The January 2011 speech was the first time Keenan, who was raised in suburban Chicago and Connecticut, popped up on the national press register. A Chicago Tribune story recounted at the time:
... After the much-applauded speech in Arizona, his anonymity is a thing of the past.

Flying back to Washington aboard Air Force One, White House press secretary Robert Gibbs told reporters late Wednesday that Keenan had been the speechwriter.

"It's C-O-D-Y K-E-E-N-A-N," Gibbs said. "And I'll double-check that, but I'm almost positive."

"A proud Northwestern fan," he added.

Gibbs said Obama probably had his "first conversations" with Keenan about the speech on Monday. "And what they usually do is the president will -- they'll bring a laptop in and the president will download a little bit on what he'd like to say," Gibbs said.

Obama sent changes back to Keenan about 1 a.m. Wednesday, Gibbs said, and work on the speech continued through the day. "They made edits even after we landed in Arizona," Gibbs said.
Of course, every speech by the president is the president's -- lest anyone forget.
By Thursday morning, Gibbs emphasized that Obama had wielded the heavier pen.

"I think last night was a speech that was very much the president's, and he spent a great deal of time going through his thoughts on this and spent a lot of time working on what he wanted to say," Gibbs said.
* He used to work for Ted Kennedy.
Keenan, a former high-school quarterback who flirted with the idea of becoming a doctor before turning to political science in college, arrived in Washington at the urging of a Sigma Chi fraternity brother and got his first break as an aide in the mailroom of Senator Ted Kennedy. He would go on to work for him for three and a half years, rising to the level of legislative aide, before heading to the Harvard Kennedy School for a masters.
According to a Kennedy School release:
Keenan's past and present collided on April 21, 2009, when President Obama signed the Edward M. Kennedy Serve America Act with Kennedy in attendance. Keenan drafted President Obama's speech for the event. Kennedy later sent him a handwritten note that read: "Seems like the Kennedy office and the Kennedy School have served you very well!"

Four months after that, Keenan helped the President craft his eulogy for Kennedy. Each time, he found himself deeply moved by the opportunity to write about the man who had shaped his notion of what public service could be. "It really brought things full circle," he said.
Keenan found his way into Obamaland in the summer of 2007, when he interned in the speechwriting shop of the then Democratic presidential primary contender, before returning to school and finishing his graduate degree in 2008 -- just in time to return to the campaign, this time as a full-time speechwriter, for the general election.
* He's compared speechwriting to being a perpetual grad student.
"Our jobs are remarkably like graduate school. You get a paper assignment, you might pull an all-nighter or come in really early to finish, and you hand it in and then you get his marks back and find out whether he likes it or not," he told a Kennedy School interviewer in 2010. "The good thing is he'll make detailed edits when he gets the speech, and he's generous with his time -- he'll walk us through the edits and explain why he made them. That makes us better writers."
* He's game to be the punchline in a sight gag.
Keenan also took a leading role in drafting Obama's 2009 White House Correspondents' Dinner remarks -- and dressed up as a pirate for one of the humorous speech's sight gags.
"We can't just talk to our friends, we've got to talk to our enemies too and I've begun to do exactly that," Obama said, as a picture of him talking to a hook-handed Keenan appeared on screen.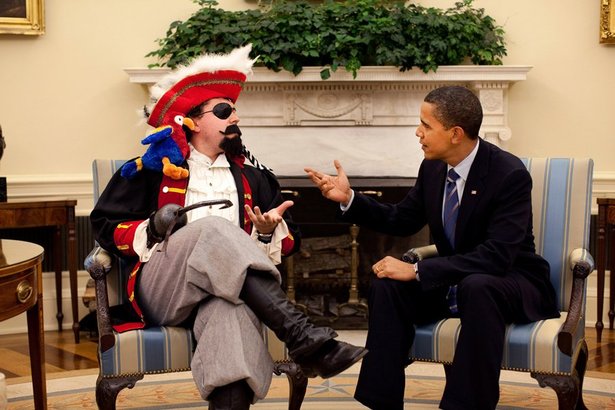 Pete Souza/The White House
* He keeps a low profile.
At least, he has so far. His mantra for public life comes from President Franklin D. Roosevelt's Brownlow Committee Report of 1937, he told a Northwestern alumni publication in the spring of 2011. The ideal presidential aide, it said, "should be possessed of high competence ... and a passion for anonymity."