Using People as Props: Cantor Channels Clinton and Reagan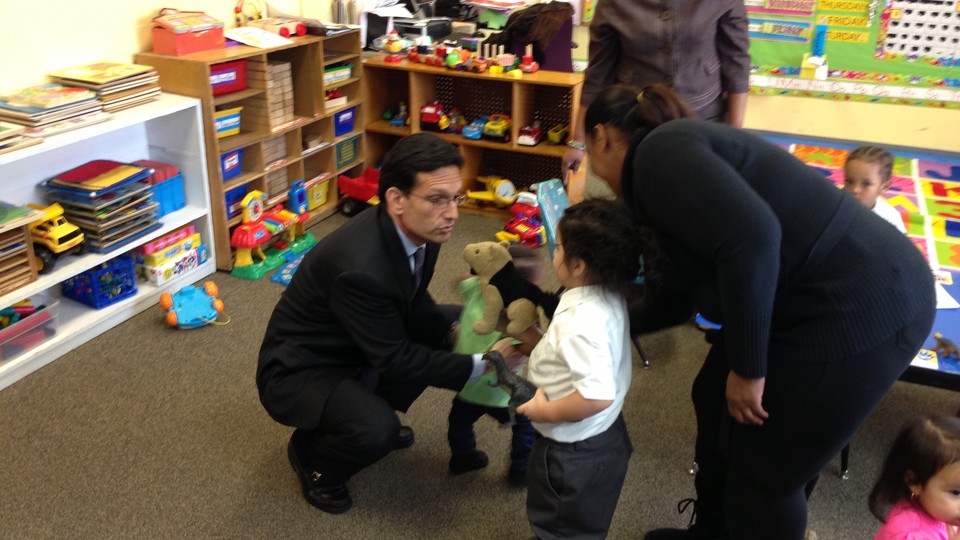 Vicki the cop. Erin the nurse. Fiona the immigrant. Katie the cancer patient. And don't forget Joseph, "a heroic dad" and his hardscrabble brood. These are Eric Cantor's favorite props, er "¦ people.
Attempting to rebrand the GOP as a family-friendly party, the House majority leader borrowed  rhetorical devices from Bill Clinton, who was always bragging about "putting people first," and from Ronald Reagan, who revolutionized the stage-managed presidency by putting people in his audiences.
Cantor referenced the stories of no fewer than nine "real people" in his speech to a conservative think tank Tuesday, most of them seated at the front of his well-heeled audience.
Cynical — yes. Unusual —  no. President Obama drew criticism recently for signing a gun-control directive onstage with children touched by the mass shooting in Newtown, Conn.
"I learned years ago from Sen. [Edward] Kennedy that the best way to drive a message is to personalize it by highlighting the concerns of real people," said Jim Manley, longtime Democratic aide in Congress who now works at QGA Public Affairs in Washington.
Cantor told the conservative group that while House Republicans believe "there is no greater moral imperative" than erasing federal debt, the GOP also needs to "focus our attention on what lies beyond these fiscal debates."
Left unsaid was the political imperative: Cantor and other GOP leaders are desperate to polish the party's image after being humbled in last fall's elections. His response is to repackage GOP policies under the umbrella of "making life work better" for American families.
While proposing that federal education spending be redirected to private schools, Cantor pointed to Kelley and his four children seated in the front row. "Joseph worried that the public school wasn't helping his son," Cantor said.
On Monday, he visited the private school attended by Kelley's children, chit-chatting with teachers and posing for photos. Neither "Joseph Kelley, nor any parent, should have to wait for failing school system to get their acts together," Cantor said.
You support more visas for foreign students? Meet Fiona Zhou of China, a George Washington University engineering student seated behind Kelley.
You want to eliminate the medical-device tax? Let's hear it for Erin Shucosky, a nurse suffering from crippling neck and back pain. There she is, wearing a cervical collar to the speech.
Family-leave time for hourly workers? Cantor will tell you about "a police officer at home in my district, her name is Vicki."
And let's not forget "a young girl from Richmond named Katie," diagnosed with a brain tumor after her first birthday. She's 12 now, and in the audience, a living example of why Cantor believes that federal money spent on social sciences — "including on politics of all things" — should be redirected to medical research. Cantor has known her and her family for over a decade.
But that's not all. Cantor ended his speech by remembering two other real people. "My grandparents," he said, "fled the vicious anti-Semitic programs of the czars of Russia to come to America. Widowed at a young age, my grandmother raised her two sons in a tiny apartment atop a grocery store she and my grandfather had opened."
"And today, my children and I stand as proof of the possibility to what may have seemed like her impossible dream," Cantor said.
And with that, the audience applauded for Cantor, a man of many people.