U.S. Lawmakers Press Russia to Ease Adoption Ban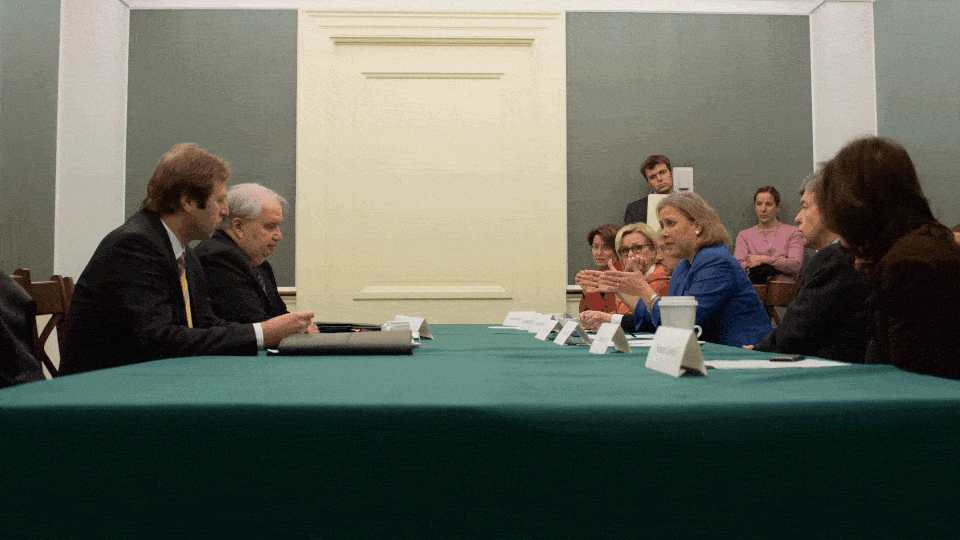 A group of lawmakers trying to break down a legal roadblock to U.S. adoptions of Russian children is meeting stiff resistance from authorities in Moscow, who seem to have just one response: The law is the law.
In a meeting at the Capitol last week organized by Sen. Mary Landrieu, D-La., 10 senators pressed Russian Ambassador Sergey Kislyak to make a plea for the Russian government to reverse the ban it enacted late last year and to quickly resolve hundreds of cases in which adoption matches have been made but are now in legal limbo.
"I wouldn't say the meeting was overly encouraging," said Sen. Roy Blunt, R-Mo., who may know more than anyone in Congress about Russian adoptions.
Several years ago, Blunt and his wife adopted their son, Charlie, from Russia, dealing with the court-approval process and visiting there several times before finalizing the adoption. The process took two years.
Charlie, now 8, "knows he's from Russia, and he knows he's adopted, and he's interested in Russia because of that," said Blunt, who considers Russian adoptions a crucial part of improving U.S.-Russia relations. "This is an item of foreign policy and relationship that we should build on in a relationship that has so often been a strained relationship," he said.
Although Kislyak told senators last week that he would convey their concerns to leaders in his capital, he was also firm that not much can be done.
"We live in the environment of the law — that the law decides on how things can be done and cannot be done in Russia on these issues," Kislyak told reporters after the closed-door meeting.
The ambassador, reiterating the rhetoric of the Russian government on the ban, said that the law "didn't appear from nowhere. It is because of concerns that were prevailing in Russia about the fate of a number of kids that were adopted here in the States."
The Russian government's stance is that the ban is in place because Americans have mistreated the adopted children. Observers, however, consider the ban to be retaliation for a U.S. law targeting human-rights violators in Russia. Enacted late last year, the law is named after Sergei Magnitsky, a Moscow lawyer who died in a Russian prison in 2009 after he implicated top officials in a tax-fraud scam. The law denies visas to Russians implicated in the Magnitsky case and accused of human-rights violations, and it freezes their assets in the United States.
Russia's measure is named after Dima Yakovlev, a boy who died after his adoptive American parents left him in a locked car in a parking lot for hours on a hot day in Virginia. In addition to the adoption ban, the law sanctions U.S. citizens involved in human-rights violations against Russian citizens and suspends the activities of nonprofit organizations in Russia that receive money from the U.S.
But the ban, which went into effect on Jan. 1, has left hundreds of American families stuck in the middle of the adoption process, and members of Congress are trying to find a way to have their cases resolved. "Let's try to find some opening that allows these adoptions to be completed," said Blunt, who has been tackling this issue with Landrieu, the leader on adoption issues in Congress.
Also attending the meeting organized by Landrieu were Sens. John Bozeman, R-Ark.; Maria Cantwell, D-Wash.; Robert Casey, D-Pa.; Amy Klobuchar, D-Minn.; Claire McCaskill, D-Mo.; Jack Reed, D-R.I.; Sheldon Whitehouse, D-R.I., and Roger Wicker, R-Miss.
For Landrieu, the matter is personal. Her husband was adopted from an orphanage in Ireland when he was 5, and she is also the mother of two domestically adopted children. Landrieu says that because she has firsthand experience with "the miracle of adoption," she is all the more passionate about making sure that others can experience it as well. To that end, Landrieu has been appealing to the Russian government since the ban was put in place about "finding a way to continue to process the cases of children — there are about 500 or less out of thousands in the pipeline that have already been matched with their parents."
Landrieu has been engaging with the Russian government on numerous fronts, exchanging letters and arranging last week's meeting with the ambassador. "The country of Russia has not been able to get all the information that they need, and it has caused them some concerns. I am committed to working with them in the long run to see what we can do to reestablish relations," she said.
But the priority now is to help families who have already begun the adoption process. "Those of you who understand adoption, both domestic and international, [know] there is an immediate bond that occurs on the part of the parents seeking to adopt and the adopted child, many of whom are old enough to know what is going on," Landrieu explained.
Sen. James Inhofe, R-Okla., can understand their anguish. "My daughter went through the same thing," he told National Journal, detailing the drawn-out process his daughter faced when trying to adopt his granddaughter, Zigita Marie, from Ethiopia. "There were a few points at which we thought that the adoption wasn't going through when it was already agreed to," he said. "Here I am, a United States senator, and she's a university professor. It took us eight months to get through this process, and each time, it could have fallen apart."
That's why he and so many others in Congress are determined to address adoption cases in limbo. "We haven't been successful so far "¦ but we're still trying," Inhofe said.