The Tortuous, Protracted Wait to Confirm Judges—From Abe to Obama
The Senate confirmed Robert Bacharach as a U.S. circuit judge Monday after 399 days in limbo. In Lincoln's day, it often took less than 10 days.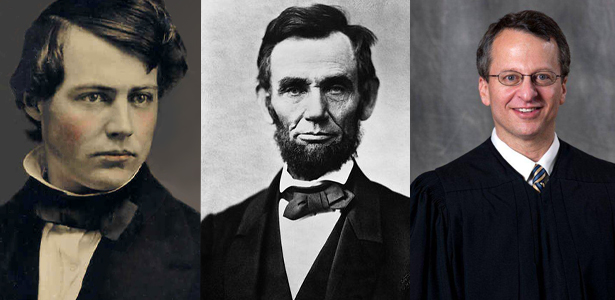 There is a fight brewing over Obama nominees to the U.S. Court of Appeals for the District of Columbia Circuit. The court is often called the second most important federal court, because it receives many high-visibility cases and has sent an unusually large number of its judges to the Supreme Court. It now has four vacancies, one dating from 2005, one from 2008, one from 2011, and one that occurred in 2013. The administration has to date submitted nominees for only the two oldest vacancies. Four of its active judges were appointed by George W. Bush or his father, three by Bill Clinton. Five senior judges, all appointed by Reagan or the senior Bush, continue to hear cases.
On February 14, the Senate Judiciary Committee on a party-line vote sent Caitlin Halligan's nomination to the full Senate. Halligan is a New York state prosecutor with a "unanimously well-qualified rating" from the American Bar Association's Standing Committee on the Federal Judiciary. Obama first nominated her in 2010, and then renominated her several times, most recently on January 4 -- even though Senate Republicans in 2011 filibustered one of her earlier nominations, citing her role in a New York case about gun manufacturers and her membership on a New York Bar Association panel that criticized Bush Administration detainee policies. It's unlikely she'll have easier sledding this time around.
Obama's other nominee to the court is Srikanth Srinivasan. Currently principal deputy solicitor general, he also served in the Bush Justice Department and, like Halligan, has a unanimously well-qualified ABA rating. Obama first nominated him last year, but Srinivasan hasn't had Judiciary Committee hearings because Senate Republicans say they want to see some documents from a case in which he had an apparently minor role. It's not clear that there's any serious Republican objection to Srinivasan, but that hasn't necessarily ensured confirmation of other nominees.
The ups and downs of nominations to this court have a long history. Halligan would take the seat vacated by John Roberts when he became chief justice -- eight years ago. President Bush nominated Roberts to the court in 2001 to take the seat vacated by James Buckley in 1996; the Senate confirmed him on renomination in 2003. One reason the seat was vacant in 2001 is because the Senate failed to confirm President Clinton's 1999 nomination of Elena Kagan to that seat. And in 1992, George H.W. Bush nominated Roberts to the vacancy created by Clarence Thomas's elevation, but Democrats wanted to save the seat for Clinton to fill, which he did.
The tortuous nomination and confirmation saga on this particular court -- the above is just a sample -- is of a piece with the broken judicial nomination process playing out over the last several decades.
The Senate confirmed 19 of Lincoln's nominees within 10 days. Obama's 32 court of appeals appointees have waited an average of 250 days for confirmation, his 141 district appointees 223 days.
To understand just how dysfunctional the process has become, consider how much easier Abraham Lincoln had it. Lincoln appointed more than three times as many district judges as his predecessor James Buchanan, in part because he replaced judges who had resigned from district courts in border or southern regions under Union control (there were not yet courts of appeals at the time). Southern Florida's federal district court, for example, was a hotbed of litigation stemming from the Union blockade of Confederate ports. When its judge resigned, Lincoln was desperate to get a new judge in place.
"It is indispensable for us to have a judge at Key West, as soon as possible," he wrote one possible nominee. He hoped, in vain, that another would "go to Key West at once." When 25-year-old Thomas Boynton finally agreed to accept the post, Lincoln had to wait only 15 days for the Senate to confirm his nomination.
And Boynton waited longer than most of Lincoln's 27 appointees. The Senate confirmed 19 of the judges within 10 days of their nominations. When he nominated Salmon Chase as chief justice of the United States in 1864, the Senate confirmed him the same day.
Compare the Senate's behavior then -- with a civil war raging, no less -- with the 2013 court of appeals confirmations of William Kayatta of Maine and Robert Bacharach of Oklahoma, who was confirmed unanimously Monday. They were confirmed 387 and 399 days, respectively, after their initial nominations. It took the Senate more than a year to confirm nominees with no serious opposition, both of whom had the support of their two home-state Republican senators. Overall, Obama's 32 court of appeals appointees have waited an average of 250 days for confirmation, his 141 district appointees 223 days.
Long delays in filling judicial vacancies are a relatively new phenomenon, according to the Federal Judicial Center's biographical database. Warren G. Harding's record was about the same as Lincoln's -- less than 10 days on average. By the Truman Administration, nomination to confirmation averaged less than 40 days. As recently as Reagan, it averaged less than 60 days.
Then the wait times started to grow -- 101 days on average for George H.W. Bush's district judges and 89 for his appellate judges; 93 and 127 days, respectively, under Clinton; and 155 and 283 under the younger Bush.
These extended wait times have two consequences. One is obvious: decreased judicial productivity caused by confirmation delays (and growing delays in making nominations). Today more than one in 10 federal district and circuit judgeships are vacant.
The other consequence is less obvious: Some good potential judges are less willing even to be considered for judgeships because of the prolonged professional limbo into which the extended confirmation process may throw them. The steady decline in the proportion of district judges who come from private practice -- which has halved from 67 percent under Eisenhower to 35 percent under Obama -- is a trend driven less by design than by extraneous factors such as the prolonged and uncertain confirmation process.
No one suggests a return to Lincoln's time. Same-day Senate confirmations were not "advice and consent." But today's near-interminable nomination-to-confirmation times mean that the Senate isn't doing its job now either -- advice and consent has become obstruction and delay.