The Senate Has Finally Confirmed Chuck Hagel as Defense Secretary
President Obama's nominee for secretary of defense had been held up by GOP senators with outstanding questions.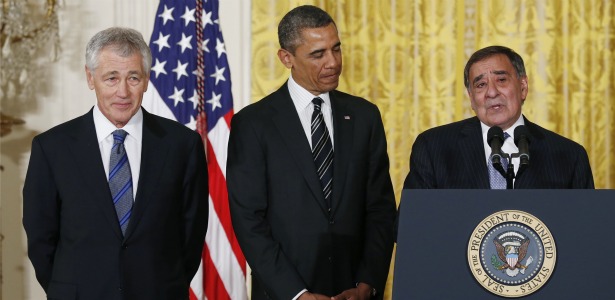 Reuters
Update, 5:08 p.m.: Chuck Hagel has been confirmed as secretary of defense, by a vote of 58 to 41.
Original post: The Senate got their successful cloture vote on Tuesday afternoon, finishing the filibuster of Chuck Hagel's nomination to be secretary of defense -- and clearing the way, at last, for a straight party-line vote on his confirmation. The vote was 71-27, easily clearing the 60-vote supermajority threshold. Hagel's nomination has been held up for nearly two weeks, after Republicans in the Senate blocked a previous cloture vote just before the recent Congressional recess. The delay gave conservatives another 12 days or so to hammer him and the president on their lack of support for Israel (or fake support from Hamas), among other things, but now that their point has sufficiently been made, or something, Hagel is ready to become the new head at the Pentagon. Even Hagel frenemies Senators Lindsey Graham and John McCain dropped their support of the filibuster, along with about a dozen other GOP members, giving Democrats well more than the 60 votes need to end the debate. Although those same members will probably all still vote against Hagel's nomination when the time comes.
The Senate will still have to go through the motions of a straight majority vote later today (the final is scheduled for 4:30 p.m.), but Hagel should have no problem passing that threshold since he's basically done it twice already. Leon Panetta, you're free to go.
Read the full story at The Atlantic Wire.