The President's Universal Pre-K Plan Isn't Actually Universal
What Obama's really proposing is a massive ramp-up in programs to help the children of the poor and lower-middle class, not something for everyone.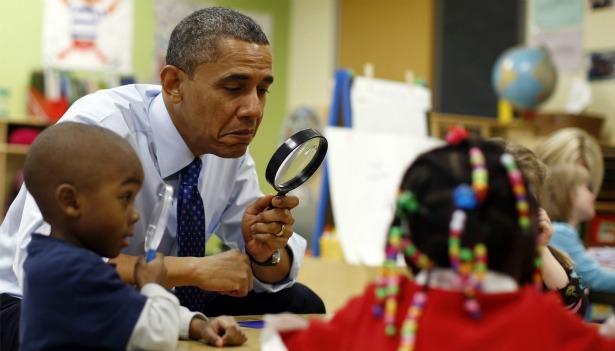 So far unmentioned in the nascent debate over the president's State of the Union call to provide universal pre-kindergarten to low- and moderate-income children is that such programs, should they come into existence, would be a huge boon to poor mothers -- especially single moms. It would be a giant economic relief to such women to have access to a high-quality, free educational system for their kids "beginning at birth and continuing to age 5," as the White House described the programs in a memo Thursday. And it would also be great for their kids to have thoughtfully-constructed places to go while their mothers work -- environments designed to help them overcome the deficits their strapped families might otherwise leave them with, making it harder for them to compete when they enter elementary school.
That said, the fine print shows that despite Obama's call "to make high-quality preschool available to every child in America," what he's proposing is not really a universal program as much as a slate of initiatives to expand early options for children of the poor and lower middle class.
Here's the meat of what the proposed programs would actually do, according to the White House memo (emphasis added below, and throughout):
Expand access to pre-school for low- and moderate-income kids.
The President's proposal will improve quality and expand access to preschool, through a cost sharing partnership with all 50 states, to extend federal funds to expand high-quality public preschool to reach all low- and moderate-income four-year olds from families at or below 200% of poverty. The U.S. Department of Education will allocate dollars to states based their share of four-year olds from low- and moderate-income families and funds would be distributed to local school districts and other partner providers to implement the program. The proposal would include an incentive for states to broaden participation in their public preschool program for additional middle-class families, which states may choose to reach and serve in a variety of ways, such as a sliding-scale arrangement.
In D.C. and the lower 48, the federal poverty guideline for a family of four in 2012 was $23,050; 200 percent of that is $46,100 -- a figure that's solidly middle class in some parts of the country, but not particularly well-to-do in many, many others.
Expand Head Start -- a program for low-income kids first launched in 1965 as part of the War on Poverty.
The President will also launch a new Early Head Start-Child Care Partnership program, to support states and communities that expand the availability of Early Head Start and child care providers that can meet the highest standards of quality for infants and toddlers, serving children from birth through age 3. Funds will be awarded through Early Head Start on a competitive basis to enhance and support early learning settings; provide new, full-day, comprehensive services that meet the needs of working families; and prepare children for the transition into preschool. This strategy -- combined with an expansion of publicly funded preschool education for four-year olds -- will ensure a cohesive and well-aligned system of early learning for children from birth to age five.
According to the 2009-2010 Head Start Program Information Report data presented in the report "Head Start Today: A Look at Demographics and Culture and Linguistic Responsiveness," 36 percent were of "Hispanic or Latino" background and 29 percent were "Black or African-American." Another 8 percent were biracial or multi-racial.
Create a home visits system for at-risk families (a.k.a. poor, young, single moms).
The President is proposing to expand the Administration's evidence-based home visiting initiative, through which states are implementing voluntary programs that provide nurses, social workers, and other professionals to meet with at-risk families in their homes and connect them to assistance that impacts a child's health, development, and ability to learn. These programs have been critical in improving maternal and child health outcomes in the early years, leaving long-lasting, positive impacts on parenting skills; children's cognitive, language, and social-emotional development; and school readiness. This will help ensure that our most vulnerable Americans are on track from birth, and that later educational investments rest upon a strong foundation.