The Credibility Gap: Shading the Truth Has Consequences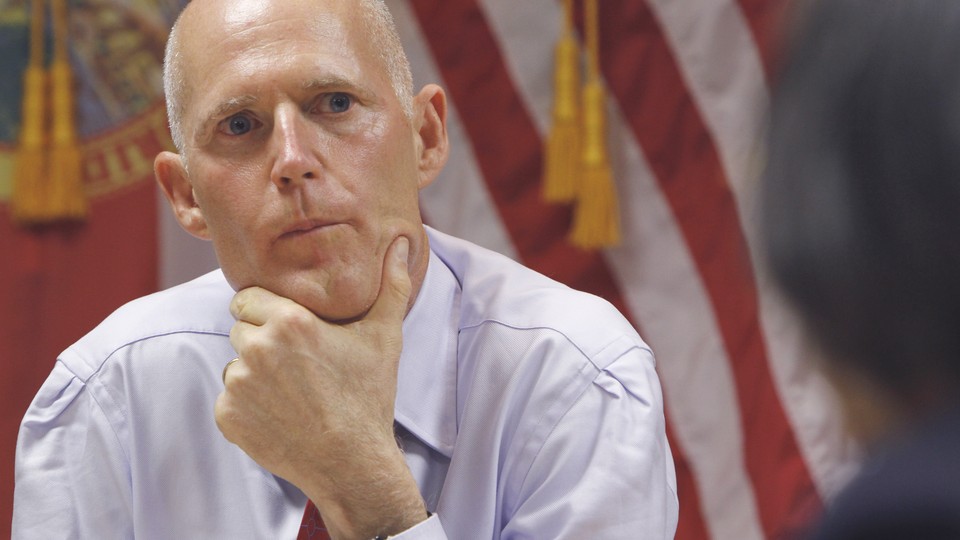 Republicans promised to fight Obamacare, and now seven GOP governors are on board. President Obama vowed to be transparent about drone warfare, and now he's not. Today's headlines point to why Americans are losing faith in their political leaders.
The Pew Research Center last month released a chilling chart showing the public's trust in federal government mired near a historic low, declining steadily since early in President George W. Bush's tenure. Only 26 percent of Americans say they trust Washington most of the time.
A political scientist might note a historic correlation between the state of the economy and the public's trust in government. But it certainly doesn't help when politicians treat their credibility so shabbily.
Drone warfare: After the leak of an unclassified Justice Department white paper justifying "targeted killings" of terrorist suspects, including U.S. citizens, Obama promised to share classified details with Congress. That pledge helped quiet critics of drone warfare and White House secrecy.
But lawmakers on the Intelligence committees were granted only brief access to the documents. Their lawyers and staff weren't allowed to see the memos at all — a condition the White House knew would limit Congress's oversight abilities.
"I recognize that in our democracy, no one should just take my word that we're doing this the right way," Obama said in his Feb. 12 State of the Union address. "So, in the months ahead, I will continue to engage with Congress to ensure not only that our targeting, detention, and prosecution of terrorists remains consistent with our laws and the system of checks and balances, but that our efforts are even more transparent to the American people and the world."
And yet, The New York Times reported Thursday that the White House is still refusing to share the legal opinions fully with Congress. Rather than keep his word, Obama's team is negotiating with Republicans to provide more information on the deadly assault last year on the U.S. diplomatic compound in Benghazi, Libya, The Times reported.
The apparent White House goal: Use Republicans' obsession with Benghazi to keep drone warfare tactics under wraps. Obama's team doesn't want John Brennan's confirmation as CIA director to be tied up in the fight over drone documents. It's a cynical strategy that might work with the acquiescence of the same Democratic senators who publicly denounced Obama for his secrecy over drone warfare.
Obamacare: Republicans control the U.S. House largely because of their stiff resistance to Obama's historic effort to broaden health care coverage, a battle waged by party leaders in Washington. Republican presidential nominee Mitt Romney campaigned on the pledge to repeal the 2010 Affordable Care Act, a prospect hailed by GOP leaders across the country — that is, until real money was put on the table.
Florida Gov. Rick Scott reversed course on Wednesday and said his state will accept Medicaid expansion under the federal health care law. He is the seventh GOP governor to do so. While other Republican chief executives are holding firm against Obamacare, Scott's once-strident opposition to the law makes him the highest-profile defector.
NBC's First Read smartly points out: "There's an interesting pattern developing, and one that isn't that surprising: Just about any Republican governor in a blue or purple state that Obama carried (or nearly carried) seems to be finding a way to compromise on health care, either in setting up exchanges or on Medicaid. The lone exception is (Virginia Gov. Bob) McDonnell, but he's NOT running for reelection and the next election he faces may be with Republican primary voters in 2016."
It's almost too easy to call both Obama and Obamacare-bashing Republicans "flip-floppers," a cliché that can be inappropriately assigned to leaders who honestly evolve on an issue. People change their minds, usually for good reasons.
But Obama hasn't changed his mind; he simply hasn't kept his word — at least not yet. In fairness, polls clearly show that a majority of voters tend to trust the president, which would suggest that he has some credibility to burn, particularly on national security, an issue where the commander in chief normally gets the benefit of doubt.
As for Scott, Florida voters will soon decide whether his reversal on Medicaid is authentic or political. His most recent approval ratings are among the worst in the country, and he has no room for a credibility crisis, being up for reelection in 2014.